Here are my top seven Bible verses about church.
Acts 9:31 "So the church throughout all Judea and Galilee and Samaria had peace and was being built up. And walking in the fear of the Lord and in the comfort of the Holy Spirit, it multiplied."
The church began to spread rapidly in the first century and for a time, there was "peace" as the church was "being built up" but if you've read the Book of Acts, you know that peace never stayed around for very long in the persecution of that time. The key verse in Acts 9:31 is talking about the church "walking in the fear of the Lord," and as a result of that, "it multiplied."
Matthew 16:18 "And I tell you, you are Peter, and on this rock I will build my church, and the gates of hell shall not prevail against it."
The church is not my church and it is not your church. Jesus said it is "my church" and if it's Jesus' church, we know for sure that not even the gates of hell or death can stop it. What Jesus builds, remains. What Jesus possesses, cannot be lost. You can do nothing to slow it down. The more people persecute it, the more it spreads. The church's persecutors are like someone trying to stomp out a grass fire by foot but they only manage to spread it.
Acts 11:25-26 "So Barnabas went to Tarsus to look for Saul, and when he had found him, he brought him to Antioch. For a whole year they met with the church and taught a great many people. And in Antioch the disciples were first called Christians."
As I wrote before, in an ironic way, the persecutors of the church help to spread it. We read that "those who were scattered because of the persecution that arose over Stephen traveled as far as Phoenicia and Cyprus and Antioch, speaking the word to no one except Jews. But there were some of them, men of Cyprus and Cyrene, who on coming to Antioch spoke to the Hellenists also, preaching the Lord Jesus. And the hand of the Lord was with them, and a great number who believed turned to the Lord" (Acts 11:19-21) and as a result "a great many people were added to the Lord" (Acts 11:24b) so it is in the context of Acts 11:25-26 that a great many people were taught about Jesus and "a great number were added to the Lord."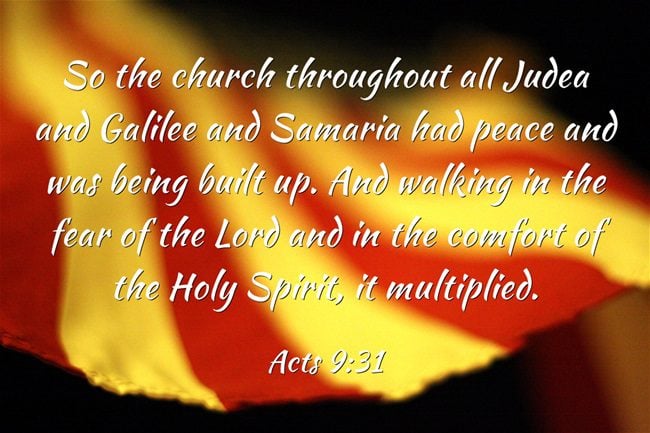 Matthew 18:17 "If he refuses to listen to them, tell it to the church. And if he refuses to listen even to the church, let him be to you as a Gentile and a tax collector."
Matthew 18:19 has been taken out of context innumerable times. It says "If two of you agree on earth about anything they ask, it will be done for them by my Father in heaven. For where two or three are gathered in my name, there am I among them." Jesus wasn't talking about there being no need for the church because anywhere that two or three people are gathered, there He is. Yes, that's true, He is there, but the context of this verse supports the idea of the church, not that two or three people can be a church. In some places, people have no access to a church so they have no choice but to worship with a few others but Jesus is talking about church disciple in this paragraph (Matt 18:15-20) and not that church is unnecessary.
Romans 16:3-4 "Greet Prisca and Aquila, my fellow workers in Christ Jesus, who risked their necks for my life, to whom not only I give thanks but all the churches of the Gentiles give thanks as well."
Believe Paul when he tells the church in Rome that Prisca and Aquila risked their lives (necks) for Paul. He mentions "necks" because many in Rome were simply behead, just like Paul would encounter when he was martyred. John the Baptist risked his neck and lost his head for the sake of the gospel. So did Prisca, Aquila, Paul, and countless Christians today around the world.
Acts 8:1 "And Saul approved of his execution. And there arose on that day a great persecution against the church in Jerusalem, and they were all scattered throughout the regions of Judea and Samaria, except the apostles."
Who was executed that Saul approved of? It was Stephen who had just been stoned to death but still managed for God to not hold it against them (Acts 7:60) and is reminiscent of what Jesus prayed on the cross "Father, forgive them for they know not what they do" (Luke 23:34). That's what Christians do; they pray for their enemies, love them that persecute them, and do good to them that hate them. Poor Saul, the more he and the Jews tried to exterminate the church the more it spread as it says Acts 8:4-6; "those who were scattered went about preaching the word. Philip went down to the city of Samaria and proclaimed to them the Christ. And the crowds with one accord paid attention to what was being said by Philip when they heard him and saw the signs that he did" and the result was "there was much joy in that city" (Acts 8:8), obviously meaning many were saved. Thanks Saul.
Acts 12:5 "So Peter was kept in prison, but earnest prayer for him was made to God by the church."
Peter's imprisonment came at a time of severe persecution when "Herod the king laid violent hands on some who belonged to the church" (Acts 12:1) and Peter, being part of the church and perhaps being a bigger target since he preached the gospel, was one of those Herod had imprisoned. When the church as a whole began praying for Peter, it didn't take long for this corporate prayer to be answered and answered in a most amazing way (Acts 12:6-19).
Conclusion
The word "church" doesn't appear until the New Testament but the idea of "saints" or those who are God's children is found throughout the Old Testament, particularly in the Book of Psalms where it's found thirteen times. Today, people are still "breathing out threats and murder against the disciples of the Lord" (Acts 9:1) and there are many "Saul's" around the world today but they don't matter because Jesus promised "I will build my church, and the gates of hell shall not prevail against it" (Matt 16:18) and there is not one thing you or anyone else can do about it. Not even Satan himself can "prevail against it."
Article by Jack Wellman
Jack Wellman is Pastor of the Mulvane Brethren Church in Mulvane Kansas. Jack is also the Senior Writer at What Christians Want To Know whose mission is to equip, encourage, and energize Christians and to address questions about the believer's daily walk with God and the Bible. You can follow Jack on Google Plus or check out his book Teaching Children the Gospel available on Amazon.