Here are my top seven Bible verses about prayer or praying.
John 15:7 "If you abide in me, and my words abide in you, ask whatever you wish, and it will be done for you."
What does Jesus mean by saying we must abide in Him and only then may we ask whatever we wish? We know enough of the Bible to understand that we must pray according to the will of God. The Greek word used for "abide" is "menō" and this means "to remain" or stay with. The Apostle John wrote that "the Word became flesh and dwelt among us" (John 1:14) or "tabernacled with us" (Greek "skēnoō") which reminds me of the tent in the wilderness where God dwelt among His people in the tabernacle. It's where we get the word "adobe" or "home" or "dwelling" from and the word adobe means "a brick of mud and stray." These materials closely resemble those used by the Israelites under their Egyptian bondage where they made bricks, but later without straw provided. The major point is if we abide in Jesus' words, and that means in the gospels where His words are recorded, but no less than the whole Word of God, from Genesis to Revelation, we can ask whatever we wish that is also according to God's will.
First John 5:14-15 "And this is the confidence that we have toward him, that if we ask anything according to his will he hears us. And if we know that he hears us in whatever we ask, we know that we have the requests that we have asked of him."
The Apostle John seemed confident that God would answer our prayers but he added that "if we ask anything according to his will he hears us," meaning that we can pray for things but if they're not a part of God's will, He won't answer that. In the strictest sense, He will answer it with a "No" or "not yet" or "that's not my will" so finding out God's will can help us to receive answered prayer and God's will is revealed in the Bible. To know God's will we must know God's Word.
Psalm 66:19 "But truly God has listened; he has attended to the voice of my prayer."
The psalmist was completely sure that not only did God listen to his prayer but that He attended to the voice of his prayer, meaning that God answered it. How can we be like the psalmist and believe that "truly God has listened?" Again, we must know the will of God in order to pray for His will to be done and to find the will of God you must find a Bible.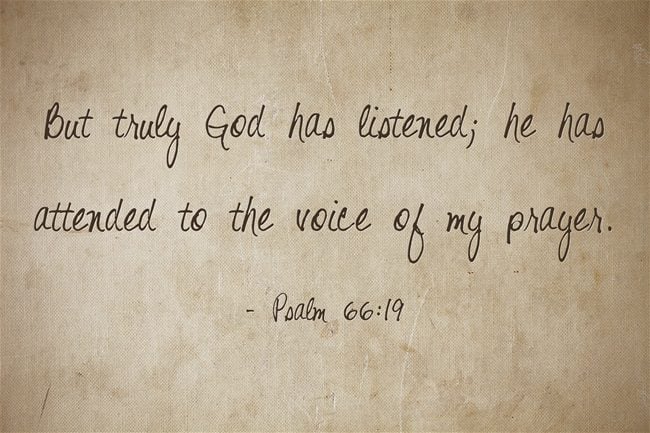 1st Samuel 1:27 "I prayed for this child, and the LORD has granted me what I asked of him."
Hannah was so desperate for a child that she would often go to "the doorpost of the temple of the Lord" (1st Sam 1:9b) for she "was deeply distressed and prayed to the Lord and wept bitterly. And she vowed a vow and said, "O Lord of hosts, if you will indeed look on the affliction of your servant and remember me and not forget your servant, but will give to your servant a son, then I will give him to the Lord all the days of his life, and no razor shall touch his head" (1st Sam 1:10-11). Hannah was childless and that was a sign of shame in Israel so imagine Hannah's joy when she could finally say "prayed for this child, and the LORD has granted me what I asked of him" (1st Sam 1:27).
Psalm 118:21 "I will give you thanks, for you answered me; you have become my salvation."
I heard of a man several years ago who was giving thanks for his prayers being answered but the interesting thing was, he gave thanks to God for the answered prayer for the ones that he had just prayed! I thought, how could he know that God had answered them already? Didn't he have to wait to see how it turned out first? No, because even though this man's answer was answered immediately received, even with no evidence of it, he understood it could be "No," "Not yet," or "I've got something better for you." He trusted the Lord enough to know that God's "No" is always best for us and it usually so we won't hurt ourselves or others. No good father would give their child whatever they wanted; like a knife for example.
Mark 11:24 "Therefore I tell you, whatever you ask in prayer, believe that you have received it, and it will be yours."
Jesus taught us to be like the man I just wrote about, as far as having believed that he received an answer already. Jesus doesn't tell us how long it will take to receive whatever we were praying for but that you simply have to believe it's been answered. This is assuming, as we have written before, that this prayer is according to the perfect will of God. Prayer must be for the will of God which means it must for the glory of God.
Psalm 116:1 "I love the LORD, because he has heard my voice and my pleas for mercy."
Whether you are in great need or in great suffering, cry out to Him. The psalmist would have believed what Jesus taught in Mark 11. He must have had the confidence of the Apostle John (1st John 4:5). And the psalmist must have believed like my friend did (in the second paragraph above). They all knew that God heard them. They all knew that God had already answered them, so that kind of attentiveness and benevolence that the Father displayed caused them "love the Lord" like a child his father and so it should make us do the same.
Conclusion
Jesus tells all of us to "Ask, and it will be given to you; seek, and you will find; knock, and it will be opened to you" (Matt 7:7). A lot of Christians are not that different from the psalmist because they can both say, "The LORD has heard my cry for mercy; the LORD accepts my prayer" (Psalm 6:9). The Apostle John was completely confident about answered prayer (1st John 5:14-15) so do "not be anxious about anything, but in everything by prayer and supplication with thanksgiving let your requests be made known to God" (Phil 4:6). Today, many nations are in trouble but God's promise to Solomon is the same to any nation or people that "If my people who are called by my name humble themselves, and pray and seek my face and turn from their wicked ways, then I will hear from heaven and will forgive their sin and heal their land" (2nd Chron 7:1) however if you aren't abiding in Jesus' words on a daily basis, His Word is not abiding in you every day (John 15:1-11).
Article by Jack Wellman
Jack Wellman is Pastor of the Mulvane Brethren Church in Mulvane Kansas. Jack is also the Senior Writer at What Christians Want To Know whose mission is to equip, encourage, and energize Christians and to address questions about the believer's daily walk with God and the Bible. You can follow Jack on Google Plus or check out his book Teaching Children the Gospel available on Amazon.