Here are my top seven Bible verses about caring for parents.
Mark 7:9-13 "And he said to them, "You have a fine way of rejecting the commandment of God in order to establish your tradition! For Moses said, 'Honor your father and your mother'; and, 'Whoever reviles father or mother must surely die.' But you say, 'If a man tells his father or his mother, "Whatever you would have gained from me is Corban"' (that is, given to God)— then you no longer permit him to do anything for his father or mother, thus making void the word of God by your tradition that you have handed down. And many such things you do."
This might be the sternest rebuke Jesus ever gave the Pharisees because He is basically telling them that they have neglected to provide for their parents and thus broken the 5th Commandment to honor them, and claimed that they've set aside money for the temple offering (Corban) so that can't really take care of their parents. They are simply making an excuse to neglect their parents and that is clearly sin.
Deuteronomy 5:16 "Honor your father and your mother, as the Lord your God commanded you, that your days may be long, and that it may go well with you in the land that the Lord your God is giving you."
This is why Jesus was so angry with the Pharisees; they had been breaking this vital commandment. This commandment is so important to God that He placed it first in order of importance of the horizontal commandments (dealing with relationships) and it is the first one given after the vertical commandments (in those commands towards God). If they didn't honor their parents, as the Pharisees had been doing, then it will not go well with them and they would not live long on the land (and wealth and possessions) that God gave them. If children don't honor their parents, then the remaining commandments (5-10) will likely be broken by their children.
Proverbs 23:22 "Listen to your father who gave you life, and do not despise your mother when she is old."
We would do well to listen to our father because he's had a lifetime of experience and we could learn to avoid committing the same mistakes (or sins) they he did but also, they are not to despise their mother, even when she is old. That is just what the Pharisees and many today in our society are doing. When I visit nursing homes, the residents often tell us that they don't receive visits anymore, even from their own children. It's like a "toss away generation" to them. They feel they've outlived their usefulness and so why waste their time visiting them, however that is breaking the 5th Commandment.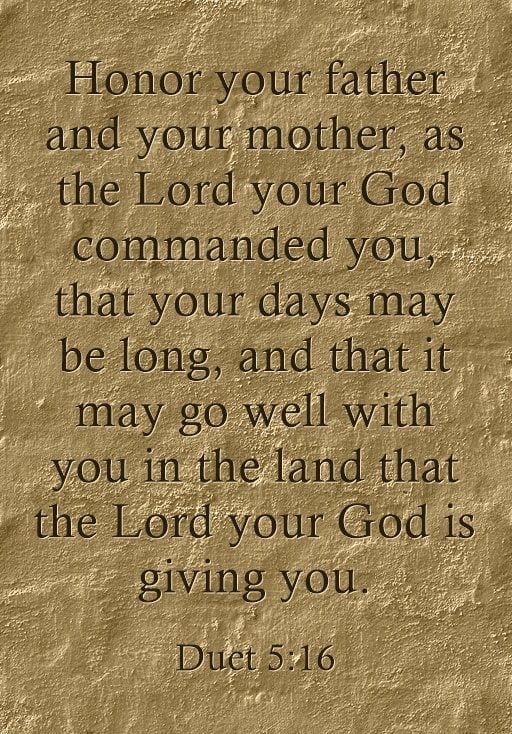 John 19:25-27 "But standing by the cross of Jesus were his mother and his mother's sister, Mary the wife of Clopas, and Mary Magdalene. When Jesus saw his mother and the disciple whom he loved standing nearby, he said to his mother, "Woman, behold, your son!" Then he said to the disciple, "Behold, your mother!" And from that hour the disciple took her to his own home."
Jesus is so considerate of His mother that even while He was being crucified, He wanted to ensure that she'd be taken care of and so He places the responsibility of taking care of His mother to the Apostle John. John obeyed Jesus' command as "from that hour the disciple took her to his own home."
First Timothy 5:4 "But if a widow has children or grandchildren, let them first learn to show godliness to their own household and to make some return to their parents, for this is pleasing in the sight of God."
Paul is telling Timothy that if a widow has children and grandchildren, it is up to them to take care of their mother's needs and not the church's responsibility. That "is pleasing in the sight of God." Why shouldn't they take care of their own widowed parents? In many cultures around the world, parents are taken care of in the home of their children but not so among most of the Western nations.
1st Timothy 5:8 "But if anyone does not provide for his relatives, and especially for members of his household, he has denied the faith and is worse than an unbeliever."
Paul is basically calling those who don't even provide for their own family worse than an unbeliever and that's bad because unbelievers are in a far worse state that believers, particularly on the Day of Judgment. That Paul had to even write this instruction for Timothy shows that there were some in the church that were not even caring for their own children.
Isaiah 46:3-4 "Listen to me, O house of Jacob, all the remnant of the house of Israel, who have been borne by me from before your birth, carried from the womb; even to your old age I am he, and to gray hairs I will carry you. I have made, and I will bear; I will carry and will save."
God, as a benevolent Father, has said that He cares for His people, even into their old age, unlike many in the world today. It is as if God carried them along the way, even into their older days, thus showing them that God will not ever forsake them and never will He leave them (Duet 31:8; Heb 13:5).
Conclusion
In the Old Testament, there were laws like, "You shall stand up before the gray head and honor the face of an old man, and you shall fear your God: I am the Lord" (Lev 19:32) which is a sign of respect. How many still stand up when an elderly person walks into the room? When was the last time you saw that happen? James wrote that "Religion that is pure and undefiled before God, the Father, is this: to visit orphans and widows in their affliction, and to keep oneself unstained from the world" (James 1:27). Pure religion is never just talk; it is backed up by action.
Article by Jack Wellman
Jack Wellman is Pastor of the Mulvane Brethren Church in Mulvane Kansas. Jack is also the Senior Writer at What Christians Want To Know whose mission is to equip, encourage, and energize Christians and to address questions about the believer's daily walk with God and the Bible. You can follow Jack on Google Plus or check out his book Teaching Children the Gospel available on Amazon.