Here are seven Bible verses about setting goals in life.
Proverbs 21:5 "The plans of the diligent lead surely to abundance, but everyone who is hasty comes only to poverty."
Who are the diligent? They are anyone who is diligent in planning, establishing, and setting goals and then setting themselves toward accomplishing those goals. Everyone should have some goal in life because without any goals, we can just wander aimlessly in life with no real purpose, so Solomon reminds us all that planning leads to abundance but hasty decisions or decisions without adequate planning, will lead to poverty.
Philippians 3:13-14 "Brothers, I do not consider that I have made it my own. But one thing I do: forgetting what lies behind and straining forward to what lies ahead, I press on toward the goal for the prize of the upward call of God in Christ Jesus."
The Apostle Paul says just before these two verses that he desired to "know him and the power of his resurrection, and may share his sufferings, becoming like him in his death, that by any means possible I may attain the resurrection from the dead" (Phil 3:10-11) but he says, "Not that I have already obtained this or am already perfect, but I press on to make it my own, because Christ Jesus has made me his own" (Phil 3:12) so Paul kept his eyes fixed on the goal of entering into eternal life. What about you?
Proverbs 24:27 "Prepare your work outside; get everything ready for yourself in the field and after that build your house."
In this same chapter where Solomon writes that we are to prepare ahead of time, he observed, "I passed by the field of a sluggard, by the vineyard of a man lacking sense and behold, it was all overgrown with thorns; the ground was covered with nettles, and its stone wall was broken down" (Prov 24:30-31) and attributed it to someone saying, "A little sleep, a little slumber, a little folding of the hands to rest" (Prov 24:33) and as a consequence of that, "poverty will come upon you like a robber, and want like an armed man" (Prov 23:34).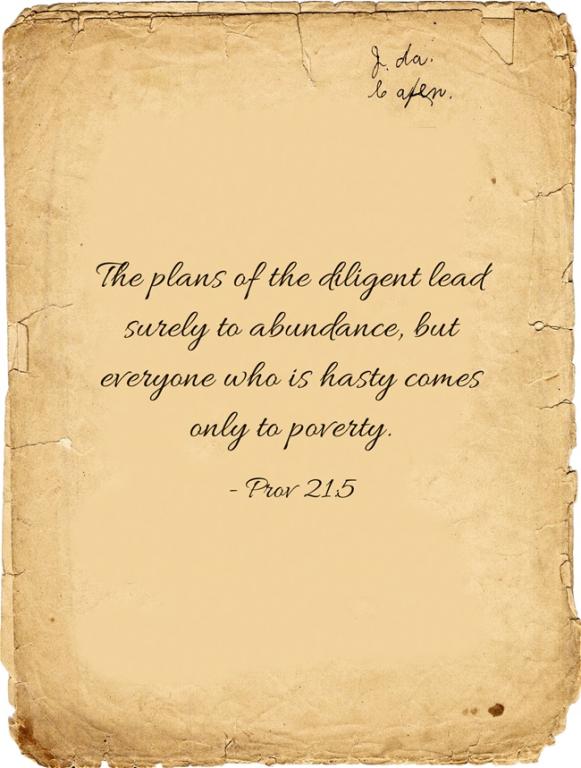 Proverb 6:6 "Go to the ant, O sluggard; consider her ways, and be wise."
The creatures of nature are supreme examples of planning ahead by setting goals since even the ant "prepares her bread in summer and gathers her food in harvest" (Prov 6:8) but by loving sleep (Prov 6:10) "poverty will come upon you like a robber, and want like an armed man" (Prov 6:11), repeating what he wrote in Proverbs 23:34. Paul said "If anyone is not willing to work, let him not eat" (1st Thess 3:10) meaning that if a man chooses not to work, the church should not support him by giving him food to eat.
Luke 14:28-30 "For which of you, desiring to build a tower, does not first sit down and count the cost, whether he has enough to complete it? Otherwise, when he has laid a foundation and is not able to finish, all who see it begin to mock him, saying, 'This man began to build and was not able to finish.'"
Jesus' point in this is that we must count the cost of following Jesus since "any one of you who does not renounce all that he has cannot be my disciple" (Luke 14:33) because "No one who puts his hand to the plow and looks back is fit for the kingdom of God" (Luke 9:62). Jesus said this to the man who said "I will follow you, Lord, but let me first say farewell to those at my home" (Luke 9:61), but this showed that his heart wasn't really in it and placed his priority with his family and not with Christ.
First Peter 3:17-18 "You therefore, beloved, knowing this beforehand, take care that you are not carried away with the error of lawless people and lose your own stability. But grow in the grace and knowledge of our Lord and Savior Jesus Christ. To him be the glory both now and to the day of eternity. Amen."
This is the goal of every Christian; to grow in the grace of God and to grow in the knowledge of God, which is why Paul told Timothy to "Do your best to present yourself to God as one approved, a worker who has no need to be ashamed, rightly handling the word of truth" (2nd Tim 2:15). In nature, anything that grows, creature or plant, dies if it stops growing.
Matthew 6:33 "But seek first the kingdom of God and his righteousness, and all these things will be added to you."
In this verse, Jesus doesn't want us to fear or worry about the future and so says "do not be anxious about your life, what you will eat or what you will drink, nor about your body, what you will put on. Is not life more than food, and the body more than clothing? Look at the birds of the air: they neither sow nor reap nor gather into barns, and yet your heavenly Father feeds them. Are you not of more value than they? And which of you by being anxious can add a single hour to his span of life" (Matt 6:25-27) so we are more valued by God and since God provides for the creatures of the earth, how much more will He give good things to His children (Matt 7:11)?
Conclusion
Paul reminds us that "in a race all the runners run, but only one receives the prize? So run that you may obtain it. Every athlete exercises self-control in all things. They do it to receive a perishable wreath, but we an imperishable. So I do not run aimlessly; I do not box as one beating the air. But I discipline my body and keep it under control, lest after preaching to others I myself should be disqualified" (1st Cor 9:24-27). Jeremiah, in writing to Israel, promises them that "I know the plans I have for you, declares the LORD, plans for welfare and not for evil, to give you a future and a hope" (Jer 29:11) so would He do any less for His own children?
Article by Jack Wellman
Jack Wellman is Pastor of the Mulvane Brethren Church in Mulvane Kansas. Jack is also the Senior Writer at What Christians Want To Know whose mission is to equip, encourage, and energize Christians and to address questions about the believer's daily walk with God and the Bible. You can follow Jack on Google Plus or check out his book Teaching Children the Gospel available on Amazon.