Here are seven Bible verses about the military.
Romans 13:4 "For he is God's servant for your good. But if you do wrong, be afraid, for he does not bear the sword in vain. For he is the servant of God, an avenger who carries out God's wrath on the wrongdoer."
Romans chapter 13 is very much about the authority of mankind which God has placed over us and that when we disobey the local or national authorities we are really disobeying God. You cannot say you obey God but then disobey the laws that God has sovereignly placed in our society by those He's chosen to be His authorial agents. It's very much like when Israel grumbled against Moses, it was actually God that they were grumbling against and not Moses (Ex 16:8). Only when the laws of man conflict with the laws of God do we obey God rather than man (Acts 5:29).
Joshua 1:9 "Have I not commanded you? Be strong and courageous. Do not be frightened, and do not be dismayed, for the Lord your God is with you wherever you go."
Just after the death of Moses, God encourages Joshua as he becomes the leader of the nation of Israel. This was a time of great change and no one likes change but God chose the fittest man for the job as Joshua had a history of courage and obedience toward God which are two necessities of leadership. Even with this, God still wanted to remind Joshua that "Every place that the sole of your foot will tread upon I have given to you, just as I promised to Moses" (Joshua 1:3) and "No man shall be able to stand before you all the days of your life. Just as I was with Moses, so I will be with you. I will not leave you or forsake you" (Joshua 1:5). Naturally, this means the military and since Joshua already had battle experience, he was perfectly suited to lead the nation.
Psalm 144:1-2 "Of David. Blessed be the Lord, my rock, who trains my hands for war, and my fingers for battle; he is my steadfast love and my fortress, my stronghold and my deliverer, my shield and he in whom I take refuge, who subdues peoples under me."
King David concedes that the skill that he had was acquired during his many battles but in the sovereignty of God, it really came from God because it was God Who used these experiences to train David's "hands for war" and his "fingers for battle," and so in this sense, God was his shield (for protection), his deliverer (the battle belongs to the Lord), and David's stronghold and refuge from the enemy. God used David to subdue "peoples under" him and to bring the area into a state of peace by the time King Solomon began his reign.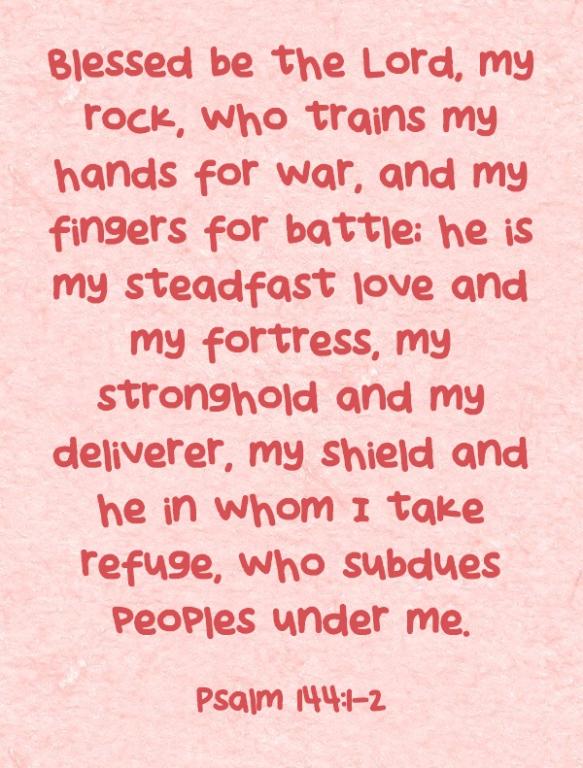 Deuteronomy 20:1-4 "When you go out to war against your enemies, and see horses and chariots and an army larger than your own, you shall not be afraid of them, for the Lord your God is with you, who brought you up out of the land of Egypt. And when you draw near to the battle, the priest shall come forward and speak to the people and shall say to them, 'Hear, O Israel, today you are drawing near for battle against your enemies: let not your heart faint. Do not fear or panic or be in dread of them, for the Lord your God is he who goes with you to fight for you against your enemies, to give you the victory."
Even though this was written to ancient Israel, we could apply it to any nation living in righteousness. For example, God used the Allies during World War Two to extinguish the Nazi forces of darkness who sought to establish the Third Reich and make the Germanic people rule and dominate the earth therefore God brought many nations together to defeat this cause. Because God used ancient Israel in a similar manner, He reminded them that He will go with them to fight for them and He will give them the victory because the battle is not Israel's but Gods!
Ecclesiastes 3:8 "A time to love, and a time to hate; a time for war, and a time for peace."
King Solomon, in writing that there is a time to love and a time to hate and even a time for war and a time for peace, recognizes that circumstances sometimes require different approaches. It depends upon what those circumstances merit in regards to what action to take. Timing is everything as far as the military is concerned and we should thank God for and pray for our men and women who serve and for those who have served.
John 15:13 "Greater love has no one than this, that someone lay down his life for his friends."
I can't remember what movie it was but it was an old black and white war movie and when one of the soldiers threw himself over a hand grenade, he saved at least three other lives. John 15:13 immediately came to my mind. There have been countless war heroes throughout our history where someone gave their life to save another or others and so there is no greater love than that on the human scale but the greatest act of love ever was in Jesus' death on a cross Who died for ungodly, wicked, sinners who were enemies of God (Rom 5:6-10).
Psalm 108:12-13 "Oh grant us help against the foe, for vain is the salvation of man! With God we shall do valiantly; it is he who will tread down our foes."
The psalmist knows that with God they can do valiantly because it is God "who will tread down our foes." "The heart of man plans his way, but the LORD establishes his steps" (Prov 16:9), whether he knows it or not. There is no salvation or victory from man but instead, it belongs to or is attributed to God. It doesn't matter whether they know it or not but "A man's steps are from the LORD" (Prov 20:24) and even a pagan king's heart "is a stream of water in the hand of the Lord; he turns it wherever he will" (Prov 21:1).
Conclusion
We should give thanks to God for those who put their lives on the line, including those who are supporting their effort behind the lines. These men and women give of them own selves in a sacrificial way, therefore, we should thank God for them, thank them in person, and give thanks for all men and women who serve in the military at present and for those who have served in the past.
Article by Jack Wellman
Jack Wellman is Pastor of the Mulvane Brethren Church in Mulvane Kansas. Jack is also the Senior Writer at What Christians Want To Know whose mission is to equip, encourage, and energize Christians and to address questions about the believer's daily walk with God and the Bible. You can follow Jack on Google Plus or check out his book Teaching Children the Gospel available on Amazon.