Do pastors struggle with sin just like everyone else?
Paul's Struggle
Roman's chapter 7 has given a lot of believers comfort because they saw the Apostle Paul's struggle with the flesh and it's something that they (and I) can identify with. You are certainly not alone in your struggle to live a life that is pleasing to God because Paul wrote "I do not understand my own actions. For I do not do what I want, but I do the very thing I hate" (Rom 7:15) and I too can say with him "I do not do the good I want, but the evil I do not want is what I keep on doing" (Rom 7:19) but the good news is that there is a struggle in the first place. If there is no struggle over sin, then there may be no conviction from the Holy Spirit and if there's no conviction from the Holy Spirit, they might not even be saved. The difference between sinners and saints isn't that one group are sinners and the others are not but the difference is that sinners dive into and swim in sin but believer's fall into it but get back up and dust themselves off and keep moving forward. We will still sin; we just won't enjoy it as much. God's Spirit will prompt us to ask for forgiveness and repent of it. So if the powerful missionary and great Apostle Paul struggled with sin, I see no reason to believe that pastors won't either. In fact, they might have a harder time because of spiritual attacks from the enemy but that's another article.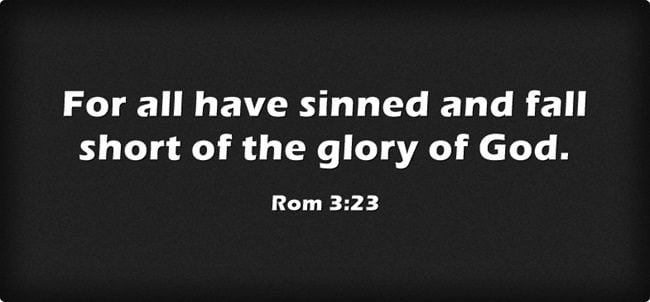 Christian's Struggle
Everyone born was born into a sinful state as Paul writes in 1st Corinthians 15:52a "For as in Adam all die" because the wages of sin is death (Rom 6:23a). The psalmist wrote, "Behold, I was brought forth in iniquity, and in sin did my mother conceive me" (Psalm 51:5). By the way, Christians are not superior to non-believers; they are only justified by Jesus Christ (Rom 5:9) and this wasn't even something we could brag about (Eph 2:9). The truth is that it was we who were once "among whom we all also once lived in the desires of our flesh, doing the things willed of the flesh and of its thoughts; and we were by nature children of wrath even as the rest" (Eph 2:3) so for those who chose to reject Jesus Christ, "God gave them up in the lusts of their hearts to impurity, to the dishonoring of their bodies among themselves" (Rom 1:24). Sin acts to callous a person's heart. The more you sin, the less you feel conviction over it. Like callouses on a hand, there will finally come a time when there is no more feeling or conviction and they even come to suppress the knowledge of God (Rom 1:18 ), but they have no excuse (Rom 1:20). That's why the admonition comes from those who have heard the gospel, over and over again; "Today, if you hear his voice, do not harden your hearts" (Heb 4:7) since you can be "hardened by the deceitfulness of sin" (Heb 3:13). For unbelievers who have read Bible articles simply for the purpose of attacking the author or God (or both), the author of Hebrews tells you that you're accountable for what you hear and read and he writes to you; "if we go on sinning deliberately after receiving the knowledge of the truth, there no longer remains a sacrifice for sins, but a fearful expectation of judgment, and a fury of fire that will consume the adversaries" (Heb 10:26-27).
Pastor's Struggle
Just like church members, I struggle with sin, regardless of whether I'm a pastor or not; in the first place, I am a sinner too and the foot of the cross is level ground among all of us. I will never be sinless in this life but I have the desire to sin, less. Pastors are no better or more "spiritual" than anyone else. We are among the "all who fall short" and "all [who] have sinned" (Rom 3:23). One man came to us and stayed in our church for a time but finally he said he had to leave because he didn't see himself as a sinner anymore. I tried to explain that none of us are good; not even one (Rom 3:10-12) but he still thought he wasn't a sinner. I wondered if he was sinless, why he was still here and not with Christ. I was saddened because I told him, "I am sorry you say you're not a sinner because Jesus came to die for sinners." Doesn't the Apostle John say "If we say we have no sin, we deceive ourselves, and the truth is not in us" (1st John 1:8) and "If we say we have not sinned, we make him a liar, and his word is not in us" (1st John 1:10)? I suppose this man had blacked that out of his Bible. Even though we are all sinners, God sees us as having Jesus' own righteousness (2nd Cor 5:21) and this was a free gift, not earned by straining or striving to never sin or deny sin (Eph 2:8-9).
Conclusion
Ephesians 2:8-9 is why the good news is so good which says, "For by grace you have been saved through faith. And this is not your own doing; it is the gift of God, not a result of works, so that no one may boast" but to keep us humble, Paul adds that we should "remember that at one time you Gentiles in the flesh" (Eph 2:11) and "that you were at that time separated from Christ, alienated from the commonwealth of Israel and strangers to the covenants of promise, having no hope and without God in the world" (Eph 2:12) "But now in Christ Jesus you who once were far off have been brought near by the blood of Christ" (Eph 2:13). Do pastors struggle with sin? Short answer; yes!
Article by Jack Wellman
Jack Wellman is Pastor of the Mulvane Brethren Church in Mulvane Kansas. Jack is also the Senior Writer at What Christians Want To Know whose mission is to equip, encourage, and energize Christians and to address questions about the believer's daily walk with God and the Bible. You can follow Jack on Google Plus or check out his book Teaching Children the Gospel available on Amazon.