Here are six Bible verses that speak about the need for unity in the church.
First Peter 3:8 "Finally, all of you, have unity of mind, sympathy, brotherly love, a tender heart, and a humble mind."
When the church is unified by the Spirit of God and by their love for God and for one another, this acts as a powerful bonding agent that helps them endure the storms of life much better as a body and as individuals in order "That together you may with one voice glorify the God and Father of our Lord Jesus Christ" (Rom 15:6). It doesn't just happen; we must be "Eager to maintain the unity of the Spirit in the bond of peace" (Eph 4:3), indicating that it needs to be maintained and like any kind of maintenance, it takes hard word and diligence.
Philippians 2:2 "Complete my joy by being of the same mind, having the same love, being in full accord and of one mind."
If a group of believers have the same mind, then they can do more together as a church. Just as the different members of our own physical body work in unison for our good, so too in the church can we function as one body, "For as in one body we have many members, and the members do not all have the same function, so we, though many, are one body in Christ, and individually members one of another" (Rom 12:4-5). We are more than just many members; we are one body of one mind.
Second Corinthians 13:11 "Finally, brothers, rejoice. Aim for restoration, comfort one another, agree with one another, live in peace; and the God of love and peace will be with you."
The word the Apostle Paul used for "restoration" in the Greek ("katartizō") means "to mend, to repair," or "to complete" so Paul is concerned that the believers aim for completeness, striving to repair or mend any broken relationships. This is helped when we love one another, comfort one another, be agreeable with one another, and live in peace among each other. If that happens, Paul says "the God of love and peace will be with you."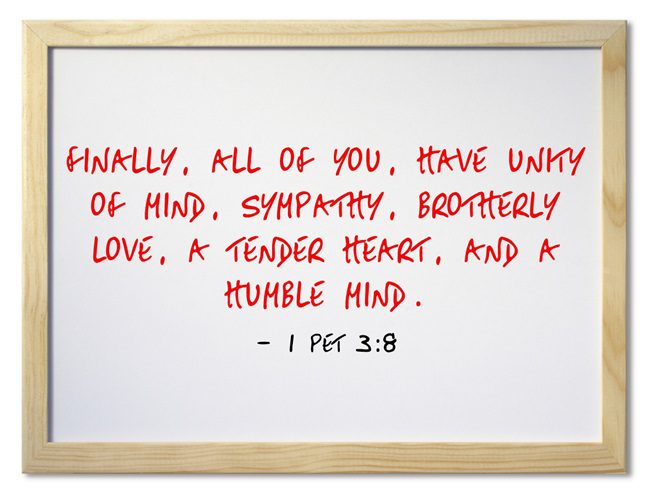 Colossians 3:14 "And above all these put on love, which binds everything together in perfect harmony."
What does it mean to live in perfect harmony with one another? It means "Live in harmony with one another. Do not be haughty, but associate with the lowly. Never be wise in your own sight" (Rom 14:19). Perhaps Paul knew that we need the help of God's Spirit to be in harmony with one another and so he prayed that "the God of endurance and encouragement grant you to live in such harmony with one another, in accord with Christ Jesus" (Rom 15:5).
First Corinthians 1:10 "I appeal to you, brothers, by the name of our Lord Jesus Christ, that all of you agree, and that there be no divisions among you, but that you be united in the same mind and the same judgment."
Paul was writing to the Corinthian church about his coming and "whether I come and see you or am absent that you are standing firm in one spirit, with one mind striving side by side for the faith of the gospel" (Phil 1:27) and not striving with one another side by side. The church should be striving to keep division from splitting the church and stand united in the same mind and purpose so that there won't "be divisions among" us.
Acts 4:32 "Now the full number of those who believed were of one heart and soul, and no one said that any of the things that belonged to him was his own, but they had everything in common."
The first century church was more like family than a church but that's the point. Don't we all have the same purpose in common? Can it be said of us in the local church that "all who believed were together and had all things in common. And they were selling their possessions and belongings and distributing the proceeds to all, as any had need" (Acts 2:44-45). Do we share our resources with those who have little? Aren't we able to share our abundance with those who have no such abundance?
Conclusion
I could have well included Psalm 133:1 which says "Behold, how good and pleasant it is when brothers dwell in unity" because of how good it really is to dwell together in unity. I have seen churches like this and they are so much stronger when they are all unified in purpose, passion, and so Christians, "Let brotherly love continue" (Heb 13:1).
Article by Jack Wellman
Jack Wellman is Pastor of the Mulvane Brethren Church in Mulvane Kansas. Jack is also the Senior Writer at What Christians Want To Know whose mission is to equip, encourage, and energize Christians and to address questions about the believer's daily walk with God and the Bible. You can follow Jack on Google Plus or check out his book Teaching Children the Gospel available on Amazon.