Here are seven important Bible verses about Mary, the mother of Jesus.
Matthew 1:18 "Now the birth of Jesus Christ took place in this way. When his mother Mary had been betrothed to Joseph, before they came together she was found to be with child from the Holy Spirit."
This is the fulfillment of the prophecy written by Isaiah the Prophet where he wrote "Therefore the Lord himself will give you a sign. Behold, the virgin shall conceive and bear a son, and shall call his name Immanuel" (Isaiah 7:14). This is just what the Apostle John said of Jesus that "the Word became flesh and dwelt among us, and we have seen his glory, glory as of the only Son from the Father, full of grace and truth" (John 1:14). This sign was ignored by the Jews of Jesus' day, even though they knew this was recorded in Scripture as a prophecy of the coming Messiah.
Matthew 2:11 "And going into the house they saw the child with Mary his mother, and they fell down and worshiped him. Then, opening their treasures, they offered him gifts, gold and frankincense and myrrh."
When the wise men from the east came and brought these three gifts, they had great symbolic significance and pointed forward in Jesus' life and work. The gold is a proper gift that is fitting for royalty or a king. They Jews used incense to be burned in the Tabernacle, which was a pleasing aroma to God, just as Jesus' gave His life and was pleasing to God, fully acceptable to Him (2 Cor. 2:15) and often represents prayer and Jesus was absolutely a Man of prayer and finally, the myrrh which comes from a tree resin and was used in embalming and may have represented Jesus' coming burial, but myrrh is also symbolic of bitterness, suffering, and affliction, which Christ endured at Calvary.
Luke 1:30 "And the angel said to her, "Do not be afraid, Mary, for you have found favor with God."
Gabriel the angel "came to [Mary] and said, "Greetings, O favored one, the Lord is with you" (Luke 1:28), and the Lord was with Mary. She is the virgin that was prophesied to be the mother of the Messiah. She was to be a virgin, therefore Jesus would not inherit the sinful nature of man (Rom 3:10-12, 23). Jesus' was conceived by the sinless Spirit of God and so had no earthly father but a heavenly Father…the Father, Who is God.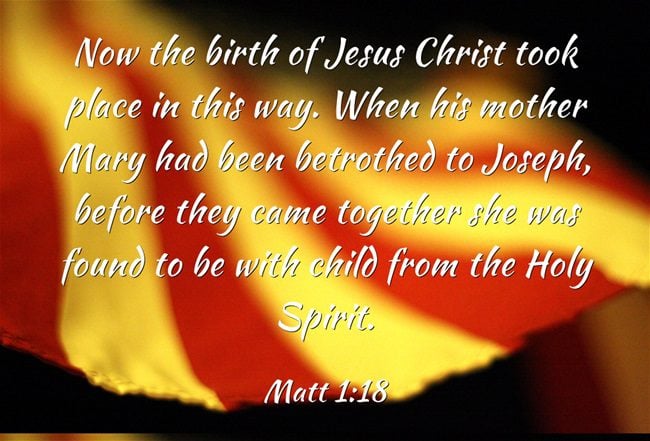 Luke 1:38 "And Mary said, "Behold, I am the servant of the Lord; let it be to me according to your word." And the angel departed from her."
What a saying by Mary! Should we not all strive to say the same thing? After all she heard, Mary simply said "let it be to me according to your word." What loyalty, obedience, and submissiveness to God. Mary didn't try to figure out how a virgin could give birth to a child. She simply believed God and told the angel, and thus told God, that she would do just as the angel had said.
Luke 1:41-42 "And she exclaimed with a loud cry, "Blessed are you among women, and blessed is the fruit of your womb! And when Elizabeth heard the greeting of Mary, the baby leaped in her womb. And Elizabeth was filled with the Holy Spirit."
What strong evidence this is that unborn babies are still considered babies to God and thus, a living soul. Most of wouldn't call Elizabeth's child a "baby" because it was unborn, but God uses the same word in Scripture for the unborn child as He does for those already born, which means that life begins at conception and continues on through the birth, and until the death of the person.
Luke 2:19 "But Mary treasured up all these things, pondering them in her heart."
When the angels first announced the coming birth of the God-Man, Jesus Christ, "they went with haste and found Mary and Joseph, and the baby lying in a manger. And when they saw it, they made known the saying that had been told them concerning this child" (Luke 2:16-17) "And all who heard it wondered at what the shepherds told them" (Luke 2:18), including Mary, who "treasured up all these things, pondering them in her heart." Later, it would all make perfect sense to Mary.
John 19:26-27 "When Jesus saw his mother and the disciple whom he loved standing nearby, he said to his mother, "Woman, behold, your son!" Then he said to the disciple, "Behold, your mother!" And from that hour the disciple took her to his own home."
Here is the final scene, just before Jesus died on the cross. Knowing that He was dying, Jesus wanted to ensure that his mother would have proper care and so passes on that responsibility to the young Apostle John, who took her is as his very own mother. Another thing is that Jesus now refers to Mary as "woman" and not mother, since even Mary needed a Savior. Jesus was more than Mary's Son; He was (and is) Mary's Lord and God and Savior, as He is ours.
Conclusion
Mary, the mother of Jesus, was an astonishingly godly woman who was submissive, obedient, trusting, and loyal to God. She made the perfect mother for Jesus as she humbly submitted to the news of Gabriel the angel and did all that God had instructed her to do. She is a great example of living a life that is pleasing to God as symbolized by her saying, "Behold, I am the servant of the Lord; let it be to me according to your word" (Luke 1:38). May we all be of such a mind before God.
Article by Jack Wellman
Jack Wellman is Pastor of the Mulvane Brethren Church in Mulvane Kansas. Jack is also the Senior Writer at What Christians Want To Know whose mission is to equip, encourage, and energize Christians and to address questions about the believer's daily walk with God and the Bible. You can follow Jack on Google Plus or check out his book Teaching Children the Gospel available on Amazon.