Here are seven Bible verses about bullies and how to respond to them.
Luke 6:27-28 "But I say to you who hear, Love your enemies, do good to those who hate you, bless those who curse you, pray for those who abuse you."
If you are being bullied, either as a child or a teen or even as an adult at work, don't seek to get even, seek to pray for them. That's not easy but it is biblical. Pray for those who hate us and then ask God to bless those who curse us and abuse us but it cannot be done in our own strength. It takes the Spirit of God to enable us to do good to those who do bad things to us and to pray for God's blessing on those who are cursing us, therefore, as Jesus said, we must love our enemies, knowing that at one time, we were enemies of God, but the truth is, He died for us so that we might be spared the wrath of God (Rom 5:10).
Romans 12:18-19 "If possible, so far as it depends on you, live peaceably with all. Beloved, never avenge yourselves, but leave it to the wrath of God, for it is written, "Vengeance is mine, I will repay, says the Lord."
If we seek revenge on someone who's been bullying us, then we are taking over the judgment seat of God and making ourselves as God. The throne of God is not a two-seater. Only God can judge with righteous judgment. We can't look into people's hearts but God can (Heb 4:13). By trying to seek revenge on our own, we're telling God, "God, I don't trust You enough to ensure that justice is done and so I will make sure of it." How tragically that will turn out.
Matthew 5:44-45 "But I say to you, Love your enemies and pray for those who persecute you, so that you may be sons of your Father who is in heaven. For he makes his sun rise on the evil and on the good, and sends rain on the just and on the unjust."
Jesus reminds us that we are more like the sons of our Father if we love our enemies and pray for our persecutors. Remember that Jesus prayed, "Father, forgive them for they know not what they do" (Luke 23:34) while dying in agony on the cross. He prayed for those who were murdering Him unjustly. By praying for our enemies, we are doing what Jesus did while on the cross, but of course, His prayer was exceedingly more difficult being in excruciating pain.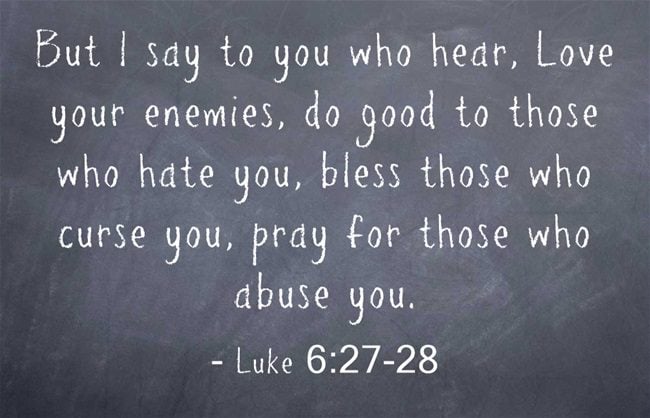 Psalm 138:7 "Though I walk in the midst of trouble, you preserve my life; you stretch out your hand against the wrath of my enemies, and your right hand delivers me."
The psalmist had enough confidence to know that God would preserve his life, even with enemies to his left and to his right. It was God's hand that would deliver him. He wouldn't deliver himself. The psalmist, like those who live with bullies, "walk in the midst of trouble," but if we think of their future, we would be more kind and compassionate, even to our enemies (Rev 20:12-15) and give them what they don't deserve; love and pray that God might save them.
Ephesians 6:12 "For we do not wrestle against flesh and blood, but against the rulers, against the authorities, against the cosmic powers over this present darkness, against the spiritual forces of evil in the heavenly places."
When we are dealing with enemies, we might try to remember that they are the influence of the "god of this world" who has blinded them to the glorious gospel (2nd Cor 4:4), so since the "gospel is veiled, it is veiled to those who are perishing" (2nd Cor 4:3). Pray for them to be saved because that's God's desire too (2nd Pet 3:9). Why God ever saved me still remains a mystery to me because I was ungodly, wicked, and a natural enemy of God, but Jesus still died for me (Rom 5:10). He gave me what I didn't deserve (grace) and kept back from me the wrath that I deserved (John 3:36b) (called mercy).
Leviticus 19:18 "You shall not take vengeance or bear a grudge against the sons of your own people, but you shall love your neighbor as yourself: I am the Lord."
The idea that we're not to take revenge upon others is not new. This law was in the Old Testament and instructed the nation of Israel to not seek revenge because that could lead to family feuds. We're not even to hold a grudge against our neighbor because Jesus said that if we hate our brother or sister, we are murdering them in our heart (Matt 5:21-22). Instead, we must give them what they don't deserve; our love. Same thing goes for bullies. Why? God answers; "I am the Lord." That is enough for me.
Romans 12:20-21 "To the contrary, "if your enemy is hungry, feed him; if he is thirsty, give him something to drink; for by so doing you will heap burning coals on his head." Do not be overcome by evil, but overcome evil with good."
We are told to do good to those who do or say bad things to us, and to pray for those who hate us, and love those who persecute us and curse us, but now the Apostle Paul writes that if we see an enemy who's hungry or thirsty, show compassion as God did for us; give them something to eat and drink. It may leave an opportunity to introduce the Bread of Life (John 6) and the Living Water (John 4) found in Jesus Christ. He satisfies forever and they shall never thirst or hunger again. The language about the burning coals simply refers to letting their conscience work on them but by all means, don't respond in kind and "be overcome by evil."
Conclusion
I think many of us, if not most of us, have had a bully in our lives. You may still have one. Maybe he or she is your supervisor or employer. Maybe they're your college professor. They might even be a member of the family. The best thing you can do is to pray for them, serve them, love them, and give them what they don't deserve because we too received what we didn't deserve (Eph 2:8) and we certainly didn't do anything good to earn it (Eph 2:9).
Article by Jack Wellman
Jack Wellman is Pastor of the Mulvane Brethren Church in Mulvane Kansas. Jack is also the Senior Writer at What Christians Want To Know whose mission is to equip, encourage, and energize Christians and to address questions about the believer's daily walk with God and the Bible. You can follow Jack on Google Plus or check out his book Teaching Children the Gospel available on Amazon.