Here are seven Bible verses relating directly to Martha in the New Testament.
Luke 10:38-40 "Now as they went on their way, Jesus entered a village. And a woman named Martha welcomed him into her house. And she had a sister called Mary, who sat at the Lord's feet and listened to his teaching. But Martha was distracted with much serving. And she went up to him and said, "Lord, do you not care that my sister has left me to serve alone? Tell her then to help me."
Martha was preoccupied with getting things done and didn't stop to consider Who her guest was. It was the very Son of God, Jesus Christ. While Martha was busy getting things done, Mary understood Who was there. She sat at Jesus' feet, listening to the Messiah and learning of His teachings. Martha was distracted from the most important part; being with Jesus and learning from Him.
Luke, 10:41-42 "But the Lord answered her, "Martha, Martha, you are anxious and troubled about many things, but one thing is necessary. Mary has chosen the good portion, which will not be taken away from her."
Jesus rebukes Martha for being so busy that she doesn't see the priority of the teachings of Jesus Christ. She is simply trying to get things done when these "things" pale in comparison to the very Son of God being in her presence. Mary got it. Martha didn't…at least at this point.
John 11:5 "Now Jesus loved Martha and her sister and Lazarus."
When they asked Jesus to come because Lazarus was sick, Jesus delayed and said, "Our friend Lazarus has fallen asleep, but I go to awaken him." The disciples said to him, "Lord, if he has fallen asleep, he will recover" (John 11:12-13) but they didn't understand that He spoke of Lazarus' death and so "Jesus told them plainly, "Lazarus has died, and for your sake I am glad that I was not there, so that you may believe. But let us go to him" (John 11:14-15). Why would Jesus say that He was glad He was not there? We'll find out next.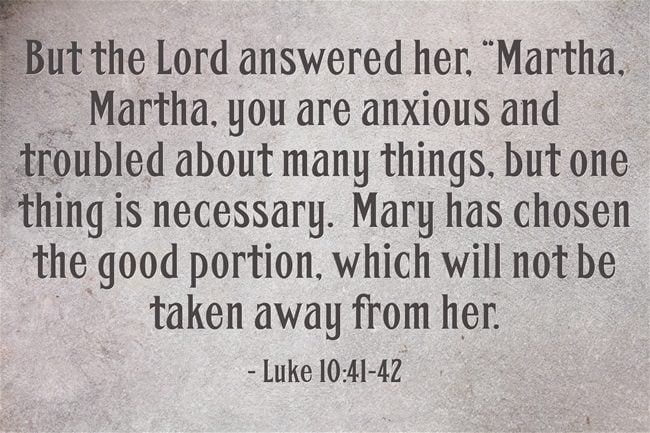 John 11:20 "So when Martha heard that Jesus was coming, she went and met him, but Mary remained seated in the house."
Just as Martha's personality type was, she ran out to meet Jesus when He came "but Mary remained seated in the house" as if more trusting of Jesus, perhaps having more faith that He could raise Lazarus from the dead. Once again, Martha seems to be overly anxious about Jesus and was upset that He hadn't come earlier so that Lazarus wouldn't have died but Jesus had a very good reason for that, as we shall see.
John 11:24 "Martha said to him, "I know that he will rise again in the resurrection on the last day."
Martha ran up to meet Jesus and "Martha said to Jesus, "Lord, if you had been here, my brother would not have died. But even now I know that whatever you ask from God, God will give you" (John 11:21-22) and so Jesus tells Martha, "Your brother will rise again" (John 11:23). Martha acknowledges her belief in the resurrection of the last day (Dan 12:2-3; Rev 20:12-13) but doesn't understand that Jesus is speaking about Lazarus being raised from the dead today. Soon, she would understand.
John 11:25-26 "Jesus said to her, "I am the resurrection and the life. Whoever believes in me, though he die, yet shall he live, and everyone who lives and believes in me shall never die. Do you believe this?"
Here is one of the seven great "I Am" statements found in the Gospel of John. Jesus says "I am the resurrection and the life" and if they believe in Him, even if they die, "yet shall he (or she) live" again, meaning have eternal life in Jesus Christ. Jesus asked Martha and He asks you and I; "Do you believe this?" Your answer seals your fate for eternity.
John 11:39 "Jesus said, "Take away the stone." Martha, the sister of the dead man, said to him, "Lord, by this time there will be an odor, for he has been dead four days."
When Jesus was about to raise Lazarus from the dead, Martha still didn't get it. She didn't realize that the dead and their decayed body is not going to limit what God can do and since Jesus is God, He can raise the dead for He has that power. So Jesus shouts, "Lazarus, come out." The man who had died came out, his hands and feet bound with linen strips, and his face wrapped with a cloth. Jesus said to them, "Unbind him, and let him go" (John 11:43-44). One note of importance is that since Jesus has resurrection power in His Word, if He had not specified "Lazarus, come out," all who were in their grave would have come forth, therefore, Jesus had to be specific.
Conclusion
Talk about hard hearts; after Lazarus was raised from the dead, instead of celebrating this miracle of life, some of the Jews "went to the Pharisees and told them what Jesus had done" (John 11:46) and sadly, "from that day on they made plans to put him to death" (John 11:53), including Lazarus, as if he were to blame for being raised from the dead. Disbelief can create hearts so hard that they are blind to the obvious. So it is with all who reject Jesus. They are blinded as the Apostle Paul wrote, "In their case the god of this world has blinded the minds of the unbelievers, to keep them from seeing the light of the gospel of the glory of Christ, who is the image of God" (2nd Cor 4:4). Pray that God opens their eyes so that they might be saved.
Article by Jack Wellman
Jack Wellman is Pastor of the Mulvane Brethren Church in Mulvane Kansas. Jack is also the Senior Writer at What Christians Want To Know whose mission is to equip, encourage, and energize Christians and to address questions about the believer's daily walk with God and the Bible. You can follow Jack on Google Plus or check out his book Teaching Children the Gospel available on Amazon.