Here are seven key Bible verses from the Book of 2nd Peter.
Second Peter 1:3-4 "His divine power has granted to us all things that pertain to life and godliness, through the knowledge of him who called us to his own glory and excellence, by which he has granted to us his precious and very great promises, so that through them you may become partakers of the divine nature, having escaped from the corruption that is in the world because of sinful desire."
When the Apostle Peter starts describing all of God's promises in chapter 1, he doesn't just label them promises but "precious and very great promises." This is just a promise of eternal life (John 3:16), although it is that, it is a joyous eternal destiny and life that will never end because by God's grace, we've "escaped from the corruption that is in the world because of sinful desire," only because we were ransomed by the precious blood of the Lamb of God (1st Pet 1:19).
Second Peter 1:20-21 "Knowing this first of all, that no prophecy of Scripture comes from someone's own interpretation. For no prophecy was ever produced by the will of man, but men spoke from God as they were carried along by the Holy Spirit."
I hear so many people say "A prophet told me that I am supposed to do this or that" but my question is, who anointed them a prophet? Was it a self-proclamation, and thus, unbiblical? Is someone keeping count of their prophetic errors because it's one strike and you're out as far as God is concerned. Why do we need new revelation? Isn't the Bible enough? Isn't that all we need for salvation and growing in holiness? Who holds these "prophets" accountable?
Second Peter 2:1 "But false prophets also arose among the people, just as there will be false teachers among you, who will secretly bring in destructive heresies, even denying the Master who bought them, bringing upon themselves swift destruction."
Why would Peter warn the church about false prophets? Because they've been around since ancient times (Jer 23) and they "bring destructive heresies." What this means is that they bring another gospel or add some requirement to the gospel that but renders it useless (Eph 2:8-9). If you've got the wrong gospel, you've got the wrong Savior. Sadly, "many will follow their sensuality, and because of them the way of truth will be blasphemed. And in their greed they will exploit you with false words. Their condemnation from long ago is not idle, and their destruction is not asleep" (2nd Pet 2:2-3). There are "many" that follow their ways… not few.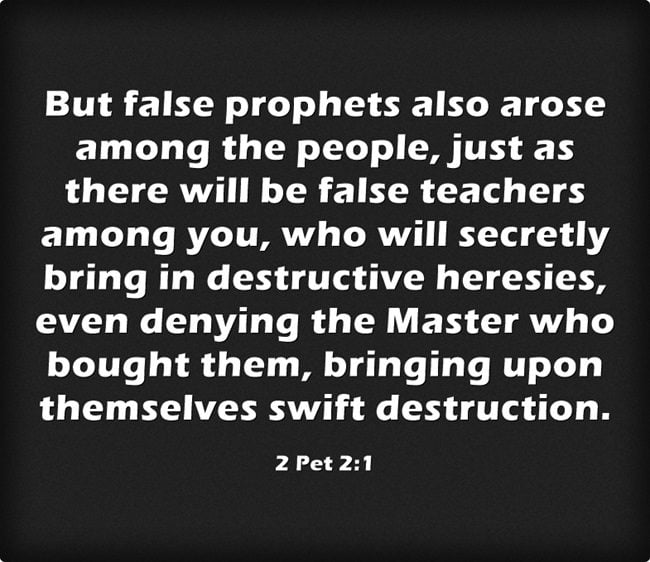 Second Peter 2:9 "Then the Lord knows how to rescue the godly from trials, and to keep the unrighteous under punishment until the day of judgment, and especially those who indulge in the lust of defiling passion and despise authority."
Don't think that God doesn't see you in your pain. He knows what you are going through. He's working ahead of you in your life so that all things will work out for your very best (Rom 8:28). Thankfully, He also knows how to rescue us when (not if) we need it, but there is also the sobering fact that He knows how to reserve those who have all their lives rejected the Son of God for the Day of Judgment. Are some of these the same "many" those would follow the many false prophets (2nd Pet 2:1-3)? It is entirely possible.
Second Peter 2:21-22 "For it would have been better for them never to have known the way of righteousness than after knowing it to turn back from the holy commandment delivered to them. What the true proverb says has happened to them: "The dog returns to its own vomit, and the sow, after washing herself, returns to wallow in the mire."
What a gruesome image of someone who has heard the way of righteousness, only to return to the vomit of this world's sins. The more a non-believer reads, the more they are accountable for and the more responsible they are for it. It's really better that they shut their eyes and ears to it because God will require it of them after death (Heb 9:27), or at Jesus' return (Luke 12:46-47). Jesus said "the one who did not know, and did what deserved a beating, will receive a light beating. Everyone to whom much was given, of him much will be required, and from him to whom they entrusted much, they will demand the more" (Luke 12:48). The context of these verses was God's judgement or hell (Luke 12:43-47).
Second Peter 3:3-4 "Knowing this first of all, that scoffers will come in the last days with scoffing, following their own sinful desires. They will say, "Where is the promise of his coming? For ever since the fathers fell asleep, all things are continuing as they were from the beginning of creation."
We don't have any trouble finding "scoffers" today who say "Where is the promise of his coming," saying, everything's "continuing as they were from the beginning…" There is no doubt that some reading this will scoff. Congratulations; you just fulfilled one of God's prophecies. You can say there is no God, but the truth is, you are only suppressing the knowledge of God and so you are without excuse (Rom 1:18-21). Sin has a way of blinding those who deny Christ, but in the end, it's an intentional, self-inflicted spiritual blindness.
Second Peter 3:9 "The Lord is not slow to fulfill his promise as some count slowness, but is patient toward you, not wishing that any should perish, but that all should reach repentance."
This is similar to the Prophet Ezekiel, who quotes God as saying, "As I live, declares the Lord GOD, I have no pleasure in the death of the wicked, but that the wicked turn from his way and live; turn back, turn back from your evil ways, for why will you die, O house of Israel" (Ezk 33:11)? That is the Christian's desire too. At least it should be. What does that desire that none perish look like? It is evangelistic and it is a willingness to risk rejection, ridicule, and scorn by those who don't believe. True love is willing to be hated in order to be used by God as a means to save someone, because we, like God, should have "desires [that] all people to be saved and to come to the knowledge of the truth" (1st Tim 2:4).
Conclusion
This was the Apostle Peter's very last book before suffering much of what he wrote about. Peter felt unworthy to be crucified in the manner in which Jesus was and so he asked to be crucified upside down. They accommodated him. Besides, none of us are worthy (Rom 3:10-12) and altogether evil (Jer 17:9), but we can thank God that it was "For our sake he made him to be sin who knew no sin, so that in him we might become the righteousness of God" (2nd Cor 5:21).
Article by Jack Wellman
Jack Wellman is Pastor of the Mulvane Brethren Church in Mulvane Kansas. Jack is also the Senior Writer at What Christians Want To Know whose mission is to equip, encourage, and energize Christians and to address questions about the believer's daily walk with God and the Bible. You can follow Jack on Google Plus or check out his book Teaching Children the Gospel available on Amazon.