Here are seven great Bible verses for when you are hurting.
Revelation 21:4 "He will wipe away every tear from their eyes, and death shall be no more, neither shall there be mourning, nor crying, nor pain anymore, for the former things have passed away."
This is the day that most Christians most look forward to, next to seeing God and being in His presence (Rev 21:3; 22:4), because it's the end of all their suffering but also all the hurt of the world will vanquish when the King of kings begins His righteous reign. These things will all be history; suffering, pain, hurting, crying, mourning, and even death itself will die. All of this will be preceded by God wiping away every tear and when God wipes away the tears away, they stay away forever.
Job 30:17 "The night racks my bones, and the pain that gnaws me takes no rest."
Job must have suffered more than any man next to Jesus Christ and the truth is he never did find out the reason why. Job had everything taken away and it wasn't because he was living in sin. His friends who first came to console him in his pain later turned on him and blamed him, even though it was God allowing it to happen. Job ended up better off than he began.
Romans 8:18 "For I consider that the sufferings of this present time are not worth comparing with the glory that is to be revealed to us."
If there was a gigantic scale where on one side of the scale there was a microscopic piece of dust and on the other side, was all matter in the entire universe, we can see why Paul says today verses eternity are not worthy to be compared with one another. In the same way, what we are going through today will pale in comparison to the glory that's coming someday. This present time of hurting will not even compare with the eternity of the joyful bliss that being in the presence of God will be like. We'll look back at our lives someday from the kingdom and say, "it's no contest."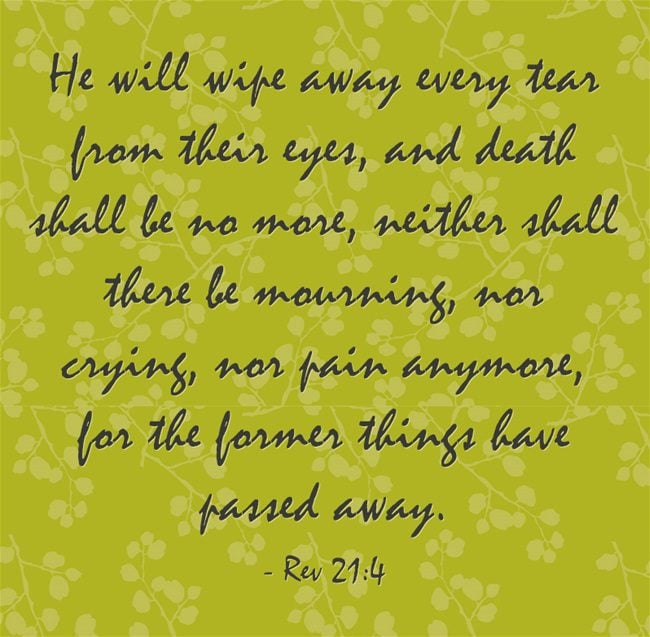 Philippians 4:13 "I can do all things through him who strengthens me."
The context of Philippians chapter 4 is Paul facing hunger and need and his learning how to be content in all these things. His conclusion was that no pain is too great that God cannot strengthen us to be able to endure it. The word for "temptation" in the New Testament is often a reference to testing or a trial, so knowing that, we can make sense of Paul's statement that "No temptation (tests or trials) has overtaken you that is not common to man. God is faithful, and he will not let you be tempted beyond your ability, but with the temptation he will also provide the way of escape, that you may be able to endure it" (1st Cor 10:13). He will provide a way of escape from your hurt because He will strengthen you.
Psalm 41:3 "The Lord sustains him on his sickbed; in his illness you restore him to full health."
What a tender image this is as God is watching over those on their sickbed and they're being sustained by God Himself. His desire is that we are restored to "full health" someday, but He does not say when that time will be. It may not come until the kingdom so it's a matter of trust. We can trust Him in our pain, sorrow, suffering, and sickness more than we can trust our own minds. He is ever faithful, even when we are not.
First Peter 4:19 "Therefore let those who suffer according to God's will entrust their souls to a faithful Creator while doing good."
If you've experienced the pain of persecution, that's actually a good thing because Jesus said if they persecuted me, they surely will persecute you because it will be just as Jesus said, "A servant is not greater than his master.' If they persecuted me, they will also persecute you" (John 15:20). If you're never persecuted then you're either a "secret agent Christian" or "underground" Christian who's afraid to share Christ or you have denied Him verbally or by your lifestyle but the danger in that is as Jesus warns, "whoever denies me before men, I also will deny before my Father who is in heaven" (Matt 10:33).
Isaiah 53:5 "But he was wounded for our transgressions; he was crushed for our iniquities; upon him was the chastisement that brought us peace, and with his stripes we are healed."
Whoever thinks they've really suffered terribly in life, and many have, think about what Jesus endured on the cross for you and for me. None were beaten, whipped, scourged like Jesus was. Who has ever suffered more than Christ? Job can claim to know a lot about suffering, but even he didn't have a body that was so marred as to be unrecognizable as a human just as Isaiah wrote, "As many were astonished at you—his appearance was so marred, beyond human semblance, and his form beyond that of the children of mankind" (Isaiah 52:14).
Conclusion
God never wastes our suffering. He is working in us to make us more like Christ every day and since we are to share in Christ's suffering, we shouldn't be surprised when we're called to suffer. The Apostle Paul wrote that just "as we share abundantly in Christ's sufferings, so through Christ we share abundantly in comfort too" (2nd Cor 1:5) in order that we can comfort others in the same way that God comforts us.
Article by Jack Wellman
Jack Wellman is Pastor of the Mulvane Brethren Church in Mulvane Kansas. Jack is also the Senior Writer at What Christians Want To Know whose mission is to equip, encourage, and energize Christians and to address questions about the believer's daily walk with God and the Bible. You can follow Jack on Google Plus or check out his book Teaching Children the Gospel available on Amazon.