Most of us experience joy, but how can we keep joy in our life? Is it possible?
Happiness
Regardless of what people might believe, the Bible never promises Christ followers happiness. God's Word never declares, "I want you to be happy" or "I promise you happiness," so happiness is not a promise of God, though it can be a product of a promise of God. For example, believers have been spared from the wrath of God, however "the wrath of God is revealed from heaven against all ungodliness and unrighteousness of men, who by their unrighteousness suppress the truth" (Rom 1:18). It should grieve us that unbelievers will face God's wrath, but it should please us that God has not appointed us unto His wrath (1st Thess 5:9), however happiness is not a promise of God because Jesus said that "the gate is narrow and the way is hard that leads to life, and those who find it are few" (Matt 7:14) and we must "Strive to enter through the narrow door. For many, I tell you, will seek to enter and will not be able" (Luke 13:24). Even though we experience many trials in life, our happiness doesn't have to depend on our circumstances. We must be like Jesus "who for the joy that was set before him endured the cross, despising the shame, and is seated at the right hand of the throne of God" (Heb 12:2). Happiness is based upon "happenings" or circumstances, so happiness may be hard to hold onto because it can come and go, and do so quickly.
Peace
Just prior to Jesus going to suffer and die on the cross, He knew they were troubled in heart so He said to them, "Peace I leave with you; my peace I give to you. Not as the world gives do I give to you. Let not your hearts be troubled, neither let them be afraid" (John 14:27), and so "I have said these things to you, that in me you may have peace. In the world you will have tribulation. But take heart; I have overcome the world" (John 16:33). Something very important to know is that you cannot have the peace of God until you are at peace with God. How is that possible? The Apostle Paul wrote that "There is therefore now no condemnation for those who are in Christ Jesus" (Rom 8:1), so "since we have been justified by faith, we have peace with God through our Lord Jesus Christ" (Rom 5:1). This is the peace of God that is beyond our human understanding (Eph 4:7), so being justified before God by having the very righteousness of Christ, (2nd Cor 5:21), we should have peace and peace of mind, but what about joy? How can we have joy and keep it?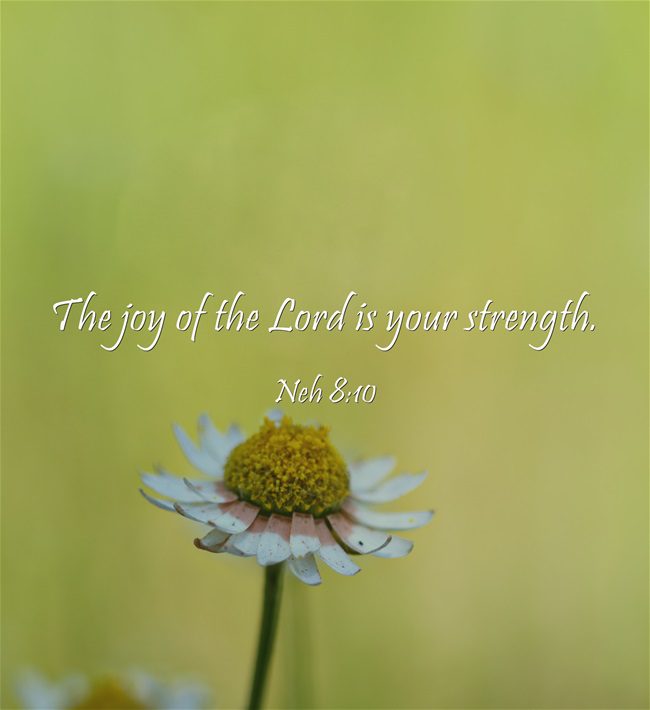 Joy
We have read about the peace of God, which Jesus gave them, and was not like the world's peace, but a godly peace, knowing God is satisfied with them (us) through Christ, but what about joy? Can we have joy and a joy that remains? After the Passover meal, as Jesus was preparing to go through the Passion, He told His disciples, "Truly, truly, I say to you, you will weep and lament, but the world will rejoice. You will be sorrowful, but your sorrow will turn into joy" (John 16:20), and weep they did, especially the Apostle Peter who denied Jesus three times in public, so He reassures them that "I will see you again, and your hearts will rejoice, and no one will take your joy from you" (John 16:21). Then, they can pray for and "Ask, and you will receive, that your joy may be full" (John 16:24). Jesus will see them again and their joy will come back to them, but after it comes back to them, nobody or nothing will take it from them again. Jesus, in praying to the Father for the disciples, prayed "that they may have my joy fulfilled in themselves" (John 17:13), and can you imagine the Father not answering Jesus' prayer?
Contentment
If a person is deeply satisfied and contented in life, even among the trials, they can keep their joy. That's because their joy doesn't depend on circumstances. Their joy comes from Christ and knowing that the kingdom is coming, they can even rejoice when beaten for Christ as the Apostles were and rejoiced in it (Acts 5:41). Few suffered like the Apostle Paul did, but he could still say, "I have learned in whatever situation I am to be content" (Phil 4:11). He knew "how to be brought low, and I know how to abound. In any and every circumstance, I have learned the secret of facing plenty and hunger, abundance and need" (Phil 4:12), and what was this secret? He says "I can do all things through him who strengthens me" (Phil 4:13), not by trying to force myself to be happy, contented, or joyful. Even in his time of need, he knew that "God will supply every need of yours according to his riches in glory in Christ Jesus" (Phil 4:19). His circumstances could not touch what was eternal.
Conclusion
Every Christ follower should have joy because it is a fruit of the Spirit. Fruit should be just as evident as it is when it's hanging on a tree. People should clearly see your joy of the Lord. If not, you or I haven't learned to be content yet. That will put a damper on our joy. There are many reasons why we should be ever joyful. We should "shout for joy over your salvation, and in the name of our God set up our banners! May the Lord fulfill all your petitions" (Psalm 20:5), and should "Shout for joy in the Lord, O you righteous! Praise befits the upright" (Psalm 33:1), so "Let those who delight in my righteousness shout for joy and be glad and say evermore, "Great is the Lord, who delights in the welfare of his servant" (Psalm 35:27)! Have you lost your joy? Find it in Christ and pray that He would "Restore to me the joy of your salvation" (Psalm 51:12a), since "the joy of the Lord is your strength" (Neh 8:10).
Article by Jack Wellman
Jack Wellman is Pastor of the Mulvane Brethren Church in Mulvane Kansas. Jack is also the Senior Writer at What Christians Want To Know whose mission is to equip, encourage, and energize Christians and to address questions about the believer's daily walk with God and the Bible. You can follow Jack on Google Plus or check out his book Teaching Children the Gospel available on Amazon.