In the Olivet Discourse or prophecy of Jesus, He said many false Christ's will come in His name, so what does this mean?
Falling Away
There are so many false teachings today in Christianity that it's hard to tell the genuine from the fake. The Apostle Paul warned Timothy, "Now the Spirit expressly says that in later times some will depart from the faith by devoting themselves to deceitful spirits and teachings of demons, through the insincerity of liars whose consciences are seared" (1st Tim 4:1-2). Since this was true of Paul's day, how much more so is it today? Paul had already encountered another gospel, just as we are seeing other gospels today, and said, "if someone comes and proclaims another Jesus than the one we proclaimed, or if you receive a different spirit from the one you received, or if you accept a different gospel from the one you accepted, you put up with it readily enough" (2nd Cor 11:4). It may sound like biblical teaching but in reality, if they aren't preaching about repentance and faith, then it's not the gospel Jesus brought (Mark 1:15). Mankind has been laying a manmade foundation for the last 2,000 years but "no one can lay a foundation other than that which is laid, which is Jesus Christ" (1st Cor 3:11). Even so, they are bringing another gospel and often a gospel that looks and sounds real, but it's not the gospel that saves.
Who is the Christ?
The Jews had been waiting for thousands of years for the Messiah or the "Christos" or Christ, and when the actual Messiah came in Jesus Christ, they ignored the precious pearl of great price standing right in front of them and even crucified Him. On one occasion, "Jesus went on with his disciples to the villages of Caesarea Philippi. And on the way he asked his disciples, "Who do people say that I am" (Mark 8:27), so "they told him, "John the Baptist; and others say, Elijah; and others, one of the prophets" (Mark 8:28), so Jesus "asked them, "But who do you say that I am?" Peter answered him, "You are the Christ" (Mark 8:29). Peter was often impetuous and impulsive, but at least he got this right by telling Jesus "You are the Christ," and indeed He is. Christ simply means "anointed," and Jesus was the anointed One from God. Not "an" anointed one but "the" anointed of God, so He is Jesus Christ. That's Who Christ is. He is from God and is God (John1:1). After many of Jesus' disciples left Him (John 6:66), the Apostle Peter said, "we have believed, and have come to know, that you are the Holy One of God" (John 6:69).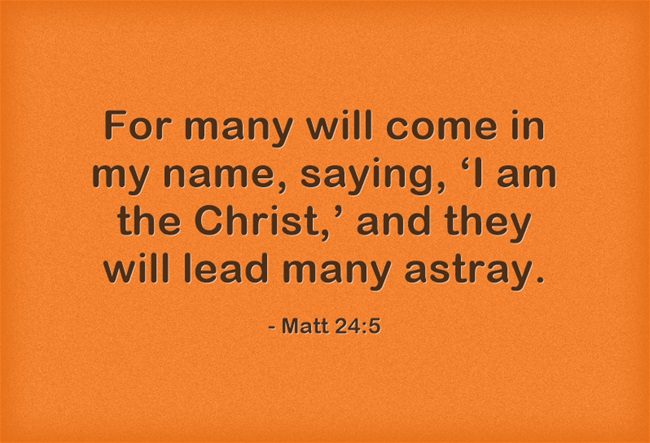 Another Gospel
The word "gospel" means "good news" and it is more than good news; it's great news for sinners because Jesus came to give His life as a ransom for many who would repent and trust in Him (Mark 10:45), but if there is no preaching about repentance, sin, confession, sanctification, and desiring to live a holy life (not perfect), then you're not hearing the authentic gospel. It's another gospel, or really, no gospel at all as Paul wrote to the Corinthians that they "accept a different gospel from the one you accepted" (2nd Cor 11:4b), so even if it sounds genuine, if the need for repentance and faith are missing, so is the gospel. Jesus already had seen the false belief system of the Jews and rebuked them by telling them that their religion was manmade and said, "You have a fine way of rejecting the commandment of God in order to establish your tradition" (Mark 7:9)! Today, many religions operate on traditions but they are not from God. Just up the street on a recent Christmas season, a large church inflated a giant Santa Clause who had an electric guitar, and the billboard said, "Come Rock With Santa This Christmas." Wow. That was disappointing. Really? Rock with Santa? What about preaching for the need of repentance, a life of holiness, of confession of sin, and seeking first the kingdom of God (Matt 6:33)? If church is not changing you, you should be changing church, because the Word of God has the power to save (Rom 1:18; 1st Cor 1:18), but when the gospel is not preached, you've got another gospel and instead a "feel good about me" gospel of improving your self-esteem and using seeker-friendly methods to draw people into the church.
False Christs
When Jesus was giving the disciples the signs of His return, He said, "See that no one leads you astray. For many will come in my name, saying, 'I am the Christ,' and they will lead many astray" (Matt 24:4-5), and "many will fall away and betray one another and hate one another. And many false prophets will arise and lead many astray" (Matt 24:10-11), and "lawlessness will be increased, the love of many will grow cold" (Matt 24:12). Doesn't this describe our society today? Many false prophets are leading many astray, indicating that they might be in the majority because Jesus didn't say "some false prophets" will lead "some astray" but many false prophets will lead many astray, and interestingly, Jesus said when He returns, "many will say to me, 'Lord, Lord, did we not prophesy in your name, and cast out demons in your name, and do many mighty works in your name?' And then will I declare to them, 'I never knew you; depart from me, you workers of lawlessness" (Matt 7:22-23). That's why Jesus and the apostles gave so many warnings about false prophets, or really, "prophets for profit," so Jesus wants us to recognize that "if anyone says to you, 'Look, here is the Christ!' or 'There he is!' do not believe it. For false christs and false prophets will arise and perform great signs and wonders, so as to lead astray, if possible, even the elect. See, I have told you beforehand" (Matt 24:23-25). The many who are being led astray might even see "great signs and wonders," but who is the source of this power? It's not of God because Jesus said a wicked generation seeks after a sign (Matt 16:24).
Conclusion
I have read about a man from South America who even called himself Jesus Christ and proclaimed that He was the Christ, just as Jesus prophesied, but most are cleverer than that. They imitate the genuine gospel with a gospel that looks, feels, and sounds the same, but being close is not good enough unless you're playing horseshoes. We must contend for the faith once delivered to the saints, as Jude wrote (Jude 1:3), meaning it has already been delivered and it is the original gospel of faith alone in Christ alone as the free gift of God (Eph 2:8-9). Jude warns us that we must contend for the faith that has already been delivered because even in his day, "certain people have crept in unnoticed who long ago were designated for this condemnation, ungodly people, who pervert the grace of our God into sensuality and deny our only Master and Lord, Jesus Christ" (Jude 1:4). This is why Jesus warned about many coming in His name, proclaiming that they have the gospel, but instead, they have another gospel, which in fact, is no gospel at all.
Article by Jack Wellman
Jack Wellman is Pastor of the Mulvane Brethren Church in Mulvane Kansas. Jack is also the Senior Writer at What Christians Want To Know whose mission is to equip, encourage, and energize Christians and to address questions about the believer's daily walk with God and the Bible. You can follow Jack on Google Plus or check out his book Teaching Children the Gospel available on Amazon.