The Book of Jonah shows us how we can't run from the will of God any more than we can run from God Himself.
Jonah's Calling
Jonah, whose very name means called, was called by God to witness to the great city-state of Nineveh, but that's the last thing Jonah wanted to do because Nineveh was a longtime enemy of the Jews, so it's not surprising that when God called Jonah to witness to Nineveh, he tried to escape on a ship headed for Tarshish, which was the opposite direction of where God wanted him to go. That's when God sent or literally, "hurled" a great storm at the ship so that it appeared the ship would be destroyed (Jonah 1:4). The men were desperate and began throwing their goods overboard to prevent the ship from sinking, but the storm only grew worse, so Jonah's disobedience caused the men to lose much of their merchandize (Jonah 1:5), and in similar fashion, Christians can hurt others, including non-believers, by their disobedience to God. When the crew cast lots to find out who was responsible, the lot fell on Jonah, but the men already knew that Jonah had "fled from the presence of the Lord", because he told them, so "the men were exceedingly afraid" (Jonah 1:10) of Jonah's God.
Jonah and the Great Fish
Jonah told the men on the ship that he was the reason for the storm and that if they tossed him overboard, they would be saved, but ending Jonah's life was the last thing the ship's crew wanted to do, perhaps because they knew about his God and feared throwing him into the sea, so the men started rowing harder to save the ship, but it was to no avail (Jonah 1:13). Finally, they took Jonah up and "cast him forth into the sea, and the sea ceased from her raging" (Jonah 1:15), so then the men on the ship understood Who the One, True God was and so it's not surprising that "the men feared the LORD exceedingly, and offered a sacrifice to the LORD, and made vows" (Jonah 1:16). Even through Jonah's terrible witness for God, this still caused the unbelievers to know Who the real God was. Jonah basically wanted to die since they if they had thrown him into the sea, he knew he wouldn't survive, but the point is, Jonah would rather die than obey God's will and witness to Nineveh, but "the LORD had prepared a great fish to swallow up Jonah" (John 1:17), so that not only would he not drown, he would be delivered to a place where he could go to directly to Nineveh.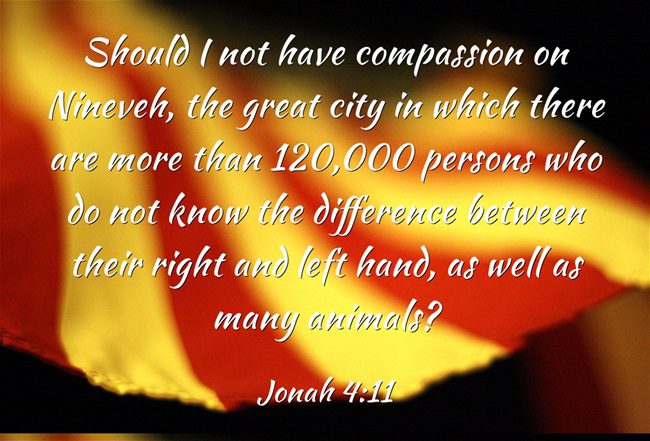 Jonah's Second Calling
Jesus spoke about His being in the grave for three days and nights, saying "just as Jonah was three days and three nights in the belly of the great fish, so will the Son of Man be three days and three nights in the heart of the earth" (Mat 12:4), so Jonah was "cut off" from the land of the living (Jonah 2:6), just as Jesus was, but then Jonah "remembered the Lord; and [his] prayer came to [God]" (Jonah 2:7) and "the LORD spoke to the fish and it vomited out Jonah upon the dry land" (Jonah 2:10), and at a place where he go to Nineveh. That's when "the word of the LORD came to Jonah the second time" in commanding him to preach to Nineveh. Jonah did as he was told and warned, "Yet forty days, and Nineveh shall be overthrown" (Jonah 3:4), and to Jonah's consternation, "the people of Nineveh believed God, and proclaimed a fast, and put on sackcloth, from the greatest of them even to the least of them" (Jonah 3:5). When even the king humbled himself before others (John 3:7), "God saw their works, that they turned from their evil way" (John 3:10) and spared that great city and all their occupants.
Jonah's Unjust Anger
After Jonah had seen the great city-state of Nineveh repent, he was greatly angered, and told God, that he knew God was "a gracious God, and merciful, slow to anger, and of great kindness" (Jonah 4:2), so Jonah, instead of celebrating that Nineveh had repented and was saved, told God to take my "life from me, for it is better for me to die than to live" (Jonah 4:3). Jonah would rather die than to see his enemies saved. Then Jonah sat and waited to see if the city would be destroyed (Jonah 4:5) and God caused a great gourd to grow over him for shade from the hot sun, and Jonah rejoiced over this gourd, but the next morning, the gourd died and Jonah was angry about the gourd, meaning he lost his comforting shade. Jonah was angrier that one gourd died than the thousands of souls in Nineveh that would have perished. In other words, Jonah thought more of himself and his own comfort than he did the thousands of people in Nineveh, so God asked Jonah, "should I not spare Nineveh, that great city, wherein are more than 120,000 persons that cannot discern between their right hand and their left" (John 4:11), meaning there were that many infants and young children who couldn't possibly have known how to repent ("cannot discern between their right hand and their left"), so God's great mercy on a great city which didn't deserve it, is symbolic of God's great mercy for us, who similarly didn't deserve it. The Apostle Paul makes this clear in writing, "For while we were still weak, at the right time Christ died for the ungodly. For one will scarcely die for a righteous person—though perhaps for a good person one would dare even to die—but God shows his love for us in that while we were still sinners, Christ died for us" (Rom 5:6-8), and even "while we were enemies we were reconciled to God by the death of his Son, much more, now that we are reconciled, shall we be saved by his life" (Rom5:10).
Conclusion
Instead of thinking, "How could Jonah be like that?" let's ask ourselves, how are we like Jonah and reluctant to witness to those we might think could never be saved or those who have persecuted us? Who in their right mind would have witnessed to Saul, who before he became Paul, was obsessed with destroying the church? I doubt anyone thought that Saul would have ever been saved, but God can change the human heart (Prov 21:1; 2nd Cor 5:17) and made a Saul into a Paul. The point is, God's desire that Nineveh repented shows that He doesn't desire anyone to perish apart from faith in God. The Apostle Peter shows that God doesn't just want to save the Jews but all people from all nations, writing, "The Lord is not slow to fulfill his promise as some count slowness, but is patient toward you, not wishing that any should perish, but that all should reach repentance" (2nd Pet 3:9), and "all" can only mean one thing in this context; whoever believes in Him, Jew, Greek, male, female, slave or free, will be saved.
Article by Jack Wellman
Jack Wellman is Pastor of the Mulvane Brethren Church in Mulvane Kansas. Jack is host of Spiritual Fitness and also the Senior Writer at What Christians Want To Know whose mission is to equip, encourage, and energize Christians and to address questions about the believer's daily walk with God and the Bible. You can follow Jack on Google Plus or check out his book Teaching Children the Gospel available on Amazon.