Although there are more than three things a believer should know, what are three distinct traits should Christians should possess?
Assurance
The Apostle John wrote in 1st John 5:13, "These things have I written unto you that believe on the name of the Son of God; that ye may know that ye have eternal life, and that ye may believe on the name of the Son of God." John was interested in helping people believe in the Son of God so that they would be saved but to know that they were saved. He wrote as if it was something "knowable," and it is. We can know that we have eternal life because "The Spirit himself bears witness with our spirit that we are children of God, and if children, then heirs—heirs of God and fellow heirs with Christ, provided we suffer with him in order that we may also be glorified with him" (Rom 8:16-17), so it is God's will that we have assurance about our standing before God. It should be a know-so and not a hope-so belief. Jesus cried out, "Whoever believes in me, believes not in me but in him who sent me" (John 12:44), which of course is the Father, so there is the Holy Spirit that witnesses to our spirit, that we have believed in Jesus Christ and are the children of God, and since we believe in Jesus, obviously we belief in the One Who sent Him (the Father). The point is, we can know that we are saved, so having an assurance of our salvation is not only possible, it is commanded. Christ-followers are told that even if they die, they will live again (John 11:25-26), but for those believers who are living in sin, most will not have the joy of their assurance because they are grieving and quenching the Spirit by their sinning. Sin has a way of hardening our hearts, which is all the more reason to "exhort one another every day, as long as it is called "today," that none of you may be hardened by the deceitfulness of sin" (Heb 3:13). Sin is sneaky…it slowly desensitizes the believer, even deceiving them into thinking, "Well, at least I'm not like so and so," and when you begin to trust in your own righteousness, look out! A fall is coming. It's not others we are to compare ourselves too (2nd Cor 10:12). Our standard is Jesus Christ.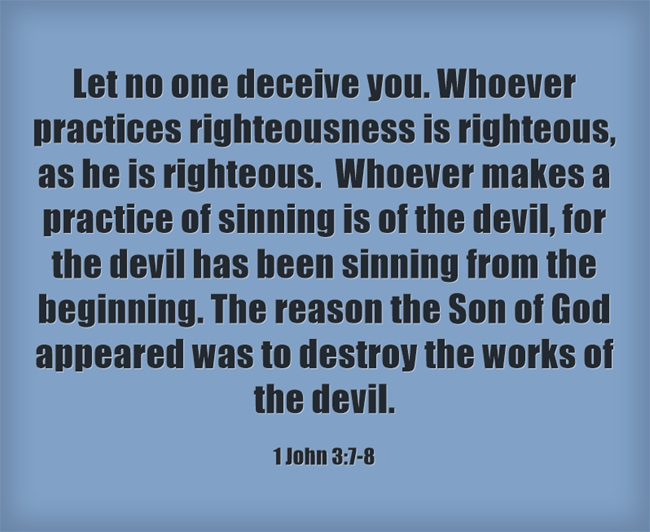 Sinning Less
If a believer claims to have no sin, then they are disagreeing with Scripture and with God (1st John 1:8, 10) because the context of this chapter is referring to believers, but even after a person is saved, they will still sin, in time, they will sin less…and less, but never reaching sinless-ness this side of the kingdom, but on the other hand, "let no one deceive you. Whoever practices righteousness is righteous, as he is righteous. Whoever makes a practice of sinning is of the devil, for the devil has been sinning from the beginning. The reason the Son of God appeared was to destroy the works of the devil" (1st John 3:7-8). If you practice something, that means you are doing it fairly often, and if you practice it often enough, you might get good at it (even sinning!), so practicing sin means an ongoing participation in sinful activities, and if you're practicing it, you must be enjoying it. It isn't just an occasional falling into temptation which leads into sin that John is writing about. The Apostle Paul describes some of these sins as "sexual immorality, impurity, sensuality, idolatry, sorcery, enmity, strife, jealousy, fits of anger, rivalries, dissensions, divisions, envy, drunkenness, orgies, and things like these. I warn you, as I warned you before, that those who do such things will not inherit the kingdom of God" (Gal 5:19-21). Clearly, whoever is continually practicing these things is not inheriting the kingdom of God (1st Cor 6:9-10). This is not my opinion. It is what God's Word says. It's possible for the prodigal to fall into the pig pen, but the prodigal doesn't stay in the pig pen. The pigs do and they love it. A believer can be in the pig pen, but a true believer's conscience will trouble them to the point that they can't enjoy it as much. Eventually, the prodigal gets out of the pig pen.
Practicing Righteousness
The Bible teaches that we are the righteousness of Christ, and He Who knew no sin became sin for us (2nd Cor 5:17), so our righteousness comes from outside of ourselves; it comes directly from God after we've trusted in Christ. We become new creations in Jesus Christ (2nd Cor 5:17), and new creations will do new things, and they'll stop doing some of the old things they did because they know they're wrong, so, "everyone who practices righteousness has been born of him" (1st John 2:29b). They practice righteousness, not sinless-ness, but "No one born of God makes a practice of sinning, for God's seed abides in him; and he cannot keep on sinning, because he has been born of God" (1st John 3:9), and so "it is evident who are the children of God, and who are the children of the devil: whoever does not practice righteousness is not of God, nor is the one who does not love his brother" (1st John 3:10). Whoever continually practices sin will not inherit the kingdom and all who practice righteousness will enter the kingdom. It's not an inherent righteousness but a new heart that gives them the desire to obey and this comes only by the power of the Holy Spirit. When we believe in Christ, we receive eternal life (John 3:16), just as Abraham believed God, and that was accounted to Him as righteous. That's because Abraham practiced righteousness by obeying God's commands (Gen 12:4; 15:6). Just as Jesus always desired to do the will of the Father, so should the children of God live to please the will of the Father, and the will of the Father is to believe in His Son, Jesus Christ, and trust in Him, and of course, obey what He commands. Obedience is practicing righteousness, although obedience is not the source of that righteousness.
Conclusion
This is not intended to be a diagnostic tool to be used on others or whoever's sitting next to you, as you elbow them in the side, and say, "Hey, that's you!" This is only intended to give the believer assurance and it to be used as a self-diagnostic tool, spiritually speaking. We are commanded to examine ourselves to see if we are or are not in the faith (2nd Cor 13:5), and if we are in the faith, we will be doing what Jesus commands us to do (Matt 25:34-39), but if some are not doing anything for Him (Matt 25:40-46), then some will be ashamed at His appearing for failing to do what He commanded us to do (Matt 28:18-20; John 13:34-35; James 1:27, etc.). The Apostle John writes, "And now, little children, abide in him, so that when he appears we may have confidence and not shrink from him in shame at his coming" (1st John 28). If you don't abide in Him, it's not only a little something you can do for Him, but a great big nothing (John 15:5)!
Article by Jack Wellman
Jack Wellman is Pastor of the Mulvane Brethren Church in Mulvane Kansas. Jack is host of Spiritual Fitness and also the Senior Writer at What Christians Want To Know whose mission is to equip, encourage, and energize Christians and to address questions about the believer's daily walk with God and the Bible. You can follow Jack on Google Plus or check out his book Teaching Children the Gospel available on Amazon.