Who was it that killed Jesus? Was it the Jews who delivered Him, the Romans who crucified Him, Pilate who ordered it, or was it us who have sinned?
The Jews
Most people might think that it was the Jews who killed Jesus. For example, they were constantly trying to trip Jesus up by asking Him difficult questions, but Jesus always turned the table on them, and they were the ones left speechless, and we know the Jews hated Jesus and sought to kill Him (Matt 12:14; John 5:18, 8:58-59, 10:30-33), so when the Jews brought Jesus before a mock trial and made false accusations against Him by people who were false witnesses, (Mark 14:55-59), Pilate must have known Jesus was innocent. Pilate knew that it was out of envy or jealously that the Jews had delivered Jesus (Mark 15:10) and not a criminal act. Jesus was gaining more popularity and a greater following than the Jewish leaders had, and Jesus exposed their hypocrisy for everyone to see, so the Jews conspired to kill Jesus, but did the Jews really kill Jesus? Who was responsible? Was it the Jews or the Romans?
The Romans
When the Jews brought Jesus to Pontius Pilate, Pilate examined Him, and saw that He was innocent, so "Pilate said to the chief priests and the crowds, "I find no guilt in this man" (Luke 23:4), but it didn't matter to the Jews. They still cried out, "Crucify him" (Luke 19:15), but before Jesus was crucified, the Romans scourged Him. Perhaps Pilate thought that would be enough to satiate the Jew's thirst for Jesus' blood, but it only managed to make it worse. Jesus had just told Pilate of the One Who had given him his authority, obviously meaning God, so "when Pilate heard these words, he brought Jesus out and sat down on the judgment seat at a place called The Stone Pavement, and in Aramaic Gabbatha" (John 19:14), and sought to have Him freed. Again, there was no chance because the Jews were still crying out, "Crucify him" (Mark 15:13), so Pilate washed his hands of it, knowing Jesus was innocent, but Pilate could not cleanse his conscience I am sure. Even though Pilate sought to have Jesus released, Pilate reluctantly sentenced Jesus to be crucified. Remember, the Jews had essentially threatened Pilate, by saying, "If you release this man, you are not Caesar's friend. Everyone who makes himself a king opposes Caesar" (John 19:12). That may have been enough to persuade Pilate to have Jesus crucified, so was it the Romans who crucified Jesus, who were only doing their duty; was it Pilate, who could have let Jesus go; or was it the Jews, who pressured Pilate into having Jesus crucified. They were the ones who brought the false accusations against him in the first place. It sounds more and more like the Jews, and not the Romans who killed Jesus, but let's wait to decide on that yet.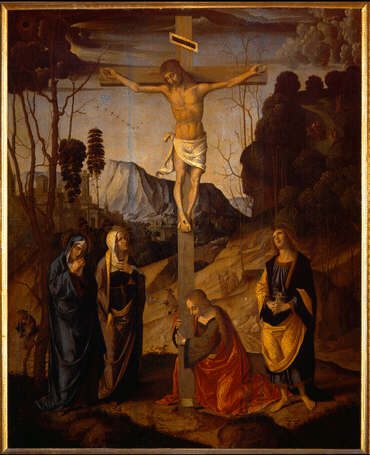 Image: Marco Palmezzano. 1490.
Humanity
The first person I really see as killing Jesus, or at least having His life given as a ransom for many (Mark 10:45), is me. I feel like I was driving those nails into the cross, even 2,000 years before I was born. It was sin that caused Christ to go to the cross where my sins and yours He bore. If there were no sin, no sacrifice would have been needed, but since I have sinned, as all have, I needed a Savior. That's why I have trusted in Jesus Christ. The Bible teaches that He purchased me with His own blood (Acts 20:28). It's so easy to read the accounts of the Old Testament and think, "Wow, how can they be like that," but it is better for me to read it and think, "How am I like they are?" Very much, I am afraid. God knew Adam and Eve would sin. He knew I would sin and He knew you would sin. He knew a Savior would be needed. And that was why Jesus had to come and live a life of perfection, dying, having never sinned, and being raised again and is now seated at the right hand of the Father. My sin and yours made Jesus' life, death, and resurrection necessary. Who killed Jesus? Was it us? Wait before you answer that, because the Bible actually tells us who killed Jesus.
The Father
Isaiah the Prophet wrote a prophecy about the coming suffering servant, Who would take upon Himself the sins of the world, but Jesus said, concerning His own life, "No one takes it from me, but I lay it down of my own accord. I have authority to lay it down, and I have authority to take it up again. This charge I have received from my Father" (John 10:18), so the Jews didn't take Jesus' life from Him. Neither did the Romans or Pontius Pilate. Jesus laid down His life of His own accord, for those who trust in Him. Since "no one" took it from Him, this must include both the Jews and the Romans, and really, us! Isaiah tells us that "it was the will of the Lord to crush him; he has put him to grief" (Isaiah 53:10a), and "he bore the sin of many, and makes intercession for the transgressor" (Isaiah 53:12c). When Jesus was about to go to the cross, and take upon Himself the sins of the world, Jesus prayed three times to have that cup removed, but He knew it was the will of the Father, so He prayed, "My Father, if it be possible, let this cup pass from me; nevertheless, not as I will, but as you will" (Matt 26:39). This means it was the Father's will to have Jesus die. Of course it was also the Jews will to kill Jesus, but the Jews didn't kill Jesus. The Romans could have freed Jesus, but Pilate caved into political pressure, but the Romans or Pilate didn't actually kill Jesus. If the Father had willed that Jesus not die, then Jesus would not have died. There was no way that Jesus was not going to die on the cross.  When the Apostle Peter tried to stop Jesus' arrest by cutting off the servant of the high priest's ear (John 18:10),  "So Jesus said to Peter, "Put your sword into its sheath; shall I not drink the cup that the Father has given me" (John 18:11), so it was the Father's will that Jesus died, even though we were responsible for Jesus having to go to the cross, but even that is placed within the sovereign will of God.  His will is going to be done, no matter what. God's will is done, through good and bad (Rom 8:28), but it was not the Jews, not the Romans, and not even Pilate or we that killed Jesus. It was the Father that killed Jesus, but that was the only way we could be saved.
Conclusion
If this seems amazing, it is. God's love is infinite and beyond comprehension. His love is more than feelings or words…it is action (John 3:16). It is a love that dies for those who are ungodly, wicked sinners, and natural enemies of God (Rom 5:6-10). That's why grace is so amazing. We get what we don't deserve because Jesus got what He didn't deserve. If only through history had they understood that it was not the Jews who killed Jesus, nor the Romans, and not even we, but it was the Father that killed Jesus. This is why Jesus can say, "I am the resurrection and the life. Whoever believes in me, though he die, yet shall he live, and everyone who lives and believes in me shall never die. Do you believe this" (John 11:25-26)? Well? Do you believe this?
Article by Jack Wellman
Jack Wellman is Pastor of the Mulvane Brethren Church in Mulvane Kansas. Jack is a writer at Christian Quotes and also the Senior Writer at What Christians Want To Know whose mission is to equip, encourage, and energize Christians and to address questions about the believer's daily walk with God and the Bible. You can follow Jack on Google Plus or check out his book Teaching Children the Gospel available on Amazon.