What do I, cats, and God have in common? It's a lot more than I thought.
Under the Bus
Often in my messages, I throw myself under the bus. I'm not embarrassed to tell the church and others about all the mistakes I've made, and the many sins I've had to pay for, but transparency is important to me. It shows others that the bar is not sky high to be a Christian. It's a matter of trusting in Christ. It is a free gift from God (Eph 2:8-9), but we are to confess our sins to God (1 John 1:9) so that we can be cleansed, but of course, we'll sin again…and again, but hopefully, we'll sin less over time. James tells the church to "confess your sins to one another and pray for one another, that you may be healed. The prayer of a righteous person has great power as it is working" (James 5:16). The first order of repenting of sin is confessing our sin, but we also confess it to others in order that we can "pray for one another" and "be healed" of whatever sickness, problem, or besetting sin we're going through. That doesn't mean we confess every single sin in our lives but those things we're struggling with. Of course, there is extreme vetting to enter the kingdom, but it's not what we've done by which we will enter…it is what He's done that allows us to enter into the kingdom. Only then will we be saved to sin no more, and for me, not sinning anymore can't happen fast enough.
In or Out?
Years ago I saw a comic strip of Peter at the gates of heaven, and there's a cat, just sitting there. While Peters holding the gate open, he says, "Well?! In or out?" That's the way many are in regards to Jesus Christ, and the way I was for many years, but later I read that you cannot be neutral about Jesus. You are either for Him or you are against Him, and those sitting on the fence end up with the same fate as those who openly reject Him. To hesitate and not trust in Christ is dangerous ground to be standing on, because if that person dies without Christ or Christ returns before they trust in Him, is it too late. That may be why those who see Christ at His return will mourn (Rev 1:7), so today, listen to His voice (2 Cor 6:2), because "You also must be ready, for the Son of Man is coming at an hour you do not expect" (Luke 12:40).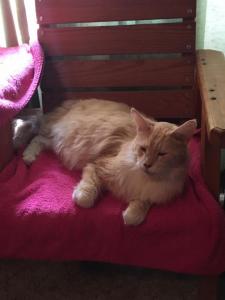 Come to the Water
After a strong thunderstorm moved through our neighborhood, our "water cat" couldn't wait to get outside. In fact, our "water cat" (her real name is Fluffy) is so named because of her obsession with fresh water. Frequently you'll find her sitting in the rain while drinking from the gutter spout. She doesn't care if she's getting soaked. She cares more about drinking the fresh water than getting wet in the process. She loves fresh water so much that if you're not careful, and you leave a glass of water sitting around, she'll jump up and start drinking from it. She loves sitting under the water facet when it's on and drinking in all the fresh water her tummy can take. For some reason, this experience reminded me of Isaiah the Prophet, who said to all, "Come, everyone who thirsts, come to the waters; and he who has no money, come, buy and eat! Come, buy wine and milk without money and without price" (Isaiah55:1). Jesus said through the Apostle John, "The Spirit and the Bride say, "Come." And let the one who hears say, "Come." And let the one who is thirsty come; let the one who desires take the water of life without price" (Rev 22:17). In discussing this "living water," Jesus told the Samaritan woman at the well, "If you knew the gift of God, and who it is that is saying to you, 'Give me a drink,' you would have asked him, and he would have given you living water" (John 4:10). She did find it, but not at Jacob's well or in a nearby stream. Jesus said, "Whoever believes in me, as the Scripture has said, 'Out of his heart will flow rivers of living water" (John 7:38), and the Samaritan woman had found it. Then, she could not help but tell others about Him (John 4), so come to the water. It is without price, and yet so priceless that no man could buy.

Covered versus Removed
If you have indoor cats, you know that you have to keep an eye (or nose) on the litter box. It may look good on the topside, but underneath, it may be a whole different matter. That's because cats only cover their excrement, and covering it doesn't take them away. My nose reminds me of this, so I have to scoop them out and take them away myself. Only then is it safe to enter the litter box (or the room!). The Old Testament Mosaic Laws included blood sacrifices, but these sacrifices only covered sin and never really took them away. That's why they had to be repeated over and over again, but when Christ came, He did not just cover our sins…He removed them by His own precious blood, and it would not have to be repeated over and over again, because Christ was the spotless Lamb of God; without blemish and perfect in every way (1 Pet 1:19). Only the sinless Son of God would satisfy the wrath of God for sinners, so Jesus came to give His own life as a ransom for the many who would trust in Him (Mark 10:45).
Conclusion
We love our cats, but we also love the Lord our God, and it is Him whom we serve, but in serving Him we know we must also care for our animals because God says, "Whoever is righteous has regard for the life of his beast, but the mercy of the wicked is cruel" (Prov 12:10). My wife has rescued several cats from certain death, and by getting them fixed, their shots, and sometimes finding them a good home, she shows her love for God's creatures. Did you know that God had a similar problem with me at one time? I was broken and needed God's Spirit; I was lost but then was found; I was headed for certain death from my sins but He gave me eternal life (Rom 6:23; Eph 2:8-9), and this world was not my home and I was only passing through. It was just like the time my wife found a stray cat; she sought it, fed it, nourished it, and later, called it as one of her own. The rescued cat became part of the family. God is doing similar things for the lost; He is drawing them to Himself, but only through Christ (John 6:44; Acts 4:12). He is giving them new life in Christ (2 Cor 5:17). And He is finding a new home for them in glory, and giving them a new name; a name only they and God will know (Rev 2:17, 3:12). And this new home shall never pass away.
Article by Jack Wellman
Jack Wellman is Pastor of the Mulvane Brethren Church in Mulvane Kansas. Jack is a writer at Christian Quotes and also the Senior Writer at What Christians Want To Know whose mission is to equip, encourage, and energize Christians and to address questions about the believer's daily walk with God and the Bible. You can follow Jack on Google Plus or check out his book Teaching Children the Gospel available on Amazon.