I am excited about, and very proud of, the coming release of the third book in my "Banned Questions" series, Banned Questions About Christians.  in a recent blog post, I listed the 50 questions my team of respondents and I take on in this volume. In this post, I'm pleased to share the names and bios of all of the contributors for this book. As you'll note, there are some remarkable voices included here; I'm honored to call each of them a colleague. My only disappointment is that several of the excellent women I invited to take part were unable to complete the project, so we're a little bit too slanted toward the Y-chromosomes.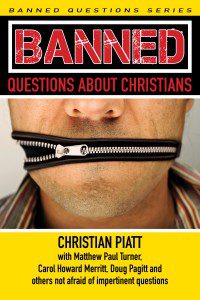 So check out the roster, and be sure to PRE-ODER THE BOOK, which comes out in December.
Adam J. Copeland is Faculty Director for Faith and Leadership at Concordia College in Moorhead, Minnesota, where he teaches in the department of religion. He has served as pastor of a rural Presbyterian congregation and mission developer of a Lutheran emergent ministry. Among other publications, Adam's writing has appeared in The Christian Century, WorkingPreacher.org, The Huffington Post, and in several books. He is associate editor of Journal for Preachers, and his broad interests include Christian ministry, digital religion, emerging church, and practical theology. An ordained minister in the Presbyterian Church (USA), Adam holds degrees from St. Olaf College and Columbia Theological Seminary.
Andrew Marin is the President and Founder of The Marin Foundation, a nonprofit organization working to build bridges between the LGBT community and theological and political conservatives. He is the author of the award-winning book Love Is an Orientation (2009) and its interactive DVD curriculum (2011), and has been featured on a number of media outlets including the BBC World News, NPR, ABC, and CBS, among others. Since 2010 Andrew has advised various agencies of the United Nations and the U.S. government on issues of faith, sexuality and cultural aspects of reconciliation. He has an M.A. in Urban Studies with concentrations in Social Change and Theology from Eastern University, and lives in Chicago's LGBT neighborhood, Boystown, with his wife Brenda.
Bart Campolo is a veteran urban minister and activist who speaks and writes about faith, loving relationships, and social justice. Bart is the leader of The Walnut Hills Fellowship, a small faith community in inner-city Cincinnati, and the founder of Mission Year, a Christian ministry that recruits committed young adults to live and work among the poor in inner-city neighborhoods across the country.
Born and raised in suburban Philadelphia, Bart graduated from Brown University in 1985, after which he worked with young people in South Minneapolis, where he met and married his wife, Marty. In 1989 the Campolos moved to West Philadelphia to found Kingdomworks, the urban ministry that later became Mission Year, and to begin raising their children, Miranda and Roman, who are now young adults.
In 2005, after nearly two decades of organizational leadership, the Campolo family moved from Philadelphia to the Walnut Hills neighborhood of Cincinnati, to love their neighbors in a more personal way. Bart now works in collaboration with the Telos Group and others, educating America's mainstream faith leaders and their communities about the causes of, and solutions to, the modern conflict that currently ravages the Holy Land.
Brian Ammons, Chaplain and Director of Spiritual Life, Warren Wilson College
Brian Ammons is a pastor, educator, and spiritual director who lives and works in Asheville, NC. Brian hold a PhD in Curriculum and Cultural Studies from UNC-Greensboro, a MDiv from Wake Forest University, and a MEd in Special Education from UNC-Charlotte. He is passionate about working with young people at the intersection of spirituality, justice, and education— particularly as it relates to rethinking the possibilities of identity construction.
Carol Howard Merritt grew up along the beach in Florida. After being raised as a conservative Baptist and attending a fundamentalist Bible college, she went to seminary and decided to become a minister. Carol has been a pastor for 12 years, serving Presbyterian Churches in the swamps of Cajun Louisiana, a bayside village in Rhode Island, and in an urban neighborhood in D.C. She is the author of Tribal Church (Alban, 2007) and Reframing Hope (Alban, 2010) and contributed to The Hyphenateds by Phil Snider (Chalice Press, 2011). She is a frequent contributor to the Christian Century and the Huffington Post. She blogs at TribalChurch.org and cohosts God Complex Radio, a podcast with Derrick Weston. Carol lives in Chattanooga, Tennessee, with her daughter and husband, Brian Merritt, who is starting a new church.
Christian is the creator and editor of the Banned Questions book series. He has written, edited, and contributed to a number of books on faith and culture, young adult spirituality, and postmodern theology. His memoir, PregMANcy: A Dad, a Little Dude and a Due Date, takes an irreverent and deeply personal look at the male experience of pregnancy, childbirth, and fatherhood.
Christian's next book, called postChristian, about the role of Christ followers in a post-Christendom culture, will be published in hardcover in summer 2014.
Doug is a pastor, author, speaker, radio show host, and social media business owner living in Minneapolis, Minnesota. He's married to Shelley Pagitt and is the parent to four young adult children. Doug is part of Emergent Village. He's the pastor of Solomon's Porch in Minneapolis.
Hugh Hollowell is a minister in the Mennonite Church USA and is based in Raleigh, N.C. He is the founder and director of Love Wins Ministries, which tackles the problems of homelessness by focusing on relationships, not outcomes. Hugh lives in downtown Raleigh with his wife, two cats and four chickens. He likes peanut M&Ms.
Jonathan Brooks is the Senior Pastor of Chicago-based Canaan Community Church and the CEO of Canaan Community Redevelopment Corporation (CCRC). These two entities and various partnerships provide for youth development, holistic health options, affordable housing, alternative education options, and re-entry assistance for ex-offenders in the West Englewood community.
Jonathan has also been an elementary teacher for Chicago Public Schools for nine years, and he is on the front line of sustainable education reform in Chicago. He is currently enrolled at Northern Seminary, pursuing his Master of Divinity in Christian Community Development.
Under the name of Amen Anointed, he has recorded four hip-hop albums with the group Out-World, and he is working on his first solo project titled "Can I Get an Amen."
Jonathan and his wife, Michéal, have two beautiful girls, Jasmine and Jade, and reside just a few blocks away from the church campus.
Margot Starbuck, a graduate of Westmont College and Princeton Seminary, is passionate about communicating to individuals—in print and in speech—the promise that God, in Jesus Christ, is with them and for them. Margot's first book, The Girl in the Orange Dress, was awarded the Advanced Writers and Speakers Association's best nonfiction book of the year for 2011. Margot blogs for Red Letter Christians, Sojo, Gifted for Leadership, FullFill, and Her.meneutics. She is the confessions editor for Geez Magazine's Sinner's Corner. (Awesome, right?) Margot enjoys connecting with audiences on campuses, at conferences, festivals, and the occasional adult living facility.
At home in Durham, North Carolina, with her husband and three children by birth and adoption, Margot hangs out with teens and adults who live with disabilities through Reality Ministries.
Matthew Paul Turner is a blogger, speaker and author of nearly 20 books including Churched, Hear No Evil and The Coffeehouse Gospel. He is also a passionate advocate for World Vision. Before he began writing and speaking full-time, he served as editor of CCM and music and entertainment editor of Crosswalk.com. He and his wife, Jessica, along with their two kids, live in Nashville, Tenn.
Bio: Kim's husband, a dad, a son, follower of Jesus. Founder/Pastor of The House Covenant Church, a Christ-centered, hip-hop worship. Founder/ President of The Firehouse Community Art Center. Seeks to communicate love, grace, and justice to youth and young adults in the city.
Phil Shepherd (A.K.A. The Whiskey Preacher) is a native of Anchorage, Alaska. He has lived and pastored from that extreme corner of the continent to the other extreme corner known as Florida. In between these extremes, Phil has resided in Vancouver, B.C.; Minneapolis, Minnesota; and most recently in Fort Worth, Texas, where he and his beautiful, wicked-smart wife Stephanie (who is his co-pastor) planted The Eucatastrophe in the fall of 2007.
Entering his eighteenth year of ministry, Phil is a proud husband, mourning son, stubborn brother, uncle to teenagers, Alaskan grown, Texan transplant, an outlaw theologian, queer inclusive, friend of emergent, third cousin of Johnny Cash, writer, speaker, consultant, hater of human trafficking, foul-mouthed (as appropriate) , tattoo lover, cigar smoker, and connoisseur of various whiskies… Phil is the Whiskey Preacher.
Phil Snider is a pastor at Brentwood Christian Church (Disciples of Christ) in Springfield, Missouri. His books include Preaching After God: Derrida, Caputo, and the Language of Postmodern Homiletics; Toward a Hopeful Future: Why the Emergent Church Is Good News for Mainline Congregations (winner of the 2011 Mayflower Award); and The Hyphenateds: How Emergence Christianity is Re-Traditioning Mainline Practices. He is a graduate of Missouri State University, Phillips Theological Seminary, and Chicago Theological Seminary.
Sean is the author of The Story of God, the Story of Us (IVP, 2010), which is the written form of a narrative introduction to the Bible that he and his wife Rebecca have been leading people through for a decade, and which has now been told on six continents. He is papa to Maggie and Seth. He grew up in Norwich, England, and is a long-distance fan of his hometown team, the Canaries.
He was the first person in his family to begin to follow Jesus. He has lived in the United States for 20 years: 14 years in Texas and 6 in Kentucky. He is a founding member of Communality, a missional community in Lexington, Kentucky. He co-pastored a church in Houston called Mercy Street, a community made up of people wounded by the church or wrestling with addiction—often both. He aspires to be a Christian.
Two Friars and a Fool is the result of a heady mix of alcohol, sleep deprivation, and the kind of hubris that makes blogging seem like a good way to contribute to society.
Aric Clark is religious but not spiritual, and inflicts that religion on a congregation in Fort Morgan, Colorado. He is an over-functioning Enneagram 8, shouting at the universe from his pulpit.
Doug Hagler is a deep-water Facebook argument-trawler who wants to open up the canon and add the collected works of J.R.R. Tolkien. As a fatbeard-at-large in North Amish-Land, Ohio, he lives out his calling to design role-playing games and write things on the Internet while pretending to actually work.
Nick Larson is a post-doctrinal, postmodern hipster who messes it all up by wearing Star Wars shirts non-ironically. He is always reading every book he can find with the word "Toward" in the title, and he is currently teaching rock-paper-scissors-lizard-Spock to disciples in Columbia, Missouri.
These three invite friends and dissidents to post brilliant articles on www.twofriarsandafool.com and then ruin them with their video responses. They tell themselves that only one of them is the Fool, but they are wrong.