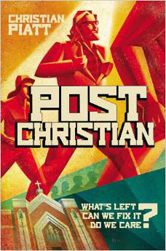 My postChristian tour has begun. For the next five or so months I'll be on the road talking about my new book postChristian: What's left? Can we fix it? Do we care? (Hatchette/Jericho). I kicked the tour off Tuesday evening at George Fox University in Newberg, OR and left Wednesday bright and early for Omaha, Nebraska to do a Darkwood Brew taping and speak at Countryside Christian Church.
In the months ahead I'll be heading to Nevada, California, Oklahoma, Tennessee, Minnesota, Ohio, Michigan, Texas, Florida, Colorado, and Arizona. So if I'm in your area, come see me! If I'm not, it's not too late to organize a stop. Contact me!
While I'm out on the road I will share short video blogs about how it's going, whom I'm hanging with and insights harvested on my travels. I also hope you will share your questions with me and I will try to answer them. Until then, check out the first two video blogs.
Christian and Andy Campbell at George Fox University
Christian's update from Darkwood Brew