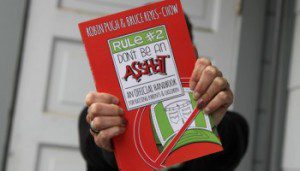 Who's down with learning how not to be an asshat? I mean if you like being one, might not listen to us, cause we're on a mission.
In this episode, I talk with dad, author and groovy fellow God nerd Bruce Reyes-Chow about his new book, "DON'T BE AN ASSHAT: And Official Handbook for Raising Parents and Children". This self-described parenting book for people who are sick of parenting books was co-written by Bruce and his wife, Robin Pugh (who was smart enough not to talk to me on the air), and includes rules they trade off sharing like:
Rule #5 Ask for Help
Rule #10 Taste Everything Once
Rule #33 Sing Loudly
Rule #43 Protest
Rule #48 Have Good Sex
Wait…what? Yes, I asked Bruce how, pray tell, do I explain to my kids what "good sex" is and how to have it. Wanna know his response? Listen to the episode, my curious friend.
We tick off our top Olympic memories, talk about Trump's convenient truths, hit you between the eyes with our fears of teen puberty (I see a theme here) and some other culture-y crap.
Giggity.
Become a CultureCaster HERE 
Join us on Facebook HERE
Listen to the show HERE, subscribed on iTunes HERE, Follow on the Homebrewed site HERE, and check us on Stitcher HERE.