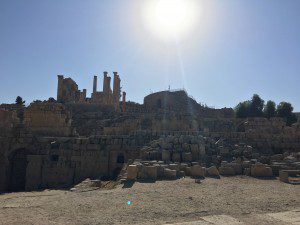 My recent trip to the middle east – specifically the Kingdom of Jordan – was themed "Strong in the Broken Places." In a region surrounded by such conflict, violence and division, how does Jordan remain a safe haven for citizens, immigrants and pilgrims alike? In the midst of brokenness, from where do they find their strength?
After two years of struggling with both epilepsy and hypertension, dual diagnoses given to me within weeks of each other, I went in search of strength in the rubble of some of my own feelings of brokenness. This is is the first of my audio entry "mini-sodes" from that trip, which came from the day when I was sitting in the midst of millennia-old ruins, some of which were being renovated, while others disintegrated into nothingness.
How do we decide what really matters? Sometimes it takes things falling apart for us to figure it out.
Listen to the audio diary entry HERE
Subscribe to the Homebrewed CultureCast feed on iTunes HERE
My trip was sponsored generously by the Jordan Tourism Board and by Phillips Theological Seminary. Learn more about having your own Jordan experience by clicking HERE; discover how you can enrich and broaden your theological education by visiting HERE.