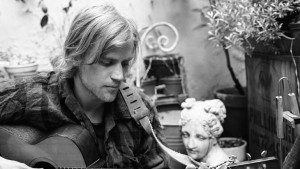 He's been a halfwit brother co-parenting his mute younger sibling (Comedy Central's BROTHERHOOD)  to a ladies' man on with an…umm…awkward medical secret (Netflix's LOVESICK). He's the lead singer in the alt-folk group JOHNNY FLYNN AND THE SUSSEX WIT, and now he's young Einstein along with Geoffrey Rush as his elder counterpart in GENIUS, Brian Grazer and Ron Howard's new series premiering Tuesday, April 24th on the National Geographic channel.
Johnny Flynn is a man of the world and of many voices, passions and a broad scope of talents, and yet he admits to being intimidated by the idea both of playing one of the 20th centuries' most known figures, while also working with some of the biggest names in the business. But as you will hear in this chat we had, he sees the world with a breadth and intellectual hunger. We discuss how the rise of German nationalism during Einstein's later years feels eerily familiar in the global arena these days, and why "internationalism," and even a more pantheistic understanding of God might help us break out of some dangerous socio-cultural trends.
Albert Einstein, it turns out, was far more than a whimsical scientific wonder, and Flynn's depths reach well beyond being an engaging entertainer. Christian and Johnny go one-on-one, covering more ground in a half hour than Clooney's globetrotting in UP IN THE AIR. Dig it.
Stream the Episode HERE
Subscribe on iTunes HERE
Become a CultureCast Patron HERE
Join us on Facebook HERE