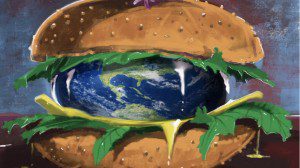 Some analysts say the left could gain some momentum, but only if they stop being "so annoying and get over their hamburger problem." And after we looked into it, they're right. In this episode of the Homebrewed CultureCast, we consider what's at the root of progressives' spate of losses in recent years, followed by a…let's say passionate…talk about author Eugene Peterson's curious reversal on his stance about LGBT equality and same-sex marriage after Lifeway Bookstores threatened to stop carrying his books.
Live from our temporary New Mexico studio (AKA, Amy's brother's Airstream trailer), we also throw out our weekly recommendations and dig deeper into Amy's rather unexpected fear of the week.
It's all Piatts, all day on this fresh, juicy CultureCast. Pull up a chair and dig in, kids.
Stream the episode HERE
Subscribe and listen on iTunes HERE
Subscribe and follow us on Homebrewed Christianity HERE
Become a CultureCast Patron HERE
Join us on Facebook HERE