Christopher Closeup Podcast – Guests: Kara Eschbach and Janet Sahm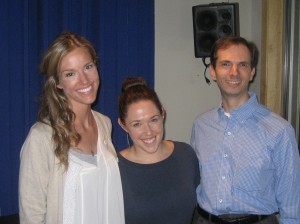 When twenty-somethings Kara Eschbach and Janet Sahm met for brunch in New York City's West Village one year ago, they ended up having a conversation that would redirect their future – and, in time, could possibly help change our culture.
After lamenting the fact that the pictures, styles and articles featured in women's magazines today didn't reflect their own lives, hopes and values, Janet – a former intern at Elle.com who had worked in the fashion industry – said that she'd like to start her own magazine ten years down the road. Kara – an investment analyst at Credit Suisse – asked, "Why not right now?" The two of them got to work researching the logistics of starting a new magazine that would be fun, stylish, relevant, and grounded in the ideal of "authentic femininity and beauty."
As Kara explained to me on Christopher Closeup, studies demonstrate that "women today are more unhappy than ever…We have more anxiety and are more medicated than ever….There's a statistic on the Dove [Campaign For] Real Beauty website pointing out that 70 percent of young girls feel worse about themselves after three minutes of reading a fashion magazine" because they compare their bodies to the models and feel they don't measure up. "There's a great amount of pressure on girls," Kara concludes, "because we have a desire in our hearts to be beautiful – and that's a good thing. But that desire can be distorted."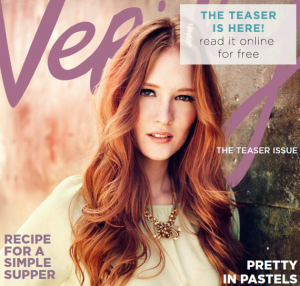 With evidence that modern women need an alternative to the current crop of magazines, Kara and Janet co-founded "Verily" which has just launched with its teaser issue. Kara took on the reins of Publisher and Editor-in-Chief, while Janet serves as Style Editor. As word spread about their goal to start "fresh conversations on what it means to be real women," a talented team came together including Mary Rose Somarriba (former managing editor of "First Things" magazine) as Culture Editor – and Ashley Crouch (The Love and Fidelity Network) as Relationships Editor. It was the women's magazine equivalent to the Avengers assembling. (Pardon the nerdy male reference. It's in my nature.)
The teaser issue reflects well-rounded women who are interested in both style and substance. Featured articles include a profile of a young woman who heads a successful tech company, a look at the appeal of the hit TV series "Downton Abbey," and a moving reflection by writer Sophie Caldecott about her father's recent diagnosis with cancer.
Though "Verily" is a secular magazine, it's grounded in the values that Kara and Janet learned growing up and have come to appreciate more in recent years. Kara, for instance, admits that she's been a "typical young Catholic" who would go to church on Sunday, but live the rest of the week in ways that didn't necessarily reflect her beliefs. "For me, it's been this slow journey of [discovering] how I reconcile the person I want to be with [how] I'm living…It's been a matter of following those moments of clarity where I knew what I was supposed to do, and trying to come closer to God's truth in the decisions I make every day."
Janet grew up "a good kid" in a "strong, beautiful Catholic family" in Indianapolis. She was always drawn to fashion and has been sketching dresses since age five. "Over the years," she says, "I was slowly making these small decisions because I wanted so badly to please others and be beautiful. The way I dressed, the way I acted around guys, and how I engaged in relationships changed." The negative influence came from the fashion world's depiction of "the sophisticated, mature, thriving woman. I tried to imitate that, but it didn't really make sense with my life and with what my heart ultimately desired."
Janet eventually came to a deeper understanding of – and devotion to – her Catholic faith for a number of reasons. One of the biggest was the experience of caring for Msgr. Kavanagh, a 97-year-old priest who was infirm. Still in college at the time, Janet took a summer job with an elderly care program founded by her parent's friends. Before she was officially trained, she got an emergency call to stay up all night with Msgr. Kavanagh. "I was scared to death," Janet recalls. "He and I both laughed because he knew I didn't know what I was doing, but he was so gracious. For me it was the most humbling experience because of how I had to care for him. This was a great man, especially in the Catholic community in Indianapolis. He was a strong leader, and here I was caring for him like he was a helpless child."
Msgr. Kavanagh grew so comfortable with Janet that he asked her to help him say Mass in his kitchen. She said, "I'd be his server and hold him up and help walk him to the altar. The graces that were happening, I didn't even realize…Where I was at in my life at that time is very much like Kara. I was Catholic and desired to be close to our Lord. But how I was living my life was totally disconnected. Looking back, I am so thankful. What a gift I had to be with him in the last days of his life. That experience taught me the beauty of the Eucharist and the beauty of the Mass. It was humbling."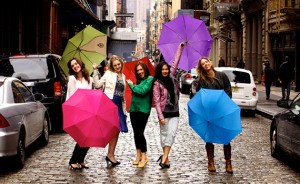 Both Janet and Kara's ideas on life, relationships and fashion have definitely evolved over the past few years. Kara notes that a lot of advice women receive encourages them to either suppress or exploit their femininity. "Verily" presents a different approach.
Janet explains, "Fashion, style, make-up and beauty – all those surface, seemingly-frivolous things – can be redemptive in the sense that they can crown and highlight the true beauty in a woman depending on how she chooses to use them… It's all integrated. It's how we engage in our relationships and how we live our lives that reflects how we feel about ourselves. And when we know that we're worthy, we start dressing [differently]. All of a sudden, shorter skirts don't feel as comfortable anymore. You start looking at clothes differently. You want things to fit you; you don't want to fit yourself to the clothes."
"Verily" is now inviting people to subscribe to the magazine. Early feedback indicates readers won't be disappointed. Elizabeth Kantor, author of "The Jane Austen Guide to Happily Ever After," referred to it as "the antidote to Cosmo;" a fan on Twitter called it "food for the heart and mind;" and Kara says, "Someone said to me it's part of this 'meaningful media movement.' It's not just frivolous and there for entertainment… It's an opportunity for us to have good, honest, healthy conversations and give examples of women who are doing the kinds of things we want to be doing – and sharing their own struggles with a broader readership so we can feel a little bit less alone in the struggles."
As extensive as this article is, it only scratches the surface of the full interview. Listen to Part 1 of our podcast here: Christopher Closeup Podcast – Guests: Kara Eschbach and Janet Sahm – and follow "Verily's" Blog, Facebook, and Twitter.
UPDATE: PART 2 NOW AVAILABLE HERE