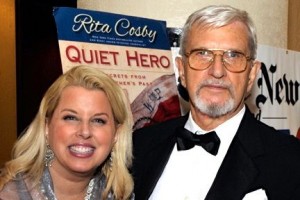 This morning on her Facebook page, former Christopher Closeup guest Rita Cosby announced the passing of her father Richard:
"The 4th of July is a time to appreciate freedom and what it means to be an American. On this holiday, some very sad news about one of the greatest patriots I've ever known. It's taken me a few days to write something, as this is devastating news for my family. Last week, my dear father lost his final battle to cancer. As many of you are aware, my father, 86 year old Richard Cosby, was an incredible man – a former POW who escaped a Nazi camp in WWII, a seasoned marathon runner… and most importantly, a great dad and truly amazing human being. Please keep my family in your prayers as we mourn this huge and heartbreaking loss. I miss my father so much already. Thank you for your love and support."
Rita's reconciliation with her father (which I
wrote about here
) is a story of forgiving the unforgivable. It's a story of a daughter whose faith allowed her to forgive trespasses as she'd want her own to be forgiven – and of an elderly man who was finally able to admit his past sins and restore a relationship with his daughter. Our condolences and prayers go out to Rita and the Cosby family.