(This article was originally posted in Dec. 2011)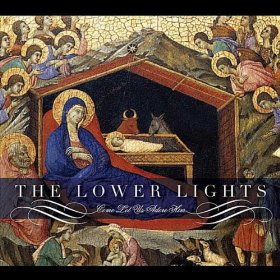 Christmas is the time of year we celebrate the harmony between God and man that Jesus' birth restored. It's the kind of harmony that's reflected in the choir-sung Christmas music that fills our churches, radio stations, and iPods. It's also present in the beautifully blended voices of The Lower Lights whose new Christmas album, Come Let Us Adore Him, is a work of spiritually transcendent beauty.
With a folk and bluegrass-flavored sound reminiscent of "Down from the Mountain," the "O Brother, Where Art Thou" concert, The Lower Lights hooked this country-music-loving city boy from the second I heard the festive banjo arrangement at the beginning of "Oh Come, All Ye Faithful." With a guest vocal from Brooke White (American Idol, Jack and White), that song sets the tone for the sacred and joyful music that follows. Though the album consists of traditional carols we've all heard before, like "Away in a Manger" and "Angels We Have Heard on High," The Lower Lights make them sound fresh in no small part due to the sublime harmonies this collaboration produced.
This group of more than forty singers and musicians originally came together in 2009 to record an album of hymns — some of which they'd grown up with, others that they'd discovered more recently. The Lower Lights' name originates from a sermon by 19th-century Protestant preacher, Dwight L. Moody, who told the story of a ship that crashed into the shore of a Cleveland harbor during a violent storm one night, killing many onboard. Though the lighthouse shone brightly, its lower lights, which help guide ships safely to shore, were not working. Moody concluded his sermon by explaining, "Brethren, the Master will take care of the great lighthouse; let us keep the lower lights burning." That imagery so impressed Moody's friend, lyricist and composer Philip Paul Bliss, that he turned it into a hymn called "Brightly Beams Our Father's Mercy:"
Brightly beams our Father's mercy from His lighthouse evermore,
But to us He gives the keeping of the lights along the shore.
Let the lower lights be burning! Send a gleam across the wave!
Some poor fainting, struggling sea-man you may rescue, you may save.
Those lyrics resonated with the musicians who hoped that their music would serve as a little piece of God's light in a world that can sometimes seem very dark; hence, they called themselves The Lower Lights and included the aforementioned song on their debut album, A Hymn Revival.
What sets A Hymn Revival a little bit apart from your standard gospel album is that — since many of The Lower Lights' members come from a Latter-day Saints background — some Mormon hymns are included. Paul Jacobsen, a founding member of The Lower Lights, explained to me that hymns were "part soundtrack, part wallpaper, part sermon" to him while he was growing up. His musical tastes eventually led him to the Johnny Cash album My Mother's Hymnbook, which introduced him to God-centered music on an even wider scale.
Other members of The Lower Lights also brought their own musical interests into play when the group got together. For instance, Debra Fotheringham introduced the group to the old Catholic Celtic hymn, "Be Thou My Vision." Jacobsen recalled the first time he heard it: "It was instant [connection]. The message is as beautiful as the melody. The only question anybody asked was 'Why have I never heard this incredible song before?' And we get the same response at our shows."
The Lower Lights have performed at Mormon venues, Protestant churches, and non-denominational functions, always getting a positive response. It was one of the group's goals from the outset to transcend denominational differences. Jacobsen says, "I always hoped we wouldn't be pigeonholed as a Mormon group . . . any more than the Blind Boys of Alabama or The Staples Singers . . . would be called a 'specific denomination' group. That's heady company to put ourselves in and I don't intend to say they're our peers, as they are just incredible . . . I just talk about them as a reference point of gospel music good enough to not worry about . . . labels or borders . . . If it's Protestant, Catholic, Mormon, Hank Williams, Gillian Welch, Louvin Brothers . . . we love a good melody with a good lyric that resonates. And I think we have tried our best to see these songs as borderless and inclusive and [part of] the common ground of faith."
The Christmas album of mostly Christ-centered songs arose because fans asked for it. The Lower Lights happily complied; performing and recording hymns has become a true spiritual labor of love for them. Jacobsen's personal connection to the music at this time in his life is especially deep. He says, "I have found comfort and courage and faith and hope in these songs, both in public performance and in private. With two young children, my experience at church — [my] ability to really pay attention with the fantastic squirming and pseudo-whispering and not-sitting-still of those awesome two [kids] — has drastically changed and I have leaned on my time with The Lower Lights to fill me up."
Regarding his hopes for the Christmas album, Jacobsen adds, "Christmas is an amazing and crazy time for a lot of people, and it can also be a sad time for other people. I hope this enriches the season, comforts, and — to quote the old song — lets their hearts be light. That sounds a little corny, but oh well."
In my opinion, The Lower Lights are anything but corny. Their songs are a sincere reflection of their love for God and His gift of music. That's something all faiths should appreciate.
The Lower Lights: Come Let Us Adore Him from The Lower Lights on Vimeo.