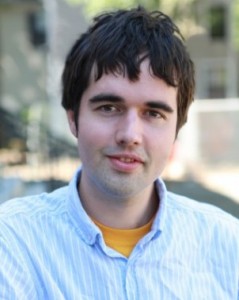 When he was a fourth grader at Holy Cross Grammar School in Springfield, Massachusetts, Matt Weber noticed that a picture of Francis of Assisi depicted the revered saint with holes in his hands, feet and side. His religion teacher explained that St. Francis bore the stigmata, the wounds of Christ.
"How do you get the stigmata?" Matt asked.
"You have to be a good Catholic," the teacher responded.
As Matt recalled to me on Christopher Closeup, "I thought, 'So if you're a good Catholic, you end up in agony, pain and have these bloody red marks all over your body? As a fourth grader, I didn't want that! So I went home that night, and I did a little extra sinning – maybe pinched my sister, left some laundry out of the hamper – just to make sure that when I woke up the next day, I would be stigmata free! And I have been since then."
Matt's humorous approach to faith is on full display in his new book, "Fearing the Stigmata: Humorously Holy Stories of a Young Catholic's Search for a Culturally Relevant Faith." Published by Loyola Press, the book was inspired by Matt's popular segments on Catholic TV, which have led to him being dubbed "the Andy Rooney of Catholic television," despite the fact that he's young, has normal looking eyebrows, and doesn't seem particularly cantankerous (though he does describe his sisters as "pesky" in the book's dedication).
Matt explained, "[Rooney] does in two minutes what I think some people would love to be able to do in thirty minutes. He takes a subject, he makes it very concise, he pulls the most out of the words he uses, and he does it in a funny way, that's sort of whimsical and authentic. And that's what I've been trying to do."
Matt credits his love for his faith to his family and Catholic education, beginning with "the stern and wonderful Sisters of St. Joseph, who could say things with their eyes that I couldn't say with my mouth." That education continued with the Dominican Fathers at Providence College and the Jesuits at Boston College.
Matt's faith grew even more once he started attending his first non-Catholic school: Harvard University. He noted that no one was talking about faith there because it could be seen as somewhat anti-intellectual. It led Matt to question how he would live out his Catholicism now. That's when he started talking to a statue: specifically, a statue of the Virgin Mary, which was located at the intersection of Market Street and North Beacon during his bike ride home from classes.
Matt said, "I would sit there at this very busy intersection, and I would just talk to [Mary] and pray to her like she was my friend. I can imagine the people passing me were probably going, "Is he wearing a Bluetooth? Is he schizophrenic?' No! I guess I was hoping that by doing that publicly, maybe I'm inspiring other people to think about prayer and the power of owning their faith and not being afraid to pray – or not being afraid to revisit something that they've lost."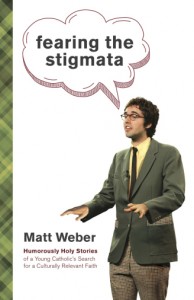 Once Matt outed himself as a Catholic at Harvard, he got all kinds of interesting questions, often based on "The Da Vinci Code," since that was most people's primary exposure to Catholicism. The questions were never hostile, Matt said, and they could even be funny. Once, he was asked, "When you play chess as a Catholic, are you overprotective of your bishops?"
After he started bringing up his Catholicism on campus, Matt was shocked to discover that people of other faiths wanted to talk about their religious beliefs with him. He said, "All of a sudden, I was meeting with students from the Jewish tradition, the Baha'i faith, a man who was Sikh, and atheists were coming up to me and picking my brain in really nice exchanges…At the beginning of my time there, I was afraid to be Catholic to some degree, or I wasn't sure how was I going to live it out. At the end, we were hosting a Catholic Mass in one of the most prestigious classrooms at Harvard University, with a group of about twelve people sitting around a table. It was a joyous end to my experience there. And we ended up doing a research project called, 'Resurrecting Religion: Religious Literacy in the Age of Ignorance.' I was blown away by how much I'd learned about other religions."
In addition to being an author and TV commentator, Matt is also a young man who's getting married later this year. Once again, his faith is the center of the experience. He said, "Putting together the Mass is one of the most exciting parts to me. It's not the reception, it's not the honeymoon, it's not this and that and the flowers. It's going, 'What readings are we gonna choose? What choice of music?' And to me, that is the most important part of the day. Forget what we're serving at the buffet, forget if it's open bar. It's what is going on in that beautiful sacrament that day. I'm just super jazzed about it! "
One of the experiences that shaped Matt's appreciation for the Mass is the time he spent as an English teacher in the town of Hoczew, Poland: "I went to church every Sunday, if not more than that, and I didn't understand one lick of the language! But I knew what was going on and that's the beauty of the Mass to me and the beauty of the Eucharist. Whether it's consecrated by a Polish priest in Polish or an American priest in English, the Eucharist is the same…The Holy Spirit is there, and I absolutely loved that. They take the church seriously there, and it pushed me to take it more seriously, too."
It may seem ironic that somebody who wants to help others take the Church more seriously is using humor to do it, but it's the perfect tactic for Matt who incorporates Christian joy into his life in a palpable way.
Ultimately, he hopes that "Fearing the Stigmata" reaches readers from age 17 to 70, that it conveys his devotion to being Catholic, and that it can inspire others in their own walk of faith. He said, "I think the best way to educate someone about something is through story. That's what I do in 'Fearing the Stigmata' and on Catholic TV. I can tell you about living my Catholic life, or I can show you, and I've always been trying to show."
To hear my full interview with Matt Weber, click on the podcast link:
Christopher Closeup podcast – Guest: Matt Weber