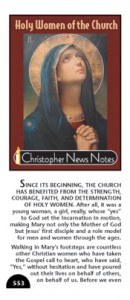 The following is a text copy of the new Christopher News Note, "Holy Women of the Church:"
Since its beginning, the Church has benefited from the strength, courage, faith, and determination of holy women. After all, it was a young woman, a girl, really, whose "yes" to God set the Incarnation in motion, making Mary not only the Mother of God but Jesus' first disciple and a role model for men and women through the ages.
Walking in Mary's footsteps are countless other Christian women who have taken the Gospel call to heart, who have said, "Yes," without hesitation and have poured out their lives on behalf of others, on behalf of us. Before we even leave the pages of the New Testament, we witness the faith of the holy women who were among Jesus' closest friends: Martha and Mary, who often hosted Jesus at their home in Bethany, and had faith enough to know that if he but said the word, Jesus could raise their brother, Lazarus, from the dead – and Mary Magdalene, who followed Jesus to the foot of the cross and was the first to witness his Resurrection.
These women and so many others who came after them have given generation after generation a template for deep faith, a roadmap to heaven, a pathway to Christian love and charity lived out in the world. Think of the schools and hospitals that had their beginnings in the work of great women like Elizabeth Ann Seton and Mother Cabrini. Look at the compassion and selflessness that flowed out of the faith of such women as Dorothy Day, founder of the Catholic Worker movement, and Catherine de Hueck Doherty, founder of Madonna House.
Although these women may feel far removed from our busy modern lives, they can provide for us not only examples of what it means to believe, but of how to put those beliefs into practice through prayer and service. And, of course, they offer inspiration, consolation, and comfort as we walk – and sometimes stumble – along the path of faith.
Compassionate Trailblazers
Though today we are used to women rising to professional heights in the fields of business, education, politics and more, Patheos.com blogger Elizabeth Scalia notes, "This is a phenomenon of the last 100-plus years. Prior to that, the great majority of educated and accomplished women in history were Catholic Religious who conceived completely original ideas and ran with them."
Scalia continues, "Think of Elizabeth Bailey Seton, a widow with five children…conceiving of Catholic education, and essentially inventing a means for the children of poor immigrants to become educated and competitive in the new world. Think of Henriette Delille, the daughter of freed slaves, and Katherine Drexel, the daughter of a wealthy industrialist, both founding individual orders of women who spent their time and energy building schools and hospitals for Native Americans and blacks in the deep south…And Rose Hawthorne founded the Hawthorne Dominicans, an order of nuns who take care of cancer patients, free of charge.…[Other than the Church] there has been no other institution in history which has given women such free reign to create, explore, discover, serve, manage, build, expand."
One of the most recent examples is St. Marianne Cope, who was canonized on Oct. 21, 2012. Born in 1838, she became a Franciscan nun who helped open two new hospitals in New York. As explained by writer Kathy Schiffer, "Unlike other hospitals of the time, the Franciscan hospitals stipulated in their Charter that medical care was to be provided to all, regardless of race or creed…Sister Marianne was often criticized for accepting into treatment 'outcast' patients such as alcoholics, who were spurned by hospitals at the time; but she was well-known and loved among New Yorkers for her kindness, wisdom and down-to-earth practicality."
When St. Marianne was asked to help run hospitals and schools for lepers in Hawaii in 1883, she gladly left New York for this new mission. With a compassionate heart and positive attitude, she cared for adults and children abandoned by the world because of their disease until her death of natural causes in 1918.
Spiritual Companions
For Maria de Lourdes Ruiz Scaperlanda – author, wife, mother of four, and "abuela" to little Elena – two names come to mind when she thinks of inspirational women in Church history: St. Thérèse of Lisieux and St. Edith Stein.
St. Thérèse, popularly known as the "Little Flower," wrote the classic The Story of a Soul and is known for her spirituality of the "Little Way," doing small things as acts of love. Although she died in 1897 at age 24, the Carmelite sister remains one of the most popular female figures in Catholic spirituality and is a Doctor of the Church. Edith Stein, known as St. Teresa Benedicta of the Cross, was also a Carmelite nun, as well as a gifted writer and philosopher. A convert to Catholicism from Judaism, the German nun died in the Auschwitz concentration camp in 1942.
"For me, reading their stories is…about connecting to how they found God, and how that can help me in my journey to and with God," says Maria. "Thérèse of Lisieux inspires and challenges me because of her emphasis on making the small, everyday things holy." As an example, Maria recalls sitting by the window with her little granddaughter Elena, who blew kisses to everyone she saw. "She was making her world holy with her love!" Maria says.
Regarding Edith Stein, about whom she has written a biography, Maria says she was at first intimidated by the saint's brilliance, but soon discovered the generous heart underneath. That is what we must do when we're attempting to take spiritual cues from saints who can seem so far above us. It's easy to dismiss some of the great women saints because they seem far too holy for the average person, but they were real people with real struggles.
Women For All Seasons

Sometimes we're blessed to find a favorite saint who feels like a soul twin just waiting to meet up with us. In her Christopher Award-winning book My Sisters the Saints, author Colleen Carroll Campbell writes about her relationship with St. Teresa of Avila, the great Carmelite mystic who lived during the 1500s, because her rocky early life mirrored Colleen's own struggles with vanity, superficiality and status-seeking.
"In Teresa, I found a woman of passion and purpose whose journey was all the more compelling for its detours," Colleen writes. "I also felt inspired by the discovery that Teresa's ardent faith had not squelched her natural boldness and originality but purified and intensified both, allowing her to use her gifts for a higher good."
So often it was precisely the "passion" and "purpose" of the great women saints that motivated them to do impressive things within the structure of the Church, and sometimes in spite of many obstacles that stood in their way. They were not always appreciated in their own times by average folks, and yet they had the ear of popes and bishops and other spiritual leaders.
St. Catherine of Siena, a Dominican mystic living in the 14th century, was a papal advisor who helped return the papacy from Avignon, France, to Rome and was later called to Rome to help Pope Urban VI counter the threats of an anti-pope. It was surely an unlikely role for a woman of the time whose "day job" was caring for cancer patients, lepers, and plague victims. But Catherine quietly and persistently went about doing the work she knew God had called her to do. Saint books are rife with similar stories of other strong women unafraid of the constraints society had placed upon them.
A more modern version of the feisty, passionate Catholic woman moving past the status quo to help others is Sister Thea Bowman, a Franciscan Sister of Perpetual Adoration, whose life was dedicated to teaching, sharing her gift of song, and breaking down racial and cultural barriers.
Sister Thea, who favored colorful African dress over a traditional habit, spoke before the U.S. bishops in 1989, a year before her death from cancer, saying: "What does it mean to be black and Catholic? It means that I come to my church fully functioning….I bring myself, my black self, all that I am, all that I have, all that I'm worth, all I hope to become. I bring my whole history, my traditions, my experience, my culture, my African-American song and dance and gesture and movement and teaching and preaching and healing and responsibility as a gift to the church."
Saints and other holy women remind us again and again that we are not meant to be perfect replicas of someone else, but, rather, perfect versions of our true selves, the people we were created to be, with all of our unique gifts and flaws.
Strength during Struggles
The great women of Church history – and many who are living and serving in our midst today – also provide much-needed support and comfort to those struggling to deal with the often-harsh reality of modern life. Most of the women role models in the Church didn't have easy lives. Some suffered from illness and physical problems, others from abuse and neglect, and still others from outright violence. We see in them real-life examples of what it means to trust in God and face hardships with faith.
"Saints don't belong to the past. Having completed their earthly lives, they are living in the eternal 'now' that is God's presence. So they are, through the grace of the Lord with whom they are united, very present helps in times of trouble," says Dawn Eden, public speaker and author of My Peace I Give to You: Healing Sexual Wounds with the Help of the Saints. "What is more, there are many who know what it is like to have experiences and feelings like those I've had. At the same time, they have been perfected through what they did and what they suffered, so they can show me how to be likewise transformed so that my soul may become the right shape to enter heaven."
Like so many others, Dawn looks to the Blessed Mother first and foremost as a role model of what it means to be a believer.
"Mary sees loving me, and you, and every human being not as a task that requires effort, but as a joyful way to express gratitude to God who knew and loved her before she was even in her mother's womb," she explains. "So I look to her to show me how to likewise thank God for creating and sustaining me, and to love others out of love of God."
"If every tiny flower wanted to be a rose, spring would lose its loveliness and there would be no wild flowers to make the meadows gay…Perfection consists in doing His will, in being that which He wants us to be." — St. Thérèse of Lisieux
————————————————-
Here is a pdf version of "Holy Women of the Church." If you'd like a hard copy mailed to you, email your address to radio@christophers.org.
Holy Women of the Church – pdf version