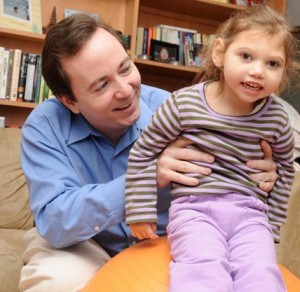 When Sarah Jane Donohue came into the world on June 5, 2005, she was a happy, healthy newborn. Five days later, she had two broken collarbones, four broken ribs, and a traumatic brain injury that destroyed 60 percent of the rear cortex of her brain. Why? Because she was shaken violently by the baby nurse her parents had hired to help care for her.
Doctors told Sarah Jane's father Patrick that she would never be able to do much of anything, not even walk or talk. But Patrick wouldn't accept that prognosis as the final word, so he set out to improve life for his daughter and the many other children who suffer traumatic brain injuries.
Though he worked as a lawyer, Patrick started reading whatever he could about the human brain. He soon learned how little medical science actually knows about the brain, comparing it to cardiology in the 1850s.
He also grew frustrated with the fact that there was no plan of standardized care for children with traumatic brain injuries. During an interview on "Christopher Closeup," he explained, "If you took one child's case and presented it to the top 20 pediatric neurosurgery departments in America, you would have a dozen different procedures done on that child."
Part of the reason for that has to do with funding. Despite the fact that 80,000 American youth are hospitalized each year with brain injuries – and 11,000 of those youth die – the federal government only spends $10 million annually on research for effective treatment.
To remedy this situation, Patrick created the Sarah Jane Brain Project. Its purpose? "The idea was to establish this National Pediatric Acquired Brain Injury plan, the PABI Plan, which develops a seamless, standardized, evidence-based system of care that's universally accessible for millions of American families."
A Revolutionary Step
Patrick saw that researchers and physicians working with brain injury patients were all "operating in their individual silos" and not sharing what they learned, which slowed down the possibility of advancements. It occurred to him that advancements in the field of computer science were being made using shared knowledge through "open source principles, like Wikipedia and Linux Operating Systems."
Patrick took the revolutionary step of putting all of Sarah Jane's medical records online in an open source format in the hopes that they would draw attention from scientists, doctors, researchers, and therapists from around the world. It turned out he was right. "I had scientists from Europe, South America, MIT, NIH, all responding favorably and encouraging me to continue," he said.
Patrick then started talking to other families to get them on board, so more people could be involved in the research and a PABI plan could be constructed.
By Sarah Jane's fourth birthday in 2009, Patrick had gotten one medical institution in all 50 states, plus DC and Puerto Rico, to agree to serve as a lead center for establishing a PABI plan for their state. But in order to create systemic change, he knew they had to go through political channels. As a result, a bill was introduced in Congress that would fund a $2.9 billion initiative to implement the PABI plan. Patrick made sure it was written in a financially conservative way that would only use funds that Congress had already approved for research, so no new money was being used. The bipartisan bill got over 145 co-sponsors including the politically eclectic group of Ron Paul, Michele Bachmann, Barney Frank, and Jesse Jackson Jr.
Unfortunately, the bill died in committee and Patrick is still working on moving the plan forward.

The International Academy of Hope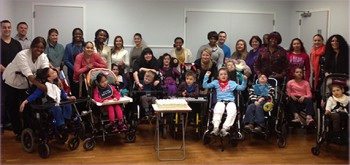 In the meantime, he saw the need for kids like Sarah Jane to get an education in an environment uniquely suited for them. With the help of leading experts in the field of brain injury treatment and rehabilitation, he helped launch the International Academy of Hope – or iHope. It's "the first and only school for kids with brain injuries and brain-based disorders here in New York City."
So far, the school is achieving success: "We launched it in September 2013 with six students; we now have 19 students, and starting in July, we'll have 24 students. The response that we're getting with these kids is incredible. We have one girl, Hannah, who's 14. When she started in September, she could barely stand and she was nonverbal. She's now walking around the school and three months ago, she said to her mother for the first time, 'I love you.'"
Sarah Jane hasn't come that far, but she is also making progress. Patrick said, "She too was nonverbal, non-ambulatory, but we have her in adapted bicycles, so she's now being able to bike around the school with significant support for her, but she's getting that experience. I built a walker for her out of PVC pipe because most of the walkers are built out of these major metal contraptions that are not very versatile. So I built one out of PVC pipe. She's able to walk free standing with it, but then we can also put it over the treadmill. So we actually have her on the treadmill with the support, and she's making progress. I tell people all the time that every day she's making progress is a great day."
iHope even had its first prom recently for students age 12 and over, and Patrick notes this kind of normalcy is vital for the kids because "some of them are completely locked into a body that doesn't cooperate with their brain. They need those types of experiences, so we take some of the kids on field trips to department stores to go shopping, to go the movies and be amongst peers. When we did the prom, we had a wonderful group of local high school students that came to the prom and danced with our kids."
In addition, the parents of the students are building a community in which they rely on each other for support and friendship because their lives are so different from other mothers and fathers. And Patrick praises the dedicated and compassionate doctors, therapists, and teachers at iHope, whom he calls "walking angels on the planet."

"It's My Job to be the Voice For Her"
With all his work, Patrick knows his number one priority remains Sarah Jane – and it has been since a moment in the hospital back in 2005.
He said, "She was less than two weeks old, and they were trying to get an IV into her. They're poking, trying to find the vein. Her mouth was wide open, she had tears coming down her face, but she couldn't [vocally] cry because of the brain injury. I'll never forget looking at her and saying, 'It's my job to be the voice for her.'"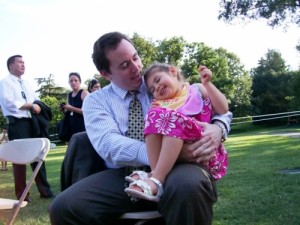 Despite their hardships, Sarah Jane brings a lot of joy to her dad: "She's got an incredible smile, she's a happy little girl, but she's working very hard. She does hours upon hours each week of physical therapy, occupational therapy, vision therapy, speech and language therapy."
Patrick's Catholic faith has enabled him to continue moving forward with a positive attitude, and he notes that he sees divine intervention in daily activities with Sarah Jane. He doesn't spend time questioning why this happened to her, but instead takes a cue from the Serenity Prayer by focusing on the things he can change.
And where does Patrick hope to be five years from now? "I anticipate, my job is to change the world for Sarah Jane and the millions of kids like her. So the fact is that five years from now, we better be a good way into implementing the PABI plan. My intention is to replicate this medical school model that we've created here in New York City in other cities around the country, around the world. Our intentions are to develop an iHOPE in Boston, in Chicago, in Los Angeles, in Dallas, in Mumbai, in Shanghai…My philosophy is pretty simple: things work out best for those who make the best of the way things work out."
(To listen to my full interview with Patrick Donohue, click the podcast link:)
Christopher Closeup podcast – Guest: Patrick Donohue