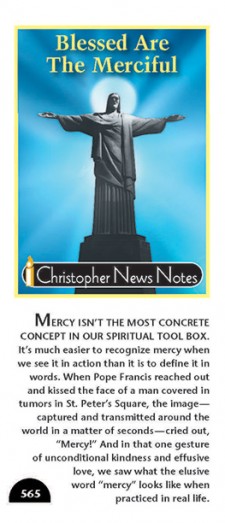 The following is the text of the Christopher News Note "Blessed are the Merciful." If you'd like a pdf or hard copy, see the end of this post:
Mercy isn't the most concrete concept in our spiritual toolbox.
It's much easier to recognize mercy when we see it in action than it is to define it in words. When Pope Francis reached out and kissed the face of a man covered in tumors in St. Peter's Square, the image— captured and transmitted around the world in a matter of seconds—cried out, "Mercy!" And in that one gesture of unconditional kindness and effusive love, we saw what the elusive word "mercy" looks like when practiced in real life.
Few of us will be confronted with a situation as dramatic and obvious as the one that took place in Rome, but there are ample opportunities to show mercy and receive mercy in the ordinariness of day-to-day life. There, in moments not caught on camera but rather captured only in the confines of our hearts, we can confront the often difficult work of being merciful toward those we love and those we may find it very hard to love, the most challenging but rewarding mercy of all.
"Be merciful, just as your Father is merciful." — Luke 6:36
Mercy through Kindness
The works of mercy—spiritual and corporal—give us a starting point when we want to look at how mercy should fit into our lives. We know we should forgive, comfort, feed, clothe, and pray for others. Throughout Scripture we hear that our God is kind and merciful, and we see in the stories of the Gospel what that mercy looks like as Jesus unpacks it for us via parables and practice, from the story of the prodigal son to His encounter with the woman caught in adultery. Mercy first. Always. Forever.
Mercy takes faith, courage and understanding, with no strings attached. Lynn, a woman who ran a Catholic Worker house in Texas, once spoke of a man she was helping. She gave him rides to AA meetings, provided hot meals and a place for him to shower. Then one day he stole her car. Not an ounce of anger or resentment did this woman betray when she told the story, only love. She didn't allow that event to change the way she felt about serving the poor. She didn't give up her work. She didn't lose faith. She turned around and helped the next person in need, knowing that mercy isn't mercy if it is wielded as a threat or a bribe.
On his blog Daily Hope, Evangelical pastor Rick Warren writes: "We all need mercy, because we all stumble and fall and require help getting back on track. We need to offer mercy to each other and be willing to receive it from each other…The mercy God shows to us is the motivation for us to show mercy to others. Whenever you're hurt by someone, you have a choice to make: Will I use my energy and emotions for retaliation or for resolution? You can't do both."
So mercy is about finding resolutions, and sometimes those resolutions will be concrete, like the shopping bag of food delivered to a hungry family. Other times those resolutions will be spiritual, like letting go of the anger and hatred toward an enemy that has harmed you or someone you love.
Pope Francis, in a homily on March 17, 2013, put it like this: "I think we too are the people who, on the one hand, want to listen to Jesus, but on the other hand, at times, like to find a stick to beat others with, to condemn others. And Jesus has this message for us: mercy. I think—and I say it with humility—that this is the Lord's most powerful message: mercy."
And then the pope shows us what that looks like, as he greets little children who break free from the crowd. He leaps from his popemobile to embrace disabled people amid the throngs of visitors in St. Peter's Square. He doesn't stand in judgment but with arms and heart open to everyone who crosses his path, reminding us always that love and mercy are how we transform the world.
"In the past few days I have been reading a book by Cardinal Kasper, [who] said that…a little mercy makes the world less cold and more just," Pope Francis said during an Angelus address. "We need to understand properly this mercy of God, this merciful Father who is so patient… Let us remember the Prophet Isaiah who says that even if our sins were scarlet, God's love would make them white as snow. This mercy is beautiful."
"I have always found that mercy bears richer fruits than strict justice." —Abraham Lincoln
Mercy through Forgiveness
When Karen Mahoney's husband, Blaise, became disabled due to an accident in a home improvement store near their home in Salem, Wisconsin, the couple became scared and angry. Blaise required three cervical fusions and an implanted pain pump. He also endured much more suffering due to health issues resulting from his injury. Although they hired two different law firms hoping for some justice and financial restitution for their medical bills that topped $1.4 million, they ended up with a settlement so small that declaring bankruptcy and losing their home seemed inevitable.
Rather than wallow in fear and self-pity over their own very real needs, however, Karen and Blaise tried to focus on the needs of others. They began volunteering at a nursing home—praying the Rosary, holding communion services for the residents— and visiting the homebound. Although they lost some friends during their turmoil, they gained new friends who supported them with prayers, kindness and, yes, mercy.
"We felt our spirits soar…Many days our cupboards were empty, but we invited our new friends for dinner. Often, God appeared in our living room as we ministered to them and the tears flowed like a river, clearing debris, and leaving a clean oasis behind," Karen recalls.
"The biggest impediment to us was forgiveness. Until we learned to forgive and to turn everything over to Jesus, we were stuck in anger, resentment and bitterness and feeling as if life was unfair. Through letting go, we could see that despite our situation, God could still use us. He loved us and through Him, we could speak to the hearts of others because we truly understood their suffering."

"The very contradictions in my life are in some ways signs of God's mercy to me." — Thomas Merton
Gifts of Mercy
As pastoral associate for administration at Immaculate Conception parish in Glenville, New York, Fran Szpylczyn is the face of kindness and concern when a hungry or needy person shows up at the parish door. One woman, however, was a real trial for her.
Fran said, "The sound of her voice set me on edge; something about her appearance unnerved me, also. What really got me the most was her seemingly endless neediness. It was so fully on display, that it made me uncomfortable. What is more uncomfortable than dealing with our own unhealed wounds of need? My needs may not be material, but coming face to face with such unarmed dependence knocked me right down."
The woman returned several times and, one day, Fran's feelings towards her changed, almost miraculously.
Fran explained, "This is the part of the story that I would think was made up if it did not happen to me…When she walked in that day, it was the same old voice, same old neediness, same old everything, but what was changing was me. I saw her in another light and I realized, in that moment of grace, that I was broken, vulnerable and so needy. Suddenly my outside polite welcome—up to that moment completely superficial—raced into my heart. This was not some act of 'do-good-feel-good' but rather the power of the mercy of God made manifest. She was no longer an uncomfortable visitor, but she became a sign of Christ and God's mercy to me."
Soon after, the woman disappeared from the parish and Fran never found out what happened to her, although she suspects she must have died.
"I'll never know here, but I hope to find out when I get to the Kingdom," Fran says. "If I get there, I believe that I will meet her."
So those opportunities for mercy – mercy shown and mercy received – often find us when we least expect them but most need them. A person crosses our path, shows up on our doorstep, calls us on the phone, and we are given a choice: respond in love or recoil in fear.
There is a famous story of St. Francis of Assisi, a conversion moment in the life of this great saint, when he was on his horse as a leper came toward him. Fighting off feelings of horror and disgust, he heard a thought run through his mind: "You are not a knight of Christ if you are unable to conquer yourself." So he rushed toward the leper rather than away, dismounted his horse, and embraced him, kissing his hands before giving him money in a stunning moment of mercy and love.
"This was a moment of true grace for Francis…and the leper," writes Gerard Thomas Straub in "The Sun & Moon over Assisi." "Imagine what must have gone through the leper's mind when Francis embraced him…It was a transcendent moment, a true turning point in Francis' life."
We get a small glimpse of what that leper must have thought by listening to the words of the disfigured man who was similarly greeted and embraced by Pope Francis. Vinicio Riva, who suffers from a rare disease, said that the encounter with the pope left him speechless.
"[The pope's] hands were so soft," Riva told a newspaper reporter, "and his smile was so clear and open. But the thing that struck me most [was that he didn't think] about whether or not to hug me. I'm not contagious, but he did not know. But he just did it: he caressed me all over my face, and as he did I felt only love."
"Those who live with mercy do not fear death, because they face it directly in the wounds of their brothers, and overcome it with Jesus Christ's love." – Pope Francis, General Audience, Nov. 27, 2013
To receive a pdf or mailed copy of "Blessed are the Merciful," email your request to radio@christophers.org