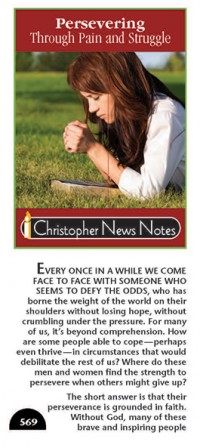 The following is the text of the Christopher News Note "Persevering Through Pain and Struggle" (which was written by a freelancer). If you'd like a pdf or hard copy, see the end of this post:
Every once in a while we come face to face with someone who seems to defy the odds, who has borne the weight of the world on their shoulders without losing hope, without crumbling under the pressure. For many of us, it's beyond comprehension. How are some people able to cope—perhaps even thrive—in circumstances that would debilitate the rest of us? Where do these men and women find the strength to persevere when others might give up?
The short answer is that their perseverance is grounded in faith. Without God, many of these brave and inspiring people would not be able to withstand the pain and suffering the world throws at them. But we have to dig deeper to understand how certain people are able to move forward in a way that allows them to shift their outlook on life and the obstacles they face from fear to trust, from darkness to light.
Be Not Afraid
Throughout the Bible we are told, "Fear not" or "Be not afraid," over and over. In fact, those reminders to let go of fear and trust in God are repeated more than 360 times. But what does it mean to "be not afraid" in real life? Those simple words are difficult to live, and yet we can look around and see ordinary people doing great and small things with courage and strength—the woman who leaves behind her 9-to-5 job to start her dream business, the special needs child who holds her head high despite the school yard bully; the nun in her 70s struggling to finish an iron man triathlon. Wait, what was that last one?
Sister Madonna Buder, a Sister of the Good Shepherd known as "The Iron Nun," didn't take up running until she was 48 years old. Now in her mid-80s, she has completed hundreds of triathlons and dozens of marathons, but the jogging path has been far from smooth.
During the running portion of a triathlon in Hawaii in 2006, as the rain poured down and she grew weaker by the mile, Sister Madonna recalls pushing herself through hunger, potential hypothermia and a fall that left her sprawled on the ground. She kept herself going with the promise of accepting some chicken soup at an aid station at mile 15, but the lukewarm soup watered down from the rain and a soft piece of roll just made her sick.
"As I sat exhausted in the aid station, one of the volunteers started massaging my shoulders. I did not want to leave. Then came the inner command: 'You had better get up now. No one is going to finish this race for you.' It was late, and though I wanted to linger, I had to get going," she writes in her book, "The Grace to Race."
She started moving and, with the encouragement of a few people who pushed her to keep going, she eventually crossed the finish line. Her long career as a record-breaking triathlete is filled with similar no-guts-no-glory stories.
"It is my faith that has carried me through life's ups and downs," she writes at the close of her book. "Whenever injured, I wait for the Lord to pick me up again and set me on my feet, confidently reminding Him, 'God, you know, my intent is to keep running toward you.' How long will I persevere in doing these triathlons? Only God knows, and I want to listen."
Hope Unseen
On April 6, 2005, while Captain Scotty Smiley was on patrol with his platoon in Iraq, a suicide bomber exploded a car bomb that sent shrapnel and debris into Smiley's eyes and brain permanently destroying his vision. Initially, Smiley was consumed by hatred for the suicide bomber and even doubted God's existence. When he was finally able to forgive the bomber in his heart and accept his new situation, the young Army officer took many positive steps forward, including the pursuit of a Master's degree in Business Administration.
As someone who'd always been inspired by St. Paul's statement, "I can do all things through Christ who strengthens me," Smiley, with assistance from his wife Tiffany and a tutor, accomplished his goal. Perseverance and determination also led him to climb Washington's Mt. Rainier, become the Army's first-ever blind active duty officer, and write a memoir called Hope Unseen. He is now an Assistant Professor of Military Science at Gonzaga University in Spokane, Washington.
When asked if his injury has taken his trust in God to new levels, Captain Smiley explained, "That belief in God has strengthened not only my resolve and my ability to do more, but it's given me the motivation to wake up every day with a smile on my face, to love my wife, to love my two boys, to just live every day to its fullest."
Perseverance in the Face of Tragedy
In 2005, when Cathy Adamkiewicz gave birth to her daughter Celeste, she was filled with joy and anticipation over the arrival of her seventh child. But it quickly became clear that something was wrong. As Cathy and her husband, Aaron, waited to hold and snuggle their newborn baby, doctors came in and stunned them with news of a possible heart defect.
That was the beginning of a painful but profound odyssey, a journey that would take Cathy and her family—led by Celeste—to places they had never imagined. Her little girl lived only four months, but during that time Cathy's faith and prayer sustained her and allowed her to see the power of this one small life.
"While my sufferings were intense, and my sorrow real, I was able to grasp, even as I was living out a daily nightmare of anguish, that joy indeed would 'come in the morning.' I can't imagine accepting that my little girl's life had no meaning, and that her pain and death had no benefit. My faith—which is faith ultimately in a Person, not an idea or a system of beliefs—was my bedrock," Cathy explains. "I knew with everything in me that God had created this little girl with a specific intention and purpose, and that even though she (and I along with her) suffered intensely, there was a reason for her life, and while I might not understand completely this side of heaven, I would eventually know that everything that occurred was all the result of Love."
Cathy, who is also a writer, public speaker and author of "Broken and Blessed: A Life Story," says three methods of prayer were most effective during those difficult days. First she relied on the prayers of her childhood, especially the Rosary, which gave her familiar and comforting words when she could think of nothing else to say in prayer. Second, she asked the Holy Spirit to pray on her behalf and to turn her actions into prayer. Finally, she asked other people to pray for her family, which she says is what ultimately allowed them to persevere through their darkest days.
"Our suffering doesn't come from our Loving Father, but rather as a result of the sin and death that came into the world. I imagined Jesus weeping along with me when I got Celeste's diagnosis, when she suffered painful treatments, or on the day we found out she would not live," she says. "I would advise people who are living through especially trying times to…know that you can trust God, and remember that Love always wins."
Perseverance in the Face of Injustice
Theologian Dietrich Bonhoeffer, a Lutheran pastor and anti-Nazi activist who was put to death in a concentration camp, said that "being a Christian is less about cautiously avoiding sin than about courageously and actively doing God's will."
"I discovered later, and I'm still discovering right up to this moment, that it is only by living completely in this world that one learns to have faith," he wrote in a 1944 letter from prison. "By this-worldliness I mean living unreservedly in life's duties, problems, successes and failures. In so doing we throw ourselves completely into the arms of God, taking seriously, not our own sufferings, but those of God in the world—watching with Christ in Gethsemane. That, I think, is faith."
It is hard to imagine how someone unjustly confined to prison would still be able to throw himself completely into the arms of God, and yet there it is, a life lived with God, for God no matter how dark things became.
For Bonhoeffer and so many other holy men and women, the answer was found in prayer. From his cell in Tegel prison in Berlin, Bonhoeffer wrote these powerful words, reminding us that, although he persevered with faith and hope, he could do so only by relying on God:
O God, early in the morning I cry to you.
Help me to pray and gather my thoughts to you,
I cannot do it alone.
In me it is dark, but with you there is light;
I am lonely, but you do not desert me;
My courage fails me, but with you there is help;
I am restless, but with you there is peace;
in me there is bitterness, but with you there is patience;
I do not understand your ways, but you know the way for me.
A similar story of faith in the face of absolute terror and suffering is found in the pages of Immaculee Ilibagiza's memoir "Left to Tell: Discovering God Amidst the Rwandan Holocaust." After her family was brutally murdered, Immaculee survived for 91 days with seven other women huddled in the tiny bathroom of their pastor's house while killers with machetes hunted for them.
"I'd been praying continually for weeks and my relationship with God was deeper than I'd ever imagined possible…During my waking hours I was in constant communication with God, praying and meditating for 15 to 20 hours every day. I even dreamed of Jesus and the Virgin Mary during the few hours I slept," she wrote. "In the midst of the genocide, I'd found my salvation. I knew that my bond with God would transcend the bathroom, the war, and the holocaust…it was a bond I now knew would transcend life itself."
None of us will escape this life without painful struggles. It may not be easy to see or feel God during these dark times, so faith becomes a choice at that point. But it's a choice worth saying 'yes' to because we have a friend in God, who will help us bear our crosses and persevere until the darkness turns into light once again.
"A bend in the road is not the end of the road…Unless you fail to make the turn."
― Helen Keller
To receive a pdf or mailed copy of "Persevering Through Pain and Struggle," email your request to radio@christophers.org