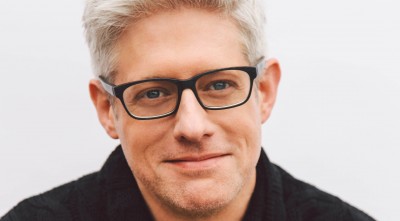 Over the past few years, five-time Grammy nominee Matt Maher underwent some changes in his life that made him reflect on his own future as well as the future of the Church he loves. Looking at the social issues prevalent in modern culture, he noted that "politics has poisoned, in some ways, people's day-to-day life, especially on the Internet."
Maher wondered how to navigate these troubled waters as a citizen and a Catholic. Ultimately, he realized there was a proven place to find the answers he was seeking: with the saints.
During an interview on "Christopher Closeup," Maher explained, "The saints…somehow found a way to stand for God, to stand for the Church, but also to love tremendously and love fiercely. In doing that, they elevated the conversation. That's what I feel needs to happen in the Church. We need a lot of young men and women to respond to the call of God – not get bogged down in a lot of the arguments that are happening, [but instead] focus our eyes back on Jesus and be amazing examples that can help re-elevate the conversation."
Maher's latest album, "Saints and Sinners," is geared toward helping listeners do just that by providing music that connects with your spirit and lyrics that engage your mind and heart.
He realizes that the saints have an image problem in the world today because the reality of their lives has often been whitewashed. People forget that saints were sinners too. When people believe that the saints never did anything wrong, their expectations of religious leaders and others who call themselves "Christian" become skewed.
Maher said, "When people can't live up to that expectation all the time, people get disillusioned in their faith. But when you examine and look at the lives of the saints and the inner work that went along with their sanctification, [you find] the stuff that they themselves struggled with, even looking at the hypocrisy within themselves and the world around them. [They had] to walk through that and reach the point again of faith and belief in the resurrection of Christ, and an ability to see people around them not for their weaknesses and failures but to see them as made in the image and likeness of God."
Firelight
One of the album's songs, "Firelight," was inspired by Mother Teresa's struggle with darkness that was revealed from her personal letters in the book "Come Be My Light." Maher was surprised that this was treated as a scandal by many news outlets at the time.
He said, "I always laughed, [wondering], 'What did you expect?' First of all, any human being who takes on vows of poverty, chastity and obedience – that's a tremendous witness and sacrifice. Then [she] decides to start her own order, and that alone is another huge act of sacrifice. But then…this brave woman – who is like four-and-a-half-foot-nothing, 98 pounds or something soaking wet – with such tremendous courage she goes to the poorest place on the planet and literally goes to help people die with dignity. Of course, you're going to struggle! I don't know anybody that wouldn't become disillusioned and who wouldn't struggle with finding the presence of God."
Instead of turning people away from the faith, Maher believes Mother Teresa's witness in this sense should actually draw more people to the Church: "That struggle that [Mother Teresa] had, to me, I feel like we could do a whole ad campaign for vocations around it and say, 'This is who God's looking for. God's looking for people who don't have all the answers. God's looking for people who are willing to admit their own frailty.' But once again, I think that sometimes we're afraid of people seeing fully who we are. Yet God uses all of it for His glory."
A Future Not My Own
Maher's level of trusting in God was pushed to a new level when he moved to Nashville in 2012 after 18 years living in Phoenix. Leaving behind the memories and relationships were hard on him and his family. For the first time in a long time, he wasn't sure where his future was heading. Recalling an experience he had in 2005 while visiting Cologne, Germany, gave him some perspective, though.
Maher said, "I got to go to the Cathedral. It took 676 years – or some number like that – to build. I found myself touching the stones on the outside of it, thinking to myself, the guys who laid this foundation never saw the tops of the spires being finished. They were willing to spend their whole lives investing in something they did not see the fruits of. It became this reminder that's what ministry is about. Ministry is about sowing [seeds] into a future that doesn't belong to you."
Maher found a similar theme in The Romero Prayer, which was written by Bishop Ken Untener of Saginaw, Michigan, and inspired by martyred Salvadoran Archbishop Oscar Romero. That prayer was the basis for the song "A Future Not My Own."
He said, "I think so much of the world we live in now is based on immediate returns. If you make an investment in anything – whether it's friends, whether it's economic or emotional or even spiritual – we want an immediate sense of gratification…The end of The Romero Prayer prayer says, 'We are prophets of a future not our own.' So that's where the song 'A Future Not My Own' came from. It was written at a time when that was my prayer – this sense of, 'God, I feel like my mind's racing in a million different directions and a million different uncertainties. I don't know what the future is, but I do know that I don't want it to be the one that I construct. I want it to be the one that You construct.'"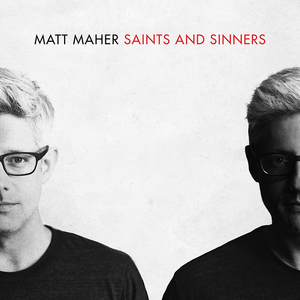 Everything is Grace
Another uncertainty that Maher realizes people struggle with is the question, "Am I accomplishing something with my life?" He found the answer in words that St. Therese of Lisieux spoke shortly before she died. That idea made its way onto "Saints and Sinners" as the song "Everything is Grace."
Maher said, "[St. Therese] had tuberculosis, she lost both parents, she joined a convent at the age of 15, and she did nothing significant with her life from a worldly perspective…I think with Therese, her Little Way says, 'God, free up my heart to do these little insignificant things with a massive sense of significance.' She was so abandoned to this that even at the end of her life when she's dying, not a comfortable death, she's able to say that everything is a direct result of the Father's providential love for us – [even] all the inconveniences."
Maher concludes, "The enemy has taken most of the Church and turned them from prophets into a bunch of complainers – myself included. We spend more time complaining about life than prophesying the love and grace of God over it. It's an interesting thing when we silence all our prophets and turn them into complainers because it mutes the voice of God, in a way, in a world that really needs to hear it. So Therese, to me, was such a profound example for young people who feel tempted to complain and struggle of an insignificant life because she found great significance. To reach a point of surrender – to say the storms, the highs and lows, all of these things – they don't always have to result in us being absent from God. In fact, a lot of those valleys that we walk through can become profound places of transformation where we're actually brought closer to God and we reach a point of surrender, of saying, 'Everything is grace.' There is an opportunity in everything to receive grace for the journey and for life and to receive grace to love people no matter how difficult things may seem."
(To listen to my full interview with Matt Maher, click on the podcast link:)

(All images property of Provident Label Group)