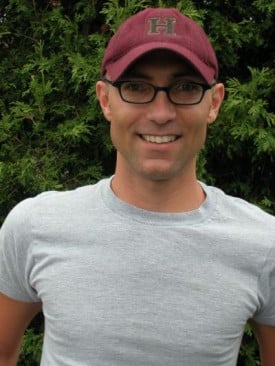 At the age of 31, John Schlimm was at a crossroads. He had spent his 20s working in public relations for the White House, and then, for country music stars in Nashville. From a worldly perspective, he had it made. Yet, he felt restless and empty, as if there was something deeper that needed to be fulfilled in his life.
That quest for meaning led him to leave his job and return to his hometown of St. Marys, Pennsylvania. It was the place where his family's brewery (Straub Brewery) is located, where he knew the names of all his neighbors, and where he had happy memories of being taught by the nuns at St. Mary's Church elementary and middle schools and Elk County Catholic High School.
On the advice of a friend, Schlimm visited a small ceramics shop on the grounds of St. Joseph Monastery, which was home to the Benedictine Sisters of Elk County. As he walked through the door, he felt impressed by "this incredibly humble and simple space, filled with the most amazing colors and positive energy."
Then, Schlimm saw her – the woman who changed his life and inspired his memoir "Five Years in Heaven: The Unlikely Friendship That Answered Life's Greatest Questions."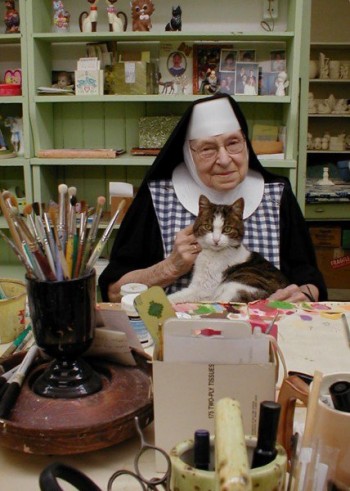 The "her" in question was 87-year-old Sister Augustine, who single-handedly ran the ceramics shop and created all its pieces of art. Schlimm noticed a palpable joy in her personality, which was ironic since he used to work with people who had the world at their fingertips yet struggled to find happiness. In contrast, here was a cloistered, elderly nun working by herself in an out-of-the-way ceramics shop who was totally happy and content.
Schlimm sensed that she might be able to guide him toward that deeper fulfillment for which he was looking, so he began visiting Sister Augustine frequently and engaging in hours-long conversations with her about life and faith and all the ways that ceramics can be a metaphor for life.
During one visit, Sister Augustine talked about the joys and sorrows that ceramics bring. As Schlimm recalled during a "Christopher Closeup" interview, "I once asked her what it was like to open the kiln and see all of these incredible pieces that she had created. She smiled and said, 'Every time I open the kiln, there's joys and sorrows' – meaning that some of the pieces don't make it through the process. She'll open it up and they'll be shattered. And the point she made was that even those sorrows are moments for us to pause and be grateful. With every shard of broken ceramic, she picks it up and says, 'Thank you, God.'…[I thought], 'That's not something I really want to be given as a gift: a sorrow.' But she changed my mind on that and showed how those sorrows and challenges in life, we can either see them as a roadblock or as an amazing gift to go in a new direction."
Schlimm learned lessons about patience in our instant-gratification world as well. Ceramics, he said, "taught me to slow down because there was no hurrying that process. If you tried to hurry it, it didn't turn out so well. A couple of times, I tried to hurry it and ended up with those 'sorrows' in my hands, because they would crumble apart. And Sister would just smile and we would start over again…Sometimes, we would just sit there in silence, and I would watch her do what she did best, and it was a really peaceful place. So yeah, I learned to slow down, which is something I remind myself every day that we all need to do."
During this time, Schlimm also had questions about his faith, which zigged and zagged as it does for a lot of people: "[Sister Augustine] helped me to realize that's the beauty of this life. Those zigs and zags should be embraced and enjoyed and learned from. And certainly when it came to my faith, yes, I was zigging and zagging, I had a lot of questions. She was so kind in showing me that it's okay to question God. She says we all do, even His own Son questioned Him at times. That's how we learn. By the time our five years together had concluded, I had such a clear vision and understanding of what it meant to be someone devoted to God and to be driven by faith in this life. I'll always be grateful to her for that. And what's really been great is hearing from people across the country who are not only Catholic, but they come from a lot of different faith backgrounds and they're responding to this book and its universal message."
Despite all the praise and credit that Schlimm gives Sister Augustine, she would always claim, "I'm only a messenger" and "This is God's work. I only do what I'm told by Him." The author has adopted the same humble attitude, calling himself a "messenger with a pen." His writing, he believes, is guided by a "heavenly board of directors" whom he calls on every day – deceased family members and friends – as well as St. John the Evangelist, the patron saint of writers whom he was named after.
The launch of "Five Years in Heaven" also saw him declare May 5th as "Thank a Nun Day," which was promoted on Twitter with the hashtag #ThankANun. Five million people worldwide wound up sharing their stories of religious sisters who were a blessing in their lives. Schlimm said, "Sisters do their work quietly, and they don't get the credit they deserve. Nuns around the world are doing some incredible work, from a humanitarian perspective, but again it's that beautiful humility that they have that keeps them out of the limelight. But at least for one day, I decided I was gonna shine a spotlight on them."
Redaers now approach Schlimm all the time saying, "I wish I had a Sister Augustine in my life." His response to them? "You probably do. If you look around, it might be the old guy down the street who waves at you every time you pass his house or the grandmother you don't get to visit enough. Connect with these people and ask them lots of questions. One young woman came up to me recently and told me about her 92-year-old grandmother, and how the story reminded her of their relationship. She said, 'Do you have any advice on my relationship with my grandmother?' I said, 'Ask her lots of questions about everything and take those answers that she gives you to heart.'"
His friendship with Sister Augustine also taught Schlimm about the way our youth-oriented society treats the elderly – and how we should treat them. He revealed, "I was fortunate growing up around my elderly grandparents, and I have some great uncles and aunts. And my parents, from an early age, taught me a respect for older people, so I was comfortable with them. I think unfortunately today, we live in such a young society that kids aren't really around people who are in their 70s – and certainly not `80s and `90s. So when they meet someone who is in their `80s or `90s, they almost don't know how to connect with them. I think that we need to all become more comfortable reaching out to them, because in so many cases, our elderly across the country just fall by the wayside. We have so much to learn from them, and we're starting to lose that! Because guess what, we're the ones who are inching our way towards that [age now]."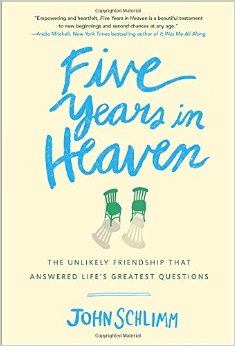 In our closing moments, I asked Schlimm how the Christopher motto – It's better to light one candle than to curse the darkness – related to the message of "Five Years in Heaven." He believes it ties in perfectly, saying, "I love that motto and I start out the book with that line from the prayer of St. Francis, 'Where there is darkness, light.' This story is all about that, because when it starts out and I'm 31-years-old, I was very much surrounded by darkness. And Sister was that glimmer of light who led me into the light. I think the universal lessons in this book are going to lead anyone who may be feeling in any way surrounded by darkness, it's going to give them that glimmer of light, to lead them forward. At one point I describe Sister Augustine's wisdom like street lamps being lit one after another on a dark night in front of me, and guiding me forward. I want it to be that for readers everywhere."
(To listen to my full interview with John Schlimm, click on the podcast link):

RELATED:
– The Patheos Book Club with more on "Five Years in Heaven"