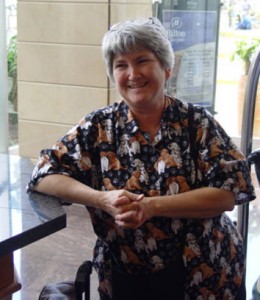 When American-born nun Sister Annie Credidio moved to Ecuador in the mid-1980s to be a teacher at El Nuevo Mundo School, she attended Mass at a local hospital and noticed that members of the congregation were missing fingers, toes, legs, and teeth. She soon discovered that this was a hospital for people with Hansen's Disease (also known as leprosy), "a chronic bacterial disease that primarily affects the skin, peripheral nerves and upper airway." The more she explored the facility and talked to patients, the more she realized how deplorable conditions were.
During a "Christopher Closeup" interview, Sister Annie recalled, "During the night, the rats would crawl up from the broken sewer tops and bite the toes of the patients. The food would come over to the Hansen's wing with rat hairs and roaches in it."
How, I asked, did she not get scared off by all that?
"I'm from Brooklyn!" she answered. "I'm a tough girl from Brooklyn."
Well, that tough girl from Brooklyn had a heart as big as her courageous spirit, so with the full support of her order – the Sisters of Charity of the Blessed Virgin Mary – she gave up her teaching job to create a better life for those society deemed "the untouchables."
Slowly but surely, Sister Annie began making progress in improving conditions: covering up the sewer pipes, and providing decent meals, mattresses without holes, and mosquito nets during the rainy season. A cure for Hansen's had also come on the market so she worked to get treatment for those in the early stages of the disease. Most importantly, she brought compassion.
Sister Annie said, "When I first got there, they kept calling me this angel that fell from heaven. I [told them], 'No, I'm far from being an angel.' But then I thought their prayers all those years must have been for someone [to really care for them]. They knew God was hearing them, and I really do believe that God taps us on the shoulder and puts us where we need to be when the time is right."
The faith of the Hansen's patients was one of the things Sister Annie found most shocking and personally transformative. While they felt abandoned by their families and society, they never lost their belief that God was watching over them.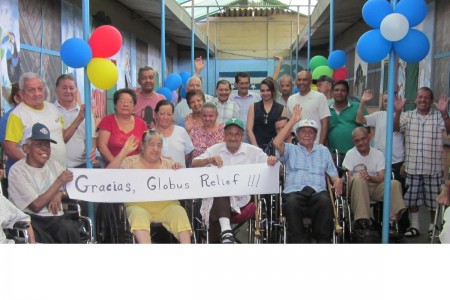 She said, "They would always say, 'Si Dios quiere — if God wants' and 'la voluntad de Dios,' the will of God. I thought, 'Wow, these people are always mentioning God.' So many of them needed amputations, they needed eye surgery, they were losing their teeth. Yet they say, 'If God wants.' Their spirituality shook me…I thought I knew what faith was about, but I found out that true faith is letting everything go and letting God take over."
In 1994, Sister Annie achieved a milestone that would help her new spiritual teachers even more. Along with her friend Suzanne Belz, she co-founded a legal foundation to which donors could send much-needed money. They called it Damien House, after the sainted priest who cared for Hansen's patients on the island of Molokai.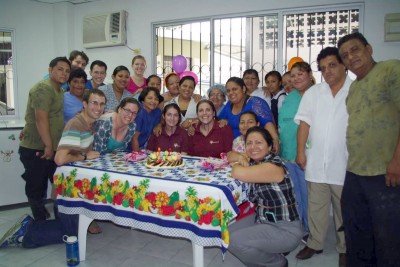 "There is no office," Sister Annie explained. "It's all run by volunteers. Every penny goes straight to Damien House, and that's what provides the 24-hour care for many people who are mutilated by this disease, who can't care for themselves. It provides the medicine, the food that they need, and the dignity and the respect that every human being deserves."
For Sister Annie, it really is the human beings that matter most. For one thing, the people of Ecuador made her transition to their culture easy because of their warmth. She said, "I am of Italian descent, and I felt like the Ecuadorians were very much like the Italians: friendly, open door policy, come in and sit down and have something to eat."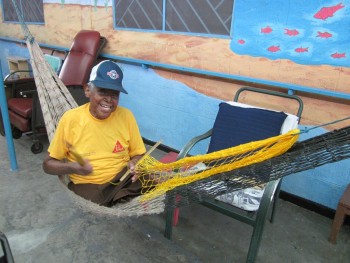 That friendly nature extends to the Hansen's patients as well. For instance, a group of doctors from the U.S., who've dubbed themselves "Annie's Angels," take a week's vacation every year, travel to Damien House, and perform free nerve decompression surgeries so patients can regain feeling in their limbs.
Sister Annie said, "[The doctors] love the experience! In the United States, we're not a culture of touchy feely hugging! But when they come to Ecuador, everyone wants to hug them and shake their hands. In the United States, most people will wake up from surgery and say, 'Oh, Doctor, I'm in pain!" These folks wake up, and they're like, 'Thank you so much, Doctor!' They're shaking their hands and saying, 'God bless you, I'll pray for you, for your families.' They're very taken by the sincerity of these folks."
The patient's themselves are given an open door to a new life: "Young people, when they get their sensation back, they can go back to work and be productive members of society. If you have a campensino, a country person, who can't farm because he can no longer hold a machete, after the surgery, he can go back to work! Young mothers who can't hold their babies in their arms, they lose the sensation, they can't pick up a pot from the stove, they can't iron. They can't even hold a needle to sew anything because they don't have that sensation in the fingers. And these mothers, after surgery, they're holding their children and they've gotten their lives back together as a result of these wonderful angels."
Sister Annie has seen her share of struggles, so in conclusion, she reflected on the way her spiritual life has changed in the 30 years she's lived in Ecuador: "My religious community, the B.V.M.s, have shown me that you have to take time to just be, to reflect on the Scriptures. At first, it was hard for me. We come from a noisy culture and it took me a while to learn how to do that. But once I learned how, you can let the silence speak to you and your heart. When the going gets rough, you have to let go and let God take over….I believe in the power of prayer. It gets me through the doubting I may have when I can't meet my expenses and, somehow, a donation comes through. Or someone is having a terrible time with a surgery and I know that prayers are needed, so we have a prayer hotline going. I do believe in the power of prayer. That's what gets me through."
For more information on Damien House, visit their website at www.TheDamienHouse.org.
(To listen to my full interview with Sister Annie Credidio, click on the podcast link):