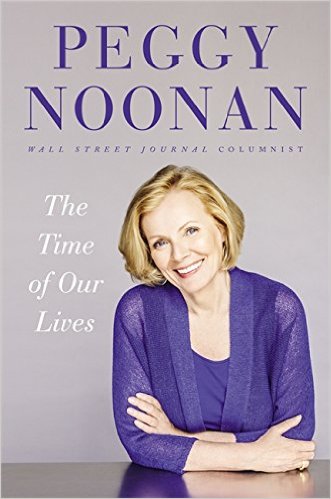 Peggy Noonan can be described in many ways: former speechwriter for President Reagan, best-selling author, Wall Street Journal columnist, and political commentator. But the "core of [her] identity," she says, is being Catholic.
To Noonan, that means she embraces the tenets of Catholicism and sometimes offers "tough love" to the Church's leadership, as she did in the aftermath of the sexual abuse crisis. But at the heart of her words, even when they're critical, there is a profound reverence for the faith she has followed and embraced since she was a little girl.
Noonan recently joined me on "Christopher Closeup" to discuss her newest book "The Time of Our Lives," an outstanding collection of her best essays and columns from 1981 to the present. It's filled with stories and observations about politics, culture, heroism, humility, virtue, faith, and more.
On the topic of faith, Noonan credited her great aunt Jane Jane (one of the people to whom she dedicates the book) with planting the seeds of her belief not through words, but through actions and symbols.
Noonan told me, "[She] was a simple Irish peasant – and she had a simple Irish peasant's belief. She had on her bureau Mass cards and rosary beads and [pictures] of Jesus and the Sacred Heart and a saint and the Virgin Mary. She had these things tucked into her mirror and into her purse. And she was very kind. She took me to Mass when I was a little girl every Sunday, and I thought everybody in Mass was very nice, so I got it in my head that maybe if you go to church, you become nice. Or maybe if you go to church, they just all happen to be nice. But either way, that's a nice place to be: church. So that was very lucky for me. She didn't proselytize, she didn't really teach me about Christ. She had Christ all around me."
As Noonan got older and learned more about Catholicism, her faith developed maturity and depth. She even came to teach a religion class to girls at a private school in Manhattan for a number of years. They ranged in age from post-Communion to Confirmation, and they taught her a lesson about the influence (or lack thereof) of the sacramentals and pictures she had been surrounded by growing up.
Noonan said, "After class, we used to just sit around, eat cookies and chat – and I asked [the girls] informally, 'What signs and symbols of religious faith do you see around your house?' There was silence. Then one girl said, 'My grandmother wears a medal with Mary on it.' That was the only answer among 8 or 9 or 10 kids. I thought, 'Thank you, Grandma!' I really enjoy seeing these signs and symbols of faith in people's houses, whatever their faith is. I understand something's being said there. What's being said is, 'There is a God.' And it's important for kids to be aware of that."
Noonan believes that an awareness of Catholic basics is sorely lacking in modern America, and she offers advice on how to get the Church back on track: "This is something I've taken to saying to priests whenever I run into them. I can't help but think in America, we've made a great botch in the last 50, 60, or 70 years in explaining to Catholics what it is Catholics believe and why they believe it. I mean, the essentials. I was in a conversation with a priest recently and I asked him why he had done a particular homily, which had nothing to do with Catholicism. It had to do with industrialization in the west and how Christmas probably wasn't on December 25th. It was a bunch of eccentric, silly stuff – and he's not an eccentric, silly man. I told him that I believe that every Sunday, Catholics who come to Mass are really hungry for the basics. Then I said to him – You know what this Church doesn't understand? We in America are mission territory. You have to come to us like we are a vast continent of people who've never been exposed to Christian or Catholic thinking. You have to explain and proselytize and go through the Bible and explain who Jesus was and His followers were, explain how we feel about the Blessed Mother, explain Catholic thinking and why Catholics have these rules. You're treating us like we're sophisticated, knowledgeable and wealthy, and you come to us like we're an ATM and say, 'Please contribute to the Church' and we give you money. That's fine. But we're mission territory and you have to treat us like natives who have never been exposed to Christian thought. I honestly believe that we've got to start over in America."
In terms of the cause of this lack of religious knowledge, Noonan believes that the practice of the faith may have become rote and many people were just going through the motions. In addition, she says, the "great kerfuffle" of Vatican II distracted people from the essentials and bogged them down in arguments about side issues, such as which way the priest should face during Mass.
Noonan says, "You can argue about that forever, but could you remind us what we think of the Blessed Mother? Could you remind us of where we think miracles come from? What's a saint? Could you tell us the story of a saint? What does it mean to be a saint? How do you get to be a saint? Should I want to be a saint? All of these essentials got lost."
As a prominent wordsmith who learned her craft at CBS News, Noonan knows there's a difference between writing words meant to be read silently to one's self – and words meant to be spoken out loud. Therefore she's most critical of liturgical translations.
While she loves that the Mass is in English, she finds that it is "so bureaucratically, non-poetically, non-piercingly written that it's hard for priests to say it. A priest once told me, 'The Mass now, it's like chewing cardboard.' And that's not just a literary comment; that's a comment about the transmission of faith…I'm so surprised and grateful that they haven't changed 'Hail Mary, full of grace, the Lord is with thee' to 'Hail Mary, you have so much grace, the Lord certainly is nearby.'"
At the same time, Noonan acknowledges there's something about being raised Catholic that never leaves you, regardless of whether you're ardent or lapsed: "Two things really help. One is being baptized. That sacrament has power. It brings alive something within you. You're a little infant, you don't even know it. But at some point, it may come to the fore when you're a grown up. It has a little magic going for it that may benefit you very much. I know magic is the wrong word, but it's kind of how I see it. Another thing is that – at some point, if you're lucky, being Catholic lands like a harpoon in your heart. You can swim away with that harpoon in your heart forever, but you will be pulled back."
Like that harpoon, Noonan's words can pierce, but they're ultimately meant to pull as many people as possible back to a faith that can serve as the foundation of their lives, a faith that becomes the core of their identity, just as it is for hers.
CLICK HERE to read Part 2 of my Interview with Peggy Noonan, in which she discusses the state of popular culture, polarization in the United States, and the reason she thinks young journalists should emulate Tim Russert.
(To listen to my full interview with Peggy Noonan, click on the podcast link):