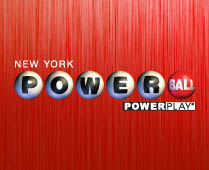 With Powerball fever sweeping the nation and people standing in line for hours to buy a ticket, the jackpot just keeps getting bigger and bigger. The likelihood of winning, though, is another story.
Over the weekend, CBS News reported that you have a higher chance of getting struck by lightning than winning the Powerball. Then, they added another statistic:
You have a higher chance at "achieving sainthood" than winning the Powerball millions (or billion, as the case may be).
It's likely CBS meant being canonized a saint, like we saw with John Paul II a while back – and as we'll likely see with Mother Teresa this September. But sainthood in general is far more achievable than winning the lottery because it's not a game of luck; there's actually choice involved, along with a good helping of God's grace.
It's important to remember that people who've died and made it to heaven are considered saints. All of them, not just the ones who are publicly canonized. That means your mom, dad, grandma or grandpa could be a saint right now and praying for you to join them some day.
While TV and movies have often led us to believe that people become angels when they die and need to do good deeds to earn their wings, that's more of an entertaining storytelling device than actual theology. Angels are actually spiritual beings directly created by God. Sainthood, on the other hand, is a state everyone can strive for.
In a broad sense, that road to sainthood comes down to the way Jesus sums up the law of God in Mark 12:28-31:
One of the scribes came near and heard them disputing with one another, and seeing that he answered them well, he asked him, "Which commandment is the first of all?" Jesus answered, "The first is, 'Hear, O Israel: the Lord our God, the Lord is one; you shall love the Lord your God with all your heart, and with all your soul, and with all your mind, and with all your strength.' The second is this, 'You shall love your neighbor as yourself.' There is no other commandment greater than these."
In other words, both faith and action are needed. They may not always be easy to live out, but nurturing a relationship with God through prayer and other means can help us along the way. And if we keep our eyes open,
the grace we need will likely be there to help us, too
. No canonized saint was ever perfect, and we'll never be perfect either. But when saints fall, they realize their mistake, atone for their sin, and move forward in the right direction.
So if you plan on standing in line to buy a lottery ticket within the next few days, try turning your mind to the more achievable goal of sainthood as well. As the old saying goes, "The pay may not be much, but the retirement plan is out of this world."
Stay in touch! Like The Christophers on Facebook: