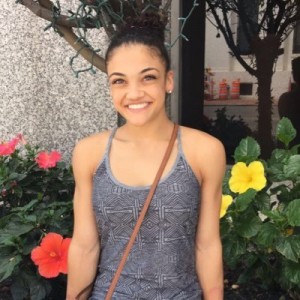 One of the joys of the Rio Olympics has been seeing the joy on the face of gymnast Laurie Hernandez, who has been dubbed "the human emoji" because of her bright smile and easy display of emotion.
That joy wasn't just there when she, Simone Biles, Aly Raisman, Madison Kocian, and Gabby Douglas won gold in the team finals, but also whenever her teammates did well in individual events. Laurie looked just as excited for their success as she would be for her own.
Thankfully, she got a taste of that success herself yesterday when her years of practice and determination paid off with a silver medal in the balance beam event.
You might not know that if you simply read sports headlines because many of them focused on the fact that Simone Biles, for whom expectations have been incredibly high, slipped during the competition and earned bronze instead of gold. While Biles was disappointed in her own performance, she was selfless enough to celebrate her friend and teammate's medal, saying, "I'm proud of her."
Hernandez attributes her positive personality and success to her Christian faith. She told Campus Crusade for Christ International, "I feel that everyday God molds me into someone that he wants me to be. So if that means just, like talking to teammates and helping them out, or like every so often I'll post a Bible verse on Twitter or Instagram. … There was one that I posted recently and I'm thinking it's my favorite verse. It's Proverbs 31:25: 'She is clothed with dignity and strength and she laughs without fear of the future.' When I hear that, that's me in a Bible verse. I don't fear the future anymore."
Hernandez also prays before each event and knows things don't always work out the way she wants them to. So how does she respond? "I just wake up thanking God for another day and go to sleep thanking God for another day… sometimes things just don't work out and so you just gotta let God push you through those rough times."
Yesterday, however, was a good day for Laurie in which she allowed her light – and God's light – to shine through her. Congratulations to a great competitor and human being!
Matt. 5:16
Let your light shine before others, that they may see your good deeds and glorify your Father in heaven. pic.twitter.com/EjheMUspz7

— Laurie Hernandez ➶ (@lzhernandez02) March 28, 2016
Stay in touch! Like The Christophers on Facebook: