UPDATED Aug. 22, 2016: Following one of the toughest weeks of her life, Missy Franklin wasn't sure what kind of homecoming to expect because she felt she'd let down her family, friends, and neighbors. Well, as the video on Missy's Instgram page shows, they still love her just as much as they did before. And they displayed their own class and grace in the process.

———————————————————————————————
"Though the mountain may crumble, you will not."
On her Instagram page on May 31, 2016, Olympic swimmer Missy Franklin posted those words from Isaiah 54:10. They were likely an inspiration for the four-time gold medalist from the 2012 London Olympics because she'd faced some difficulties qualifying for the 2016 team. And while she did make it to Rio, Franklin unfortunately fell short in the semi-finals in which she competed, leaving her a spectator for the rest of the games.
She said this has been "the hardest week of my life, by far…I'm shattered."
Perhaps now more than ever, Franklin needs to look to those words from Isaiah: "Though the mountain may crumble, you will not."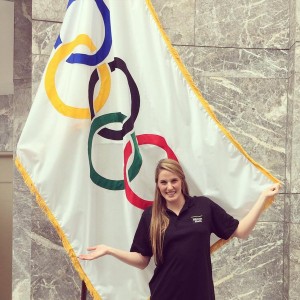 And she has plenty of reasons not to crumble, her faith being one of them. While Franklin is Protestant, she attended Aurora, Colorado's Regis Jesuit High School, which helped her get more in touch with her Christian faith. Regarding the school, she told Catholic News Service in 2012, "Taking my first theology classes, going to my first Masses, going on my first retreats, I began to realize how important God is in my life and how much I love him and need him."
There's plenty of evidence of her reliance on God in her social media posts, but also in the way she carries herself. While Franklin has faced hardships in these Olympics, she has been a relentless cheerleader for her fellow Team USA members.

And her teammates have responded in kind.
After Franklin fell short in the 200-meter backstroke last night, she hugged fellow American swimmer Maya DiRado, who qualified for the finals. It looked like Franklin was smiling through restrained tears to congratulate DiRado. Meanwhile, DiRado looked more serious, as if to comfort Franklin. So instead of celebrating her own success, DiRado focused on her friend. That's class. And that also speaks to the sense of community that Franklin inspires in others, that biblical idea of putting the needs of others ahead of your own.
Franklin is feeling a lot of pain right now, and that's okay. It's normal and human in light of her circumstances. She should let herself experience those emotions for a little while before picking herself up and getting back in the race (to paraphrase the Sinatra song "That's Life.")
Based on what we've seen so far, the core of Missy Franklin's being will not remain defeated. She has her faith in God and the love of family, friends and teammates to lift her up. And if she isn't familiar with The Christophers' motto, "It's better to light one candle than to curse the darkness," that might come in handy for some inspiration, too.
And along those lines, she might look to a Christopher Award-winning book for some guidance as well. Missy told "Travel and Leisure" that one of the books she was taking along to Rio to read on the plane was the memoir "Kisses from Katie," by Katie Davis.
Davis is a teen from Nashville who moved to Uganda to care for orphans because she was inspired by the words of Jesus and the works of Mother Teresa. So at the lowest point of Missy Franklin's life, she can look to this insight from Davis:
"God reminded me how beautiful we all are to Him, after all, we were created in His own image, and He looks at me, at you, in all our sweat and dirt and brokenness, and says, 'I choose you. You are beautiful.'"
(Missy Franklin photo via her Twitter account)
Stay in touch! Like The Christophers on Facebook: