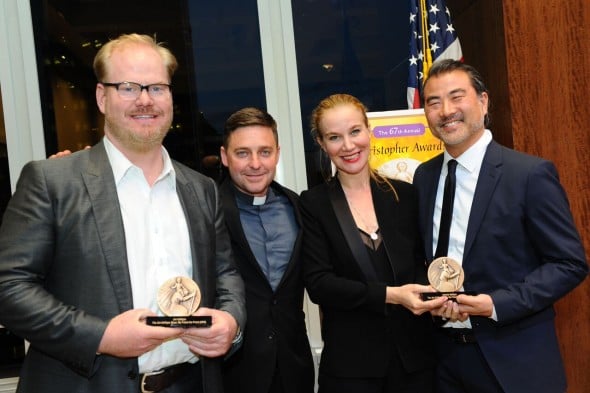 Over at Verily magazine, Mary Rose Somarriba shares an insightful interview with Christopher Award winner Jeannie Gaffigan, who discusses her marriage to husband Jim, being a mom to five kids, comedy's power to lift people out of despair, integrating real life into "The Jim Gaffigan Show," her approach to being a successful and empowered woman, being a "Shiite Catholic" (her husband's joking description of her), and more.
Here are a couple of excerpts, but go read the whole thing:
MRS: We seem to be hearing a lot of tragedy in the news these days. What would you say is the value of comedy at times like these?

JG: Over the years I've learned a lot and grown a lot. And I was with Jim during the tragedy of 9/11. About three days into the recovery efforts, Jim said, "I have to go to the comedy club and do a spot." And I thought, are you kidding me? This is not the time. There are tanks driving around; you have to show your ID to go anywhere. But Jim said, "This is the time to do it."

When I saw people flocking to the comedy clubs, I realized we need that moment of community and communication with other people. Because we all share those joys of life together alongside the tragedy, it allows us to lift them up in despair.

We hear this from fans of The Jim Gaffigan Show, too. A lot of the followers of our show write to us about how it brings them joy when their parents had a diagnosis with cancer, when things are not funny at all but still the humor in the show connected to them, whether it be silly like about everyone loving cake or more personal like Jim's fear of cancer. You'd think that was not an appropriate thing for people to hear, but you'd be surprised how the human spirit is resilient. The human spirit needs a little comedy to get through these times that are incredibly difficult. I think the gift of laughter is a really important part of navigating this world…

MRS: Who came up with the phrase "Shiite Catholic"?

JG: That was definitely Jim. And yes, my faith plays a big part in my life. The way my faith helps me the most is I tend to think I'm in control of everything—that's my weakness. But we quickly find out we have no control. And if I put all my eggs in one basket I was going to be disappointed most of my life. There's a higher power in charge of most of my life. As in, I'm going to write this book with Jim, and it's either going to to be a New York Times bestseller or it's not, but I've got to be prepared if it's not going to be. That outlook applies to everything.

With five kids—with any kids—every day you have a struggle of: Is my kid OK? Will they be OK? I have to put this in the hands of God because I can't function this way. Personally the way that I can cope with life is to let go of my control and have faith in something higher than myself. And that's how my faith has influenced me.
Stay in touch! Like The Christophers on Facebook: