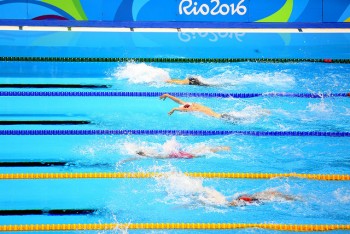 Trash talking sometimes happens in sports. One competitor says something derogatory about the other, who then may respond in kind. It's the kind of thing that creates drama and attracts media coverage, but it sets a poor example for young people in terms of sportsmanship.
At yesterday's Rio Olympics, however, the world got a lesson in good sportsmanship from two of the toughest competitors in their field: swimmers Katie Ledecky (USA) and Sarah Sjostrom (Sweden).
On Sunday, Ledecky earned a gold medal by dominating the 400-meter freestyle swim, in which she broke her own world record. That same day, Sjostrom also broke her own world record in the 100-meter butterfly, becoming Sweden's first female swimmer to win gold.
Interest was high in the 200-meter freestyle event last night because these two would be facing off on the biggest stage imaginable with the world watching. Thankfully, there was no war of words, with one asserting dominance over the other. In fact, Ledecky said she appreciated swimming against a competitor as strong as Sjostrom. If she was going to go for the gold, she wanted to swim against the best.
And that's exactly what happened. The race was tight throughout and came down to the last few strokes, with Ledecky edging out Sjostrom for the gold by less than a second. Competing in the lanes next to each other, the two young women hugged afterwards and seemed genuinely respectful towards the other's talent.
While Sjostrom surely wanted to win gold herself, she didn't display the angry face that sometimes emerges on athletes when they miss out on the top spot. She even smiled, as if she realized what a captivating event had just happened: the best competing against the best. And as much as Ledecky wants to win, I suspect she would have been just as graceful in defeat as Sjostrom was.
Considering that Ledecky said she almost vomited in the last 50 meters because she put everything she had into going faster, she's already a model of determination and persistence. But it was also nice to see two athletes at the highest level of their sport be respectful and decent human beings as well. Youth around the country and around the world should look to them as models of sports at its best.
(Watch the race at NBC Olympics.)
Photo credit: Andy Miah via Visualhunt.com / CC BY-NC
RELATED: These Olympians Remain Grounded in Their Catholic Faith
Stay in touch! Like The Christophers on Facebook: