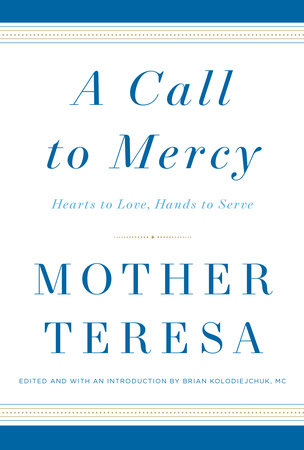 "We have to do something about it."
As a child, that's what Agnes Gonxha Bojaxhiu would say when her mother took her and her siblings out to serve hungry people in the streets of Macedonia. Agnes grew up to be Mother Teresa, who will become St. Teresa this Sunday Sept. 4. And she certainly did "something about it" by devoting her life to serving the poor and marginalized in a spirit of love.
There's a new book out titled "A Call to Mercy," which collects many of Mother Teresa's quotes, along with stories about her from people who saw her in action. It was edited by Father Brian Kolodiejchuk, who was the postulator of her cause for sainthood.
Unfortunately, I was only able to read a few short sections of the book in time for the canonization, but I did want to share a few reflections from therein about this saint who believed in "putting love into action," as she liked to say.
Sister Nirmala, Mother Teresa's immediate successor, is quoted as saying, "Her heart was big like the Heart of God Himself, filled with love, affection, compassion, and mercy. Rich and poor, young and old, strong and weak, learned and ignorant, saints and sinners of all nations, cultures and religions found a loving home in her heart, because in each of them she saw the face of her Beloved – Jesus."
One of the reasons that Mother Teresa endeared herself to so many people was that she wasn't afraid to get her hands dirty when it came to getting work done. This willingness to humble herself was evident even in the early days of her life as a nun, when she worked as a teacher in India. For example, this story, told in her own words, is featured in "A Call to Mercy."
"When my little ones saw me for the first time, they were asking one another whether I am a goddess or an evil spirit. For them there is no middle. Those that are good to them they admire like one of their deities; and if someone is moody they are afraid of him and they are only continually bowing down to him.Immediately I rolled up my sleeves, moved the furniture in the room, took water and the brush in my hands and started to scrub the floor. They were utterly surprised. They were only watching me because they have never seen that one teacher would start doing such work, especially because it is the job of the lowest caste in India. But seeing me happy and joyful, the girls, one by one, started helping me and the boys started carrying water. In two hours the dirty room became a classroom; everything was clean…"
Mother Teresa is also known for feeding the hungry. But she came to realize that many people suffered with not just physical hunger, but also spiritual hunger. The latter could arise in people who had all the conveniences of life. As she once said:
"When I pick up a person from the street, hungry, I give him a plate of rice, a piece of bread, I have satisfied, I have removed that hunger. But a person that is shut out, that feels unwanted, unloved, terrified, the person that has been thrown out from society – that poverty is so hurtful and so much, and I find that very difficult."
"A Call to Mercy" also shares this story, along those same lines:
"Another time I was walking through the streets of London in a poor area where our sisters also work. I saw a man in a truly terrible condition sitting there looking so sad and alone. So I walked up to him and asked him how he was. When I did this, he looked up at me and said, 'Oh, after such a long time, I feel the warmth of a human hand. After such a long time, someone is touching me.'And then his eyes brightened, and he started to sit up straight.

"Such a tiny attention had brought Jesus into his life. He had been waiting so long for a show of human love, but it was actually a show of God's love. These are beautiful examples of the hunger I see in these people, the poorest of the poor, the ignorant and unwanted, the unloved, the rejected, and the forgotten. They are hungry for God. This is something you priests must meet continually; not only a hunger in people suffering physically, but also a great hunger in people suffering spiritually and emotionally – people suffering in their hearts and souls, especially young people."
Those are just a few examples of the spiritual riches in "A Call to Mercy." Though I haven't read the whole book, it seems like a great introduction to the saint who walked among us not too long ago – and whose example calls us to be better than we are.
Stay in touch! Like The Christophers on Facebook: