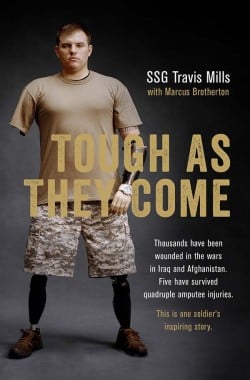 It was April 10, 2012, and U.S. Army Staff Sergeant Travis Mills was on his third tour of duty in Afghanistan. He and his team were sent to an area to check for IEDs (improvised explosive devices), and according to the minesweeping device they used, there was nothing dangerous in the ground. Mills, therefore, took off his backpack and put it down next to him. Then, his life changed forever.
The minesweeper had been wrong. A hidden IED exploded, ripping off Mills's right arm at the bicep and right knee at the leg joint. His left leg was broken, barely held on by a few pieces of muscle and tendon at the knee. Medics rushed over, but Mills told them to leave him alone because he believed there was no way he could be saved. They ignored him, evacuating him to Kandahar. As doctors prepped him for surgery, Mills's left leg came off when they pulled his pants down. He had already lost three of his limbs. And on April 12th, his left arm had to be amputated mid-wrist.
After being under heavy sedation for several days, Mills woke up on April 14th as one of only five quadruple amputees to be injured in the wars in Iraq and Afghanistan. It was his 25th birthday.
His battles weren't over yet, though. Mills was in excruciating pain, both physically and mentally. He feared that his wife Kelsey and baby daughter Chloe would see him as a monster. And then there was God. Mills had always lived a pretty upstanding life, so saying he was angry at God for allowing this to happen would be an understatement.
His physical pain was eventually resolved through a revolutionary (and largely untested at the time) treatment called a ketamine coma. It reset Mills's nerve endings, allowing him to live pain free. And when he tried to convince Kelsey that she should leave him because he would be too much of a burden, she refused and assured him that she would be staying true to her marriage vows no matter what.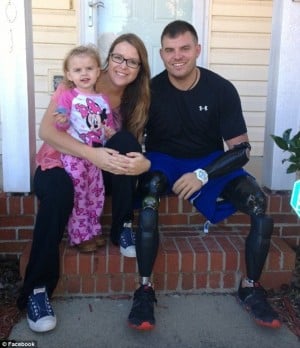 Baby Chloe wasn't bothered by him either. As Mills told me during an interview about his Christopher Award-winning memoir "Tough As They Come," he feared the six-month-old would be afraid of him because of his short arms, short legs, and tubes coming out of everywhere. Instead, she acted excited to see him, which brought tears to his eyes. He said, "I realized…that every stuffed animal she has has short arms and legs and a hairy chest. That's what I have. She just saw me as regular old Dad, no big deal."
Spiritually speaking, Mills still had some issues to work out. While he was recovering in the hospital, his sister-in-law brought him a plaque with the words of Joshua 1:9 on it: "Be strong and courageous. Do not be afraid; do not be discouraged, for the Lord your God will be with you wherever you go."
He told her to take it away because he didn't believe those words anymore. "What did God do?" he asked her. "Did he take a smoke break? Did he quit on me?"
She left the plaque where it was despite his protests and eventually, Mills came to a new understanding of God's role in our lives.
He said, "I realized it's not okay to just be a believer when things are going your way. That's not how this works or how it's meant to be. It was important for me to realize that I had my family, I had my life, I had the ability to do things. As much as I was upset about the situation, God had a plan for me to keep going forward."
Part of that forward movement involves running the Travis Mills Foundation, which supports fellow wounded warriors and their families by showing them that they can still live a life of accomplishment, purpose, and love. He said, "When I go into people's rooms, they're not usually in the same boat as me. They don't have the same amount of limb loss. [But] they're doubting themselves. They don't know how they're going to go on. [Then], I come walking in. That's a true testament to them that, 'I can get better. I'm going to make it.'
One of the reasons Mills is able to do so much is because the technology of prosthetics has advanced tremendously: "Right now, I'm driving to an event [where] the Governor of Maine and two senators will be….I can help [Chloe] get dressed, brush her hair, I help her when she brushes her teeth. I'm able to do anything I want to a certain extent. I need help getting my legs on. My arms I can put on myself. I use them for everything: feed myself, put clothes on, dress myself. Without prosthetics, it would be a miserable time. I'm thankful that I'm not in the Civil War era and had this happen."
Talking to Mills, it's impressive to hear his sense of humor and lightness of spirit considering there are people in the world with a lot fewer challenges who let negativity get the better of them. Mills attributes that to perspective. Specifically, he cites a friend who didn't make it home from the war.
He said, "He doesn't take his daughter for ice cream; I do. He doesn't take his wife out for dates; I still do. I think it would be a real selfish slap in the face if I were to give up on myself – not just to the men who died, but to their families that sacrificed having their loved one gone. Plus, the doctors [involved] in my recovery. They worked 14 hours to stabilize me, numerous surgeries to wash out everything and keep my infections down and keep me going. I just can't see myself giving up on them, on my family, or my brothers-in-arms that have passed away that didn't get the opportunity to still live after injury."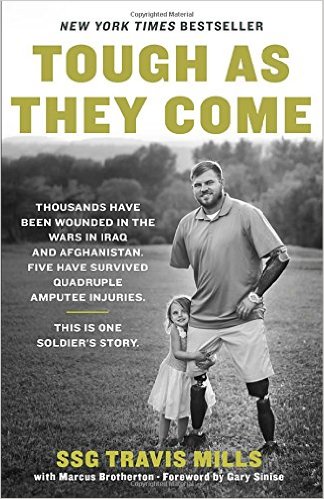 Mills continues to appreciate the second chance he's been given, and he hopes that people who read "Tough As They Come" take a few lessons from his story: "I hope they get involved with the Foundation, of course. That's my big goal now is to get the foundation up and going. We're definitely well on our way…There's two things I want you to know that I'm very proud of. One, if you served, thank you for your service. I didn't serve any more than anybody else. I don't feel like I did anything special. I had one bad day at work. Two, I don't know what everybody in the world is going through, what their problems are, but we all have our own problems. I don't think my problems outweigh anybody else's. I chose to get through them, and this is how I did it. If someone is going through something, I think my book can help them, inspire them, make them laugh, make them cry, be happy, be angry, be sad, and walk away feeling good about the story at the end of the day."
(To listen to my full interview with Travis Mills, click on the podcast link):