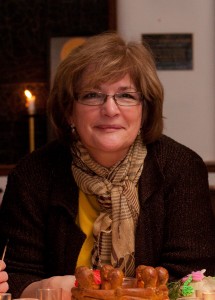 I first began to breathe again when I met the young and dedicated organizer of Transition Town Pittsburgh standing in the hallway of my church. He was a recent college graduate, full of wisdom and purpose, and committed to building a new social and economic system based upon local wisdom, talent, and resources. He was preparing for the impending transition to a more manageable society when our oil based economy can no longer be sustained.
The community he was describing was so similar to the early Christian communities depicted in the book of Acts that I was simultaneously taken aback and filled with hope. "We shall require a substantially new manner of thinking if humanity is to survive," said Einstein. It seemed to me that the new manner of thinking had just arrived in the foyer of our church – on a bicycle.
"This is the kind of community Jesus advocated," I said. "How can we support you?"
Two weeks later, over a hundred people were gathered in our social hall, immersed in small group discussions, talking about new patterns for communal dwellings, locally sustainable industry, urban farming, permaculture gardening, and alternative currencies. The room was iridescent with energy.
Soon after, we were scheduling meet-ups, pot lucks, gift circles, movie screenings, and spiritual/philosophical discussions to take those conversations further.
Over the past five years, First United Methodist Church of Pittsburgh has become the meeting place for a wide variety of spiritual/ecological/transformational group, many of them led by young adults or two generation partnerships; gardening collectives, Buddhist teachings, spiritual cooperatives, Unity in Motion classes, Indigenous elder celebrations, intra-spiritual collectives, workshops on Mayan mystical practices, InterPlay performance jams, an Evolver conference, concerts, dances, and a Free-Skool to teach practical skills for at-home living. We have supported two all-night New Year's Eve celebrations that showcased spiritual practices, original performances, and healing modalities that were shared across generations.
Some of the young leaders grew up in the church. Several were wounded by it. A few marveled they would ever set foot in a church again. None of them attend traditional worship, although most seek spiritual depth through eastern and indigenous traditions. And yet, they are living in ways very similar to the early Christian communities, sharing their resources, living cooperatively, and pursuing a spiritual life together. While the church wobbles on with wars of words and disagreements over who God loves the most, these young people are filled with Christ consciousness and can lead the way to a better day.
When Matthew Fox and Andrew Harvey agreed to bring the second ChristPath Seminar to Pittsburgh, I wanted these young people to interface with these two brilliant elders to help them appreciate, refine, and extend their prophetic work. And so the "Sacred Activist Fishbowl " was created. On June 30, as a culmination of the Seminar, twenty young spirit-based leaders, all under the age of 35, will form an inner circle with Drs. Harvey and Fox for a focused conversation on mysticism and activism. Each of the activists will be sponsored by an elder who pays their way and then listens to the conversation in a silent second circle of support.
My generation worries about the world we are passing on to our children. We've been worrying about it for years. But we can't seem to come up with a cohesive, informed, and sustainable plan to change direction. The ship is too big. There are too many captains. Too many pursers. And too little trust. We are trapped inside, our foreheads pressed against its foggy portals, anchored by apathy, adrift on a shapeless sea. Now is the time to look to those whose vision is clearer and whose path is unencumbered, those who have energy and stamina to set a new course.
Let them lead us. They are the age of Mozart when he wrote his symphonies, the age of Einstein when he put together the theory of relativity, and the age of Jesus when he changed the world two thousand years ago. Perhaps we can allow ourselves to hope for a future lived in harmony with the Cosmic Christ. Perhaps we will find that we no longer need to hold our breath in panic – that we can hope – and breathe – again. That is the shape of resurrection , after all.
Now, together, exhale.
Rev. Dr. Gail Ransom, ChristPath Pittsburgh, Chair
Director of Education
First United Methodist Church of Pittsburgh

___________________________________________________________________________________
To learn more about the upcoming Christ Path Seminar weekend being offered online and on-site in Pittsburgh, PA, 6/28/30, see
http://www.christpathseminar.org/ai1ec_event/cosmic-christ-and-the-historical-jesus/?instance_id=123
To order the complete 12-DVD set of recordings from the first Christ Path Seminar weekend, see http://www.christpathseminar.org/participate-by-dvd/