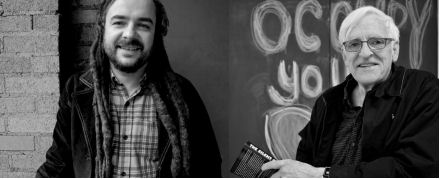 And so we reach the last of our excerpts from Occupy Spirituality exploring the ways in which the Occupy Generation is redefining spirituality and sacred activism for our time.
Out of these young visionary prophets' passionate and compassionate spiritual practices is evolving a sacred community…the legacy of the Beloved Community of Dr. Martin Luther King, Jr.'s vision.
An Excerpt from Chapter 2 of Occupy Spirituality: A Radical Vision for a New Generation
by Adam Bucko and Matthew Fox, published by North Atlantic Books, copyright © 2013. Reprinted by permission of publisher.
MATTHEW FOX: I think that point number seven is that this spirituality is meant to be lived in communities. And, I think that you and I would agree that hints and echoes of what we're talking about have already emerged in Base Communities in Latin America—which, interestingly, were so badly treated by the Vatican, by hierarchical powers, almost to the point of wiping them out. And yet their resilience is such that today they are simply divorcing themselves from organized religion, from the church as such, from the institutional church, and continuing their practice of democratic spirituality and democratic leadership—in other words, the church of the people.
ADAM BUCKO: And serving not the church, but humanity, which is also life.
MATTHEW FOX: Exactly—serving life and humanity, and letting the church go in its own direction as it travels down the path of death.
So there have been movements that had this kind of spirituality. Certainly the civil rights movement is a North American example, led as it was by prophets like Howard Thurman and Dr. King—we can see that the spirituality we're talking about is not just beginning at this moment. It's been stirring, and it's already drawn many heroes and saints, even martyrs—martyrs in South America and North America, who include Óscar Romero, Dr. King, Malcolm X, Dorothy Stang, and others.
But I think now a whole generation is primed for this, and it's a global thing. It's not just about the Americas, but there 's a stirring and an aching among young Buddhists in Southeast Asia and among Muslims in the Middle East and in many people around the world. Hopefully, anyway.
…
ADAM BUCKO: (The Occupy Generation is demonstrating a) vision for a community-based approach or a New Monastic approach, so to speak, one that could take these points and put them into practice in small communities. This is very much what the Base communities were doing, what the civil rights communities were doing, what Catholic Workers have been doing, and what some of the Sufi orders have been doing.
Because we're talking about the whole generation, this could really be a new way of relating to life and relating to each other. In the process, it can be a way of changing ourselves, our communities, and the world.
___________________________________________________
Don't miss the Occupy Spirituality Book Club on Patheos, September 16-30!
See when Matthew Fox and Adam Bucko will be speaking about Occupy Spirituality in your area: http;//www.matthewfox.org/calendar