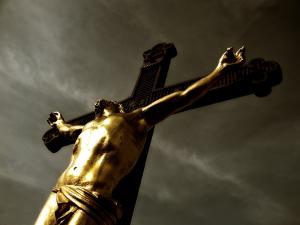 "My God, my God, why have you abandoned me? Why so far from my call for help, from my cries of anguish? My God, I call by day, but you do not answer; by night, but I have no relief."
These words are the opening phrase taken from the Jewish holy Book of Psalms, Chapter 22, entitled "A prayer of an innocent person" and are put into the mouth of Jesus in Matthew's gospel. They are written in the gospel in Aramaic, Jesus' native language, and are the only passage where the original Aramaic is preserved. In my research I discovered that George Lamosa, in his translations of the gospels from Aramaic, suggests that this is a misinterpretation; that the same sounds in Aramaic also could mean, "My God, My God, for this I was born." Jesus is quoting a psalm that goes on to triumphantly affirm that the Power God, in fact, does not forsake us forever. In terms of Genesis and the creation of the sun and moon, the only way to fully appreciate the existence of light is by experiencing the darkness. And this is the darkness of Jesus' life.
In Psalm 22 these words make a striking prophecy when crucifixion was not yet known to exist. So whether these words attributed to Jesus were the fulfillment of prophecy or were historically factual doesn't really matter, because what they do is present to us the God/man Jesus experiencing the human emotion of utmost despair. Jesus, the man, is feeling a separation from God. Who among us cannot relate to that? If this can happen to Jesus, then my own occasional despair is not singular.
Jesus spent his life trying to fulfill the will of God and he would have been confidant in his actions because it is written that he even heard God speak to him at his Baptism saying: "This is my beloved Son in whom I am well pleased." It gave him the courage to go all the way to the cross. In his ministry Jesus tried to communicate the truth of God's kingdom through his teaching as well as through his healing, but it was not enough. In the end, he lost his life so that the message of God's kingdom would be heard.
One of the reasons for the execution of Jesus, other than divine necessity, which is the forgiveness of sins, was because of social inevitability. This is what domination systems did to people who publicly and vigorously challenged them. Jesus was a protagonist filled with passion about God and His kingdom and the pursuit of justice. Therefore he was caught up in the collision between the system and his passion.
According to Mark's gospel, Jesus did not die FOR the sins of the world – he died BECAUSE of the sins of the world. It was the injustice of the system that killed him.
In spite of the moments of despair which we experience in our lives, there are also moments of enlightenment when we instinctively know that God is there. Just as Jesus heard God call him his beloved Son, WE know that we are also God's beloved children. Yet in his ultimate human feeling of abandonment, Jesus calls out for his father, like we do in our dark moments of despair, "Where are you God? Answer me!" We don't want to hear the church's unrelenting answer that you don't always get what you want, because God moves in mysterious ways.
Like Jesus, I call out for God – in grief, pain, fear, injustice, helplessness … and throughout the world people cry out in a litany of insufferable human conditions. It's what we do. And I want God to show himself now. I want him to fill the god-shaped vacuum in my heart and so I keep asking.
When I reflect on my life I know that the hand of God HAS touched me. But the thing is, I didn't always know it at the time. Again, it's the old story that you don't always get what you want, but your prayers are always answered in "mysterious ways." But, what kind of an answer is that when you are hurting?
Of the words attributed to Jesus on the cross, for me, these are very believable. Jesus went through a heck of a lot of suffering before he got to the cross and in the end he was STILL waiting for God to answer him…He calls: Why have you abandoned me? I call by day and you do not answer; by night but I have no relief." So like at the end of Psalm 22 the affirmation is that God will not forsake us forever. Until then, I too just have to experience the darkness before I see the light.