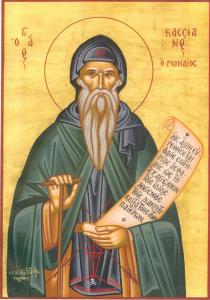 John Cassian is probably the coolest person you didn't know you knew. He is especially noted for his role in bringing the practices of Christian monasticism to the early medieval West. St. Benedict of Nursia praised some of John Cassian's writing in his rule. Use of his formulation also became part of the Liturgy of the Hours! St. Alphonsus Ligouri, in his writing, cited Cassian's recommendation to use this short prayer continually. Even the basic ideas put forth by St. Ignatius of Loyola can be attributed to John Cassian's thought.
Pope St. Gregory I's teaching on the seven deadly sins and much of his teaching on prayer all come from John Cassian. St. Philip Neri would read John Cassian's work to the laity as a starting point for his own addresses! John Cassian also influenced Saints John Climacus, John of Damascus, Dominic, Francis de Sales, and John Henry Newman. He was incredibly influential! Because of his popularity, many of the spiritual teachings and practices we have come to know today actually started with him. This is pretty amazing.
John Cassian's writings stress the role of prayer and personal asceticism in attaining salvation. His asceticism, while rigorous, was tempered by common sense. He said that hospitality should override ascetical routine and that even the most contemplative of anchorites should entertain visitors. For him, both asceticism and ministry were aspects of the practical, lived life. This is a great reminder that the spiritual life is both a work of the mind and a work of the body. We cannot simply think about the faith, but we must also do something about the faith.
John Cassian's relics are kept in a chapel in the Monastery of St. Victor in Marseilles, France. His head and right hand are in the main church. You can't ever say that the Catholic Church isn't metal as f***.
Image courtesy of https://commons.wikimedia.org/wiki/File:John_Cassian.jpeg