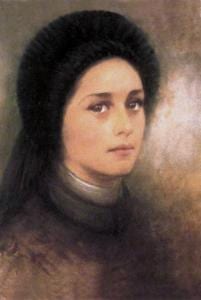 Maria Mercedes Prat was born on March 6, 1880 in Barcelona, Spain; the eldest of four children. As a child, she attended Mass every day! She was very studious in schoolwork and painting and excelled in sewing.
In 1904, Maria Mercedes traveled to Tortosa to enter the Society of Saint Teresa of Jesus (the Teresian Sisters). She began her novitiate on August 27, 1904, vested in the habit on March 1, 1905, and made her profession of vows on March 10, 1907. During this time, Maria Mercedes worked in the educational field. In 1909, she was invited to Madrid and made her final vows there on March 10.
Later on, Maria Mercedes was assigned to work at the congregation's motherhouse in Barcelona. But, on July 19, 1936, the congregation was forced to abandon both their house and school due to suppression from the anti-Catholic government. (Side note: Isn't it interesting that a country we generally view as "Catholic" went through a very intense anti-Catholic phase?).
Within the week, Maria Mercedes and a companion were arrested and sentenced to death for being nuns. She was intensely interrogated and threatened. She and her companion were placed in front of a firing squad on July 23, 1936. Between cries of pain, Maria Mercedes repeated, "Jesus, Joseph, Mary" and the Apostles' Creed. Her last words were from the Our Father: "Forgive us…as we forgive.." She was shot dead at 4am on July 24, 1936 and then buried in Barcelona.
Pope St. John Paul II approved her beatification in December of 1989 after he determined that she indeed died "in odium fidei" ("in hatred of the faith"). Soon after this, Maria Mercedes was beatified in Saint Peter's Square on April 29, 1990.
Something to draw from Bl. Maria Mercedes's life and execution in this day is what it means to be persecuted. She was going about her business and vocation as a nun and an educator when a truly anti-Catholic government ripped her away from her work, tore down her work, and then arrested and shot her because of her faith. If you're ever tempted (especially in the United States) to think you're being persecuted for being Catholic, ask yourself if you've been arrested simply because you are Catholic. We have brothers and sisters across the world and across time who have had this done to them. Their example is one of bravery and humility and love– an excellent model to imitate, but not an excuse to sit in a victim mentality.
Image courtesy of https://carmelitesistersocd.com/2016/9carmelitesaints_day8/