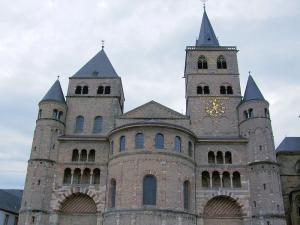 Magnericus was born in 522 AD in Trier, Germany but there is not much known about his early life. He was a Frankish bishop of Trier and one of the first bishops ever with a Germanic name. He was friends with St. Gregory of Tours and ordained St. Géry. Magnericus has been described as virtuous and charitable and an "ornament of bishops".
Magnericus was raised by St. Nicetius and accompanied him into exile when he was banished (the King had banished Nicetius as revenge for being excommunicated). He returned to Trier the following year and then was ordained to the priesthood by Nicetius in 566.
As bishop, Magnericus restored the city of Trier and founded several clerical communities (including St. Eucharius and St. Paulin). He also ha a great devotion to St. Martin of Tours, building several monasteries and churches dedicated to him and converted the Holy Cross Church in Trier to an oratory in St. Martin's honor. Later, this became the Abbey of St. Martin, otherwise known as the Deumelberg. The other churches he dedicated to St. Martin are in Ivois, Carden on Moselle, and a second one in Trier.
When Bishop Theodore of Marseilles was exiled in 585, Magnericus gave him sanctuary and then pleaded with the king on his behalf.
Magnericus was close to the Merovingian royal house and was godfather of Childebert II's son Theudebert II. His intimacy with the Merovingians kept him safe from persecution (although he was kidnapped and held hostage once) and kept him stable in money and power, which he used to further his causes within the Church and his region. Magnericus was also influential with the Austrasia and Gallic church.
In 596, at about the age of 74, Magnericus died of a fever. He was buried in the cemetery of St. Martin of Tours, which he built. His remains, however, were lost upon the opening of his grave and the destruction of that church.
Image courtesy of https://commons.wikimedia.org/wiki/File:Trier_Cathedral,_the_oldest_cathedral_in_Germany.jpg