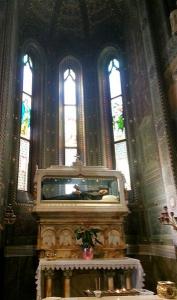 Bartolomea Capitanio was born on January 13, 1807 in Bergamo, Italy (at the time, northern Italy was controlled by Austria). She was the oldest of seven children, but all except one, Camilla, died as infants. Her mother educated the children with great guidance and deep faith. Her father, though, became an aggressive alcoholic. Her mother sent her to the convent of the Poor Clares in Lovere in 1818. Bartolomea wished to enter this order of nuns but her parents would not allow it.
Bartolomea had read the life of St. Aloysius Gonzaga and it greatly inspirited and enlightened her. She then tried to emulate his virtues. She encouraged devotion to him and especially promulgated the "Six Sundays of Saint Aloysius", approved by Pope Clement XII in 1739. Mostly, she encouraged this devotion in her private school for girls.
In 1822, the Austrian government issued her a teacher's diploma and she began teaching first grade girls. A couple years later, she returned home to teach at the local school. It was then that she first met Vincenza Gerosa and they became very close. The two co-founded their own religious order (the Italian Sisters of Charity of Lovere) to teach children and nurse the sick. One the Feast of the Presentation in 1832, they dedicated themselves to God and began to live a communal life according to their rule. Their formal founding was on November 21, 1832.
In 1833 in Lovere, Bartolomea died from tuberculosis at the age of 26. Her order finally received final approval in 1840, seven years after her death.
Bartolomea's cause for canonization was opened on March 8, 1866, just 33 years after her death (this is relatively short for a cause for sainthood to be opened). Pope Pius XII then canonized her and Vincenza Gerosa on May 18, 1950.
Bartolomea's short life is a testament to the power and grace of friendship and of the genius of women in the work of the Church.
Image courtesy of https://en.m.wikipedia.org/wiki/File:Bartolomea_Capitanio-_santuario_delle_sante_Gerosa_e_Capitanio.jpg